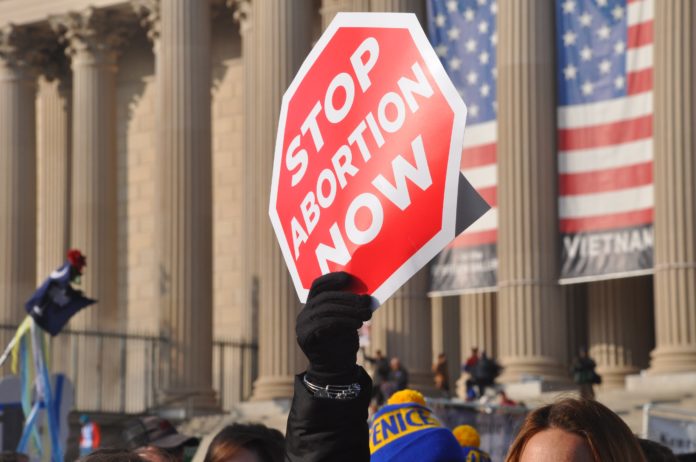 Over 20 years after the U.S. Supreme Court upheld a Colorado law against "sidewalk counseling" outside abortion clinics, a lawsuit is hoping to overturn that precedent and revisit the law. 
Wendy Faustin, who is based out of Denver, sued a number of Colorado and Denver officials on June 1 challenging a law passed in 1993 that prohibits approaching patients entering medical facilities to hand out leaflets, handbills, display signs, orally protest or offer education and counseling. The law prohibits getting within 8 feet of patients within 100 feet of health care facility entrances, including abortion clinics. 
Breaking the law could result in a class 3 misdemeanor charge and a $300 fine or up to 10 days in jail as well as civil liability. Denver has a nearly identical ordinance that applies to health care facilities within the city. 
Represented by attorneys at religious-freedom-focused legal organization First Liberty Institute and Washington D.C.-based firm Cooper & Kirk, PLLC, Faustin hopes the lawsuit will make its way to the U.S. Supreme Court to revisit its 2000 ruling in Hill v. Colorado. Faustin's lawsuit claims the Colorado law specifically targets anti-abortion protests and speech and should be overturned. 
"Hill was decided. It was bad law. It went against basic Supreme Court doctrine," said First Liberty Institute senior counsel Roger Byron, who explained a number of recent Supreme Court decisions that have criticized Hill's holding are one reason Faustin is bringing the challenge now. Those rulings have included the high court's 2015 and 2014 holdings in Reed v. Town of Gilbert and McCullen v. Coakley, as well as last summer's landmark ruling in Dobbs v. Jackson Women's Health. "The poster child for how the First Amendment had been hurt was Hill v. Colorado," Byron added. 
To overturn Hill, Byron said the lawsuit needs to make it up to the U.S. Supreme Court and they're hoping for just that. 
Faustin's lawsuit presents many of the same arguments as Hill did, mainly that the Colorado law around approaching patients violates freedom of speech, is not narrowly tailored and that the law is content-based discrimination. 
According to Faustin's lawsuit filed in the U.S. District Court for the District of Colorado, she believes abortion is morally wrong and has been part of the pro-life movement since 1981. Prior to the 1993 law, Faustin said she would regularly speak with patients outside abortion clinics to try to persuade them not to get the procedure, a practice often called "sidewalk counseling." But since the law, Faustin said she can only attempt to shout at patients while eight feet away, which comes across as aggressive and contrary to her message. According to the lawsuit, Faustin would like to be able to give patients leaflets and speak directly with them. 
The lawsuit argues Colorado law specifically targets anti-abortion protests. It claims language that bans "counseling" outside medical facilities and verbal "protest" or "education" are specifically written to target common tools used by anti-abortion protestors. Attorneys for Faustin also argue the legislative history that led to the law supports the argument that it was passed in response to anti-abortion protestors and is content-based restriction. 
While the U.S. Supreme Court rejected many of those same arguments in Hill, Faustin is hoping to overturn that precedent and hopes several lines in more recent Supreme Court decisions will support that. 
In the Supreme Court's 2015 ruling in Reed, the court quoted several portions of former Justice Antonin Scalia's dissent in Hill. In the 2014 McCullen ruling, Scalia, joined by Justices Clarence Thomas and Anthony Kennedy, wrote a concurrence in judgment stating he thought Hill needed to be overturned. Hill also got a mention in last year's Dobbs ruling when it was cited by the majority as an example where the court had "distorted First Amendment doctrines" in cases involving abortion. 
"Plaintiff acknowledges that the result she seeks is contrary to currently governing precedent as set forth by the majority opinion in Hill. But for the reasons explained by the dissents in that case and in later Supreme Court precedent, that case was wrongly decided," reads the lawsuit. "She therefore institutes this litigation to vindicate her First Amendment rights and to seek to have Hill overruled."
Byron believes if the Colorado law being challenged impacted other forms of protest, like anti-war protests or pro-union protests, it would never be held up in court and hopes to achieve the same result. 
"These laws were put in place and they were upheld, because there are effectively two First Amendments: There's one that applies only to those who publicly advocated pro-life positions, and it's used to trample their basic civil rights. The other one is the real First Amendment, which applies to everybody else," said Byron. "That is not right and it must be stopped."