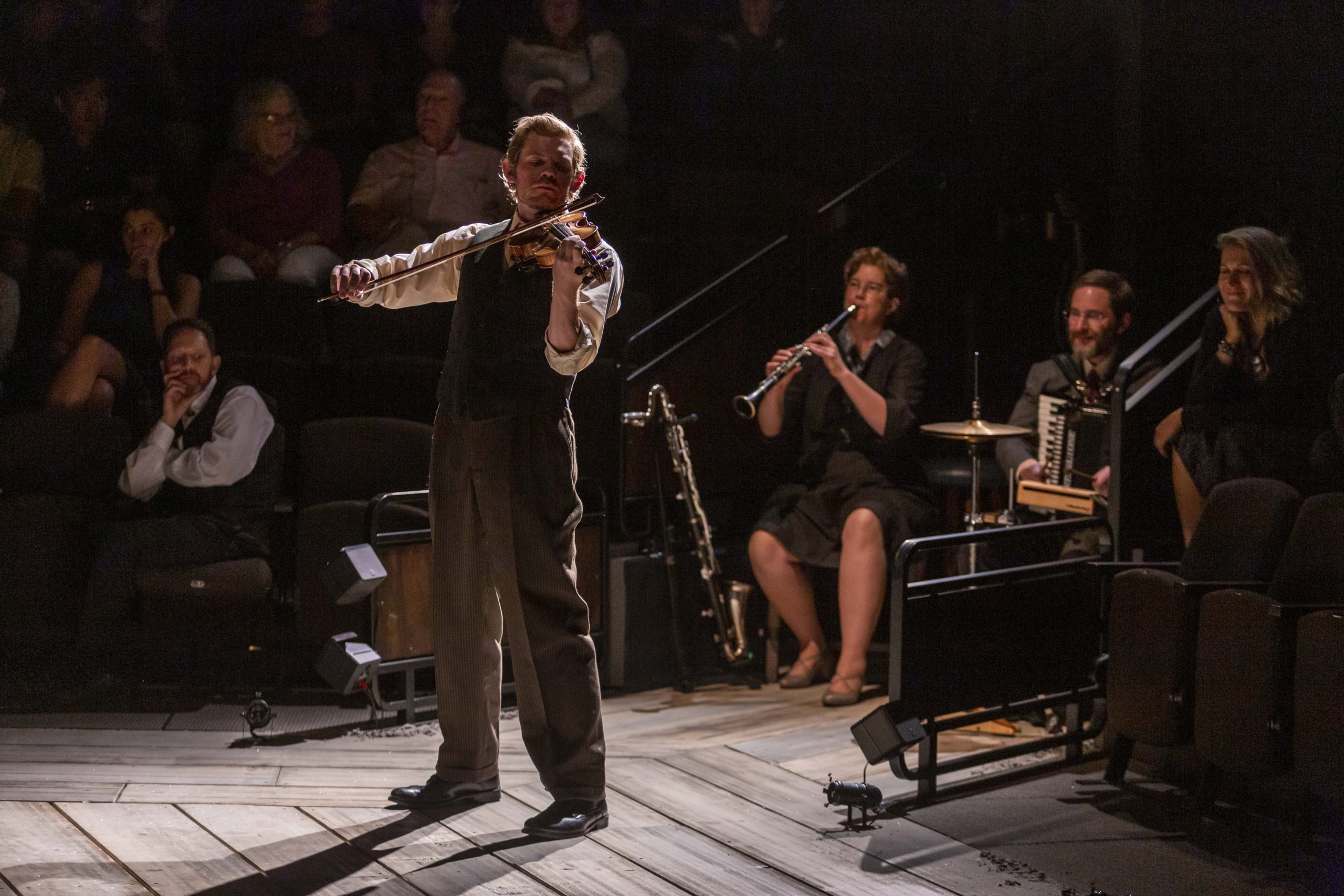 Scheduling is tricky when you're a lawyer by day and have to make curtain call every evening.
For Ben Cohen, it helps that his firm, Polsinelli, is just two blocks from the Denver Center for the Performing Arts, where he has taken the stage as part of the center's production of the Tony Award-nominated musical "Indecent." The show made its DCPA debut on Aug. 30 and finished its run Sunday. 
It also helps that Polsinelli, where Cohen is of counsel, gave him a partial leave of absence to pursue what he called a "once in a lifetime opportunity." 
"It is an extraordinary piece of theater," said Cohen of "Indecent," which ran on Broadway in 2017.
"Indecent," by Pulitzer Prize-winner Paula Vogel, is a play about a play. Based on true events, it tells the tale of playwright Sholem Asch, a Polish Jew, and his Yiddish play "God of Vengeance," which was first performed in Berlin in 1907. Asch's play about a same-sex romance between two women — a prostitute and the daughter of a brothel owner — finds success across Europe and is even performed to crowds in New York in the original Yiddish. But when "God of Vengeance" is performed in English on Broadway in 1923, the entire cast and producer are arrested for obscenity due to the play's controversial content. 
"It uses the underlying play and the obscenity arrest as a vehicle to tell the story of the Jewish experience from the beginning of the 20th century," said Cohen, adding that the "incredibly poignant" way "Indecent" recounts the experience of immigration, assimilation and anti-Semitism has resonated among those he knows in the local Jewish community.
Cohen's role is a musical one: He doesn't have any speaking lines, but he does act. He plays the part of Moriz Godowsky, a member of a klezmer trio whose music helps tell the story on stage. 
While most of the "Indecent" cast is from New York, the musicians were cast locally. Cohen, a multi-instrumentalist who performs with a number of bands in the Denver area, jumped at the chance to be part of the production. But he was almost too late. "When I found out that the show was going to be performed in Denver, I got an e-mail from a friend on the day of auditions, after they had happened," said Cohen. He contacted the casting director to say that he was a klezmer accordionist interested in the role and asked if he could submit an audition video. He made the video and got a callback. 
Cohen said the trio members mostly play clarinet, violin and accordion, but they all do some "doubling" on other instruments throughout the play. Cohen plays accordion, baritone ukulele and percussion in the show.
That wasn't hard for Cohen, who said he plays almost every instrument. But there were some new challenges. 
"I did have to memorize the entire score. I've never had to do that playing for a show before," he said.
Cohen said lots of lawyers look for opportunities to get on stage. "All you have to do is go to the Ethics Revue at Lannie's Clocktower Cabaret to see," he said, referring to the annual performance by the Law Club and the CBA Ethics Committee. But he doesn't see his role that way. 
 "I'm not like that. I don't seek the spotlight. I'm an accompanist at heart," he said, adding that his role in "Indecent" parallels the one he has carved out for himself as a lawyer.
"I'm an accompanist in the show in the same way I am in my law practice," he said. He said he prefers to write as a lawyer but can step up to the podium when he needs to. 
His legal background did seep into his role on stage when it came to the obscenity charges at the center of the play's plot. Cohen said he looked at the century-old court records in the case against the "God of Vengeance" cast and took it upon himself to explain to his castmates how the charges were litigated and overturned on appeal.  When it comes to managing his multiple commitments, Polsinelli has been "very accommodating," Cohen said, allowing him to take a partial leave of absence for several weeks during the beginning of the production, when he had rehearsals starting at noon that could last until 11 p.m. some nights.  "Once we got into production and not rehearsing during the day, I could come in and be a lawyer during the day and go perform at night," he said.
"It has been an absolute joy to be involved in a DCPA production," he said. Cohen said he has enjoyed working with "extraordinary talent" from around the country. While most of the creative team is New York-based, he had special praise for music director Angela Steiner, a graduate of the University of Northern Colorado. 
"She has got the skills!" he said. "It's very enheartening knowing that she's local and so good at what she does." While Cohen is grateful for his time on stage, he said he's not seeking opportunities to join other productions and is looking forward to getting back to his regular music gigs that "don't require this kind of extraordinary commitment." 
— Jessica Folker