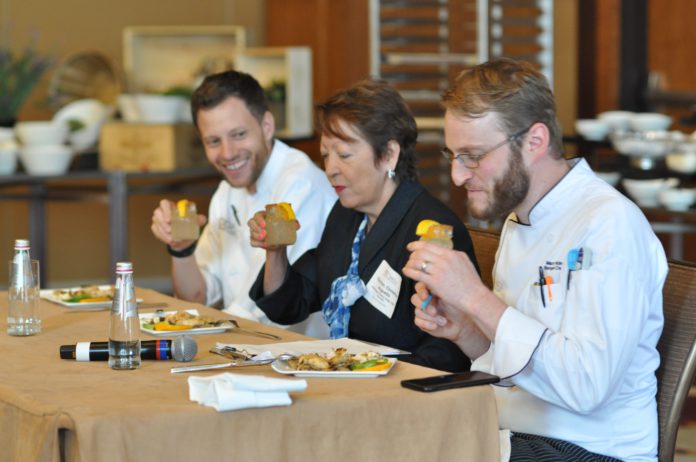 The Association of Corporate Counsel Colorado held a fundraiser and networking event that had local attorneys swap their suits for aprons in an "Iron Chef"-inspired cook-off at the Four Seasons on Wednesday. Shook Hardy & Bacon sponsored the event. 
Proceeds from the cooking challenge were donated to the Women's Bean Project, a social enterprise that hires chronically underemployed women to help them gain skills and work experience.
Participants were divided into teams and given one hour to transform a mystery ingredient (oranges) into a small plate and a cocktail. To mix things up, teams were thrown "curveball" challenges. 
The second-place team had to substitute tofu for beef, while the winners were forbidden from using their right hands during the last several minutes of competition.
The winning dish was described by its creators as an "Asian street taco." It featured beef marinated in orange juice, pineapple juice, soy sauce and garlic. The colorful dish was served with sliced avocado and sauteed vegetables and garnished with cilantro.
U.S. District Judge Christine Arguello served as a celebrity judge for the competition. Arguello said she and her fellow food judges considered both presentation and taste, and noted that she liked the mix of spices in the winning dish. 
She was also a fan of the first-place team's cocktail, a fruity tequila-based drink she described as "very refreshing." 
Paul Williams, co-chair of the General Liability Litigation Practice Group at Shook Hardy & Bacon, said ACC events are intended to connect in-house counsel to peers at other companies and law firms so they can stay current and gain support through resources and referrals.
— Jessica Folker