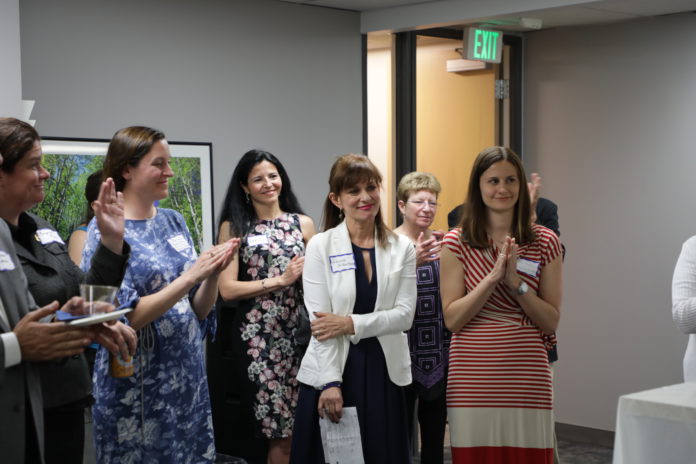 Colorado's first attorney incubator celebrated its official start Thursday evening at LawBank.
Legal Entrepreneurs for Justice, a small-business incubator for lawyers looking to develop legal practices focused on low- and middle-income Coloradans celebrated its start and its inaugural cohort of attorneys. 
The organization is led by executive director Laurie Gilbertson and is made up of a board consisting of small firm, large firm and legal community leaders such as board chair and retired Faegre Baker Daniels partner Dave Stark and Colorado Supreme Court Justice Melissa Hart. LEJ's goal is to provide support and mentorship to young attorneys while also serving the people who often fall through the gaps in receiving legal services because they either can't afford the price of a lawyer or don't qualify for legal aid because of their income or the type of legal services that qualify.
"The access to justice problem that is suffered by 80% of the folks in the United States is the people that can't qualify for legal aid because they make too much money but they couldn't hire a lawyer if they have to," said LEJ board chair Dave Stark. "They're the folks that can't withstand a $500 emergency in their budget, that would lead them to financial disaster. And so we need to figure out a way to provide legal services to those people in an economic way, in a way that is effective."
The answer proposed by LEJ is to provide a safety net, support system and training for young attorneys who develop their practices with business ideas that are tailored for middle-income people. 
The four attorneys who will make up LEJ's first class are Justin Bertron, James Marshall, Jared Ritvo and Cristina Uribe Reyes. They completed a boot camp Thursday that provided a crash course on business and practice management skills ranging from business development to managing a COLTAF account. Over the next 18 months, they'll work out of LawBank and continue to receive mentorship from the Colorado Attorney Mentoring Program to help them grow their law practices, and for the first six months, they will be paired with attorneys at partner legal aid organizations, such as Metro Volunteer Lawyers for a half-time "pro bono residency."
 Hart said she had the goal of starting an incubator for about five years and has been working to get LEJ started since 2016. It took a lot of time and planning to get things started, she said, but the organization's development accelerated through 2019. She cited attorneys' tendency to be risk averse as a reason for the long planning time, but at some point, you have to take the leap, she said.
For the organizations offering support, Hart said it was a "win-win," since they provide training but also receive additional attorney support. 
Gilbertson said she believes LEJ is the first attorney incubator in Colorado, though it is largely modeled off of the Justice Entrepreneurship Program in Chicago, which reports serving more than 4,000 low to middle-income clients over its lifetime and bringing in more than $4 million in revenue in the process. Jessica Bednarz, the director of innovation and training of the Chicago program, also served as the interim executive director for LEJ for more than its first year and helped get the organization started.
Gilbertson said the organization's dual focus as both an incubator and modest means legal services provider is a unique model, and she again expressed the "win-win" mentality that drives LEJ. The participating attorneys will offer support to the organizations they work at and receive further practice development and training. After six months, a new cohort of attorneys will come in, and the initial group will begin to serve as mentors as well. And at the end of the 18 months, they're set out to take their own practices into the world with the support, connections and skills they pick up through the program. The idea is that they will take those ideas of serving modest-means and middle-income clients and continue addressing the access to justice gap. 
Uribe Reyes and Bertron both said they were drawn to the program because of the opportunity it provides them to provide services to people who might not otherwise afford them. Uribe Reyes has an immigration practice and said she got into the law because of her experience as an undocumented immigrant from Guatalajara, Mexico. She said she was frustrated with the standard billing practices and considered leaving her law firm before finding and applying to LEJ.
Bertron has a solo trusts and estates practice, an area he said most people don't often associate with modest means. But regardless of income, people need support with their wills and with managing their estates. He said he joined the program in order to develop his practice to be able to provide flat fees and unbundled services. Regarding the 18-month period, he said it's a valuable safety net to help him grow his practice.
And to the attorneys starting the program, Hart said: "If I had doubts before about whether we would succeed, having met the four of you, I have no doubts at all. It is you who are going to make this happen."
— Tony Flesor, [email protected]