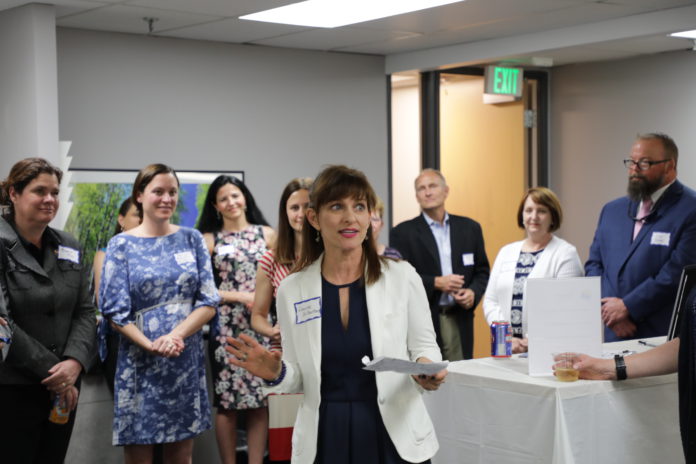 Earlier this month, Legal Entrepreneurs for Justice celebrated the graduation of three attorneys from its 18-month incubator for socially conscious lawyers. They were the first cohort to participate in the program, which launched in 2019.
According to LEJ executive director Laurie Gilbertson, the program supports "innovative and creative" legal practices that improve access to justice. About 70% of Coloradans fall into the middle range of legal consumers most affected by the "justice gap," Gilbertson said, meaning they make too much money to qualify for legal aid but can't afford traditional firms that bill hundreds of dollars per hour.
During the incubator program, participants complete a pro bono residency with a partner nonprofit and receive training and mentorship on how to run a business and build a legal practice.
The program aims to give participants the tools to do good while doing well for themselves, Gilbertson said, and starting a firm can be a way for attorneys to take control of their lives and avoid the pressures that plague much of the legal profession.
"So many people want to do good in the world," Gilbertson said, but there are few opportunities to do public interest work outside of the public sector and a handful of nonprofits. "We're trying to create another public interest law alternative for lawyers."
The incubator is now accepting applications for its fifth cohort to start in June. Gilbertson said the program isn't limited in terms of practice area. "We have not seen a practice area yet that can't fit into the LEJ model," she said, though some specialties such as family law, estate planning and immigration are easier to price using flat-rate or unbundled models.
The members of LEJ's first cohort — Jared Ritvo, Cristina Uribe Reyes and Justin Bertron — officially graduated from the program in December, an accomplishment they celebrated during an online ceremony in March. They are all now operating as solo attorneys after gaining needed legal and business skills from LEJ.
GAINING CONFIDENCE
Since finishing the LEJ program, Jared Ritvo has been flying solo as a family law practitioner at Ritvo Law, where he offers flat-fee and unbundled services. He represents clients in divorce, child custody, mediations, prenuptial agreements, protection orders and adoption proceedings.
One of the biggest benefits of LEJ, he said, has been gaining the courtroom confidence and client experience he needed to feel comfortable marketing himself as an experienced family law attorney. Ritvo, a 2016 graduate of the University of Colorado Law School, said that before joining LEJ, his courtroom experience was limited to a few appearances as part of a CU family law clinic and observing court as a judicial clerk in Adams County.
He devoted much of the first six months of the program to his pro bono residency at the Colorado Legal Services Family and Children Unit. While LEJ requires participants to complete 20 hours of pro bono work per week during the first phase of the program, Ritvo said he was doing "quite a bit more" to boost his confidence and experience, and he handled his first contested child custody case and first contested divorce while completing the program.
Ritvo said he was attracted to solo practice because of the autonomy it offers and the ability to make decisions about which cases he takes. But he added there are many business and financial challenges to setting out on one's own.
"It will always be challenging to do as much marketing as I should be doing," Ritvo said. "It's pretty competitive to get your name out there as a family law practitioner, especially in the Denver area."
Ritvo said he was surprised at how effective LEJ's training on internet marketing has turned out to be, especially training from LEJ board member Lauren Lester on search engine optimization. He admits he was "a bit cynical" about online marketing when he first started because he knew he had bigger competitors with deeper pockets who were spending much more on marketing. But he found that many of his clients found him through Google searches.
LEJ also provided guidance on how to come up with flat-rate pricing. Ritvo said the training taught him how to break a case into steps and provide transparent pricing for each step of the process. "This is really scary for a layperson to think about what a divorce is going to cost," he said. "There are tons of contingencies."
COVID-19 arrived in Colorado around the time Ritvo was shifting his focus from his pro bono work to building up his private practice. While the pandemic slowed him down at first, he said, the shift to videoconferencing for hearings and status conferences ended up helping to build his business by allowing him to work with clients in rural Colorado. There are many towns in rural parts of the state that lack family law attorneys, Ritvo said, so serving rural clients is key to addressing the justice gap.
"My practice is becoming more and more profitable all the time," Ritvo said. "More than anything, I've just been really happy with all the mentors I've gained and being able to call them when I have questions."
BUILDING BUSINESS SKILLS
Cristina Uribe Reyes started her legal career at bigger immigration law firms, first as a paralegal and later as an associate attorney. But she found she wanted more say in how she bills clients, which led her to think about going solo.
It's hard for clients to budget when they're billed hourly, she said, and while many immigration firms offer payment plans, many don't start work on a case until the client has paid in full. That can trap some clients in a vicious cycle, she said, as they are often applying for work permits that would allow them to pay their legal bills faster.
Now a solo attorney at Uribe Reyes Law, she starts clients off with a retainer and gets to work on their cases. "I haven't had a problem with collecting" payment, said Uribe Reyes, who handles some domestic and family matters in addition to immigration law.
Uribe Reyes had been thinking about striking out on her own before joining LEJ, but she said the program gave her the confidence to take the plunge. She liked LEJ's emphasis on building socially conscious law firms and the opportunity to serve clients who do not don't qualify for pro bono services but can't afford hourly billing.
However, she found the business side of working for herself challenging. "I had been an associate attorney. I knew the lawyer part of it," Uribe Reyes said. "But even when I was in undergrad and even through law school, I never took a class on building a business because I never thought that was the path I would take."
As a sole practitioner, Uribe Reyes has had to figure out how to handle trust accounts, marketing, bookkeeping and accounting on her own. LEJ gave her the "stepping stones" to deal with some of those challenges, she said. For example, she hired someone to do her bookkeeping and accounting after seeing the bookkeeper speak as part of LEJ's training.
Uribe Reyes said she initially found LEJ's pro bono requirements intimidating, but her volunteer work with Project Safeguard has proved to be "invaluable." Working with the organization, which advocates for victims of domestic violence, allowed her to gain experience in family law, which she hoped to incorporate into her own practice.
After finishing the pro bono component of the program, she signed up to be a contract attorney with Project Safeguard to help with protection order work, and the organization sometimes works with Uribe Reyes when its clients need help with immigration matters.
"I've continued to work with them," she said, adding the experience has "also let me know that I'm able to take on pro bono cases while not sacrificing the business side of my practice."
Before the pandemic hit, Uribe Reyes was attending many networking events and getting most of her new clients through referrals from other immigration attorneys. Since the pandemic put an end to in-person networking, referrals from past and current clients have played a bigger role in business development.
She has so far not relied much on traditional advertising or online marketing. "I'm in the process of figuring out just how busy I want to be," said Uribe Reyes, who is expecting her first child. She said she's planning on continuing to work but she's excited she'll have flexibility as a solo attorney and won't be limited to a certain number of weeks of maternity leave.
Uribe Reyes said one of the biggest challenges ahead will be adjusting to another new role — that of employer. She recently hired her first employee, a paralegal, which has meant learning about unemployment insurance, worker's compensation and other requirements.
She said she's still figuring out whether she eventually wants to add more staff, hire an associate, build a bigger firm or stay small. "But I think it's amazing that I even have the opportunity to be able to choose," Uribe Reyes said.
Her advice for attorneys thinking about going solo is: Just do it. "It can be very daunting and scary at the beginning, but the reward is definitely there," she said. "I don't regret having gone out on my own, and I've been happier in the last two years than I ever was at the firm that I was at."
SOLO BUT NOT ISOLATED
Justin Bertron started his career in trusts and estates at a Denver law firm, where he was an attorney for about three years, followed by a stint in consulting for an accounting firm. But he was drawn to the flexibility and freedom that running his own practice could offer, so he started The Bertron Law Firm, a solo estate planning and administration firm.
He soon found there was a tradeoff to the freedom of working for himself: isolation. "When you leave the firm, you get that flexibility, but you also lose the ability to bounce ideas off of other people," he said. "You have the freedom, but at the end of the day, you also have to analyze what you're doing and make sure that you're doing things right, and you don't have that sounding board to talk with other people in the firm."
He had experience and some connections, but he was reluctant to "constantly bother the same people" with questions when he didn't have a formal business relationship with them.
Bertron found out about LEJ's program a few months after opening his firm. "It was something that really intrigued me as soon as I saw it," he said. He said the program gave him a community of other attorneys to talk about how best to meet business goals or find the best resources for managing a firm.
Bertron's pro bono residency with Metro Volunteer Lawyers also expanded his local network of attorneys he could go to for advice and who can give him exposure to conservatorship and guardianship cases. Bertron also represented pro bono clients in estate planning and probate cases and participated in clinics at the Denver Indian Center.
In addition to ending his isolation, LEJ equipped him with tools for marketing and business development. When he first opened his practice, Bertron got most of his referrals from other attorneys, CPAs and financial advisors. But he said as he progressed through the program, he started incorporating more web and social media marketing, which proved useful after the pandemic hit and in-person networking opportunities dwindled.
Other tools that have helped Bertron as a sole practitioner include automated calendar software such as Calendly, which allows others to see his availability and schedule an appointment. He added that being able to automate document preparation through software such as Clio and HotDocs has also saved him a lot of time and work.
Bertron offers flat-rate services with different prices for various plans and packages. "One of the biggest things about lawyers, and why a lot of people are hesitant to use them, is because they never know what it's going to cost," he said. Bertron said he sits down with potential clients to talk about their options and budget, and " once we agree to that, that's what it costs. There's not going to be any surprises."
As for what the future holds, Bertron said he's focused on growing his practice and, hopefully, his team. "I would like to add more people and not be just a solo lawyer by myself forever," he said.