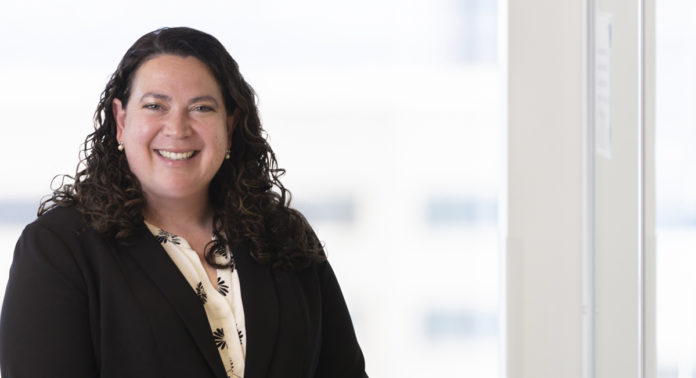 Correction: This article originally incorrectly identified the law firm for Russell Kemp. He is an attorney at Ireland Stapleton Pryor & Pascoe. 
Holland & Hart on April 27 announced the addition of partner Melinda Pasquini to its real estate, finance and development practice in its Denver office.
"Melinda's expertise in transactions involving affordable housing and community development are an asset to our clients," said Chris Gunlikson, leader of the real estate, finance and development team. "We are committed to strategically growing our affordable and multifamily housing practice. Melinda's business-savvy approach and experience building relationships among stakeholders with disparate interests will allow us to better meet our clients' needs in Colorado."
Pasquini works with developers, owners and investors in the affordable housing, healthcare and energy industries on complex real estate transactions. Her background includes advising clients on acquisitions and sales, financing, development, and leasing. She has expertise in transactions involving senior and affordable housing and multifamily properties and with healthcare and medical facilities that require nuanced knowledge of Stark and Anti-Kickback compliance.
"I am excited to join Holland & Hart's sophisticated, talented real estate development and finance group," Pasquini said. "We share a passion for development projects that can positively impact communities and give people access to the basic building blocks of life. The team's deep bench of expertise in all facets of development, from financing, to tax, to planning are a huge asset to my clients."
Before joining Holland & Hart, Pasquini was a shareholder and associate at two Am Law 100 firms. During law school, she served as a clerk for Justice Alex Martinez of the Colorado Supreme Court. Pasquini worked for 10 years in executive finance, operational, and management roles for a multi-location, family-owned restaurant and bakery in Denver.
JUDICIAL ANNOUNCEMENTS
The 20th Judicial District Nominating Commission has nominated three candidates for a district court judgeship created by the retirement of Judge Judith LaBuda. The vacancy will occur on May 18. Nominees Shana Beggan of Erie, James "Keith" Collins of Boulder and Robert Gunning of Louisville were selected by the commission on April 27.
Under the Colorado Constitution, the governor has 15 days from April 28 to appoint one of the nominees as a 20th District judge.
The 10th Judicial District Nominating Commission has nominated three candidates for a district court judgeship. The judgeship was created by the retirement of Judge Kim Karn and will occur on July 1.
Nominees Steven Laman, Timothy O'Shea and Margaret Vellar, all of Pueblo, were selected by the commission on April 27.
Under the Colorado Constitution, the governor has 15 days from April 28 to appoint one of the nominees for 10th Judicial District judge.
Comments regarding any of the nominees may be sent via e-mail to the governor at [email protected]
GOOD FOR YOU
Hogan Lovells partner Jodi Scott has been appointed to the Colorado BioScience Association board of directors.
Scott is part of the Hogan Lovells life sciences and health care practice in Colorado and across the U.S. She focuses on complex regulatory and compliance matters related to emerging products and technologies and leads the firm's digital health team; a highly skilled working group that helps clients navigate the complexities of commercializing software based technology for the health care ecosystem.
Scott has experience in the U.S. Food and Drug Administration regulatory arena, appearing before the FDA on behalf of companies in a wide variety of areas including, to negotiate solutions where new novel technology requires FDA clearance or approval, inspections that result in enforcement actions, companies initiating recalls, or instances of the government launching an investigation.
The Colorado BioScience Association is dedicated to bringing together local organizations and professionals to foster and support health care and life sciences innovation. Scott said she looks forward to leveraging her experience and knowledge, including her work on a number of critical COVID-19 projects, to continue CBSA's growing momentum in Colorado.
Ireland Stapleton Pryor & Pascoe business and real estate attorney Russell Kemp has been elected to chair Community First Foundation's board of directors.
Community First Foundation is one of the largest foundations in Colorado and is most known for Colorado Gives Day, the statewide program that raised $50 million in 2020 for nonprofit organizations throughout Colorado.
During his term, Kemp will work to help the foundation implement its new strategic plan to increase the impact of Colorado Gives Day and assure that all communities in Jefferson County have the opportunity to thrive.
In his law practice, Kemp represents executives, business owners, real estate investors, and large ranch owners in the Rocky Mountain region on matters involving real estate, oil and gas, regulatory and policy issues, probate, and business matters.