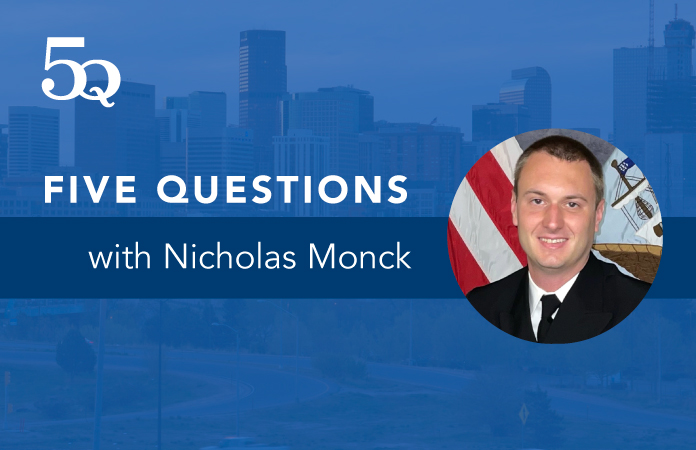 5Q is Law Week Colorado's weekly gateway for members of the legal community to get acquainted with each other. Each week, you'll hear from lawyers, judges, and legal academics across Colorado. We ask industry professionals a range of questions that may range from their thoughts on the challenges facing the profession to their personal interests. Their responses are lightly edited for clarity and space. Let us know if you'd like to participate by emailing [email protected].
For the premiere edition of 5Q, we spoke with LTJG Nicholas Monck, a 2019 University of Colorado Law School graduate and U.S. Navy Judge Advocate General's Corps officer stationed at Joint Base Pearl Harbor-Hickam.
Question 1
If you could go back in time, into his chambers and have a conversation with Chief Justice Roger Taney while the Dred Scott case was pending, what would you tell Taney to consider?
A: I think Justice Benjamin Robbins Curtis' powerfully argued dissent in Dred Scott and Abraham Lincoln's speech to the Illinois House of Representatives following the decision cover many of the same points I would have made with the Chief Justice.
Namely, that at the time of the nation's founding, former slaves and their descendants had been granted citizenship by states in both the North and the South. Additionally, I'd point to the long line of precedent that supported the court's jurisdiction to decide the case on its merits. Finally, I'd explain to the Chief Justice that his belief that slaves, former slaves and their descendants were "so far inferior that they had no rights which the white man was bound to respect" was entirely disconnected from reality.
In fact, by the time Dred Scott sued for his freedom, there were business leaders in Philadelphia, doctors in New Orleans, farmers in Indiana, artists in New York City, state legislators in Vermont and Massachusetts and lawyers in Maine who had been enslaved and were now free men and free women. Even at that time, Chief Justice Taney's views of racial inferiority, which his decision was premised on, were contradicted by the facts. 
Question 2
What, in your judgment and as a general matter, makes the U.S. armed forces legal system both effective in providing help in non-criminal matters to airmen, Coasties, guardians, Marines, sailors, and soldiers and one that advances the imperative of national defense by regulating the behavior of those who serve?
A: JAGs provide free legal assistance services to active duty servicemembers, reservists on active duty, family members and retirees. Our clients come to us with a wide range of legal issues, from writing wills or helping with adoptions, to breaking a lease because they're about to deploy or stopping predatory lending targeting members of the military.
Because we wear the same uniform as our clients, we are able to connect with them and understand their unique needs. We also try very hard to make it as easy as possible to access our legal services, whether that means executing wills at sea or deploying to combat zones with troops. Oftentimes, by helping a servicemember manage a personal legal issue, we can make sure that it doesn't turn into a bigger problem that will negatively affect good order and discipline in the service.
Question 3
What motivated you to practice law in the U.S. Navy?
A: A sense of duty. I've always felt called to help others and to serve my country. The United States gives its citizens so many rights, freedoms and opportunities. For as long as I can remember, I have felt the need to do my part to support and defend our constitutional system and the rule of law. It is an honor and a privilege to put on the uniform every day and live the oath I took to support and defend the Constitution of the United States.
Question 4
What is the greatest rock and roll song of all time?
A: Rock On, David Essex. Glam rock counts as rock and roll, right?
Question 5
What is your favorite sport or outdoor activity in which to participate?
A: Whitewater rafting. Actually, I was briefly a guide-in-training before I joined the JAG Corps.
Disclaimer: The views presented are those of the interview subject and do not necessarily represent the views of the Defense Department or its components.