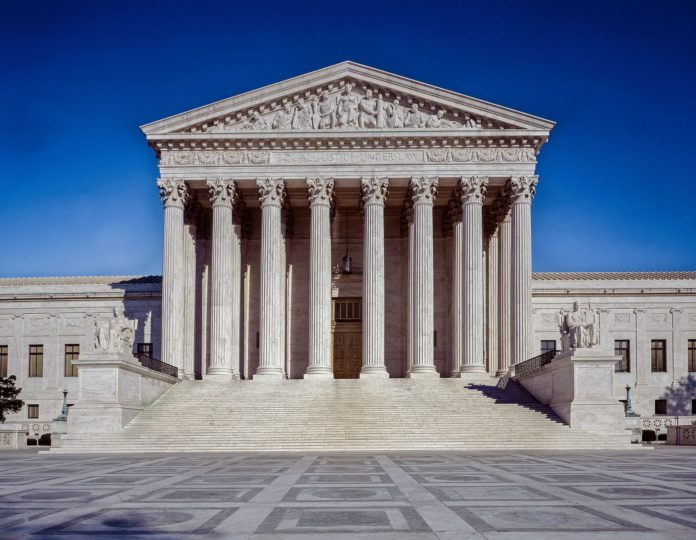 The Supreme Court, in a July 1 decision along partisan lines, tightly read a key provision of the Voting Rights Act and cautioned federal judges to carefully consider states' professed interest in combating election fraud and other circumstances when deciding lawsuits. 
Justice Samuel Alito's majority opinion upheld two Arizona election statutes against arguments they violated section 2 of the landmark 1965 law. The provision bans any "voting qualification or prerequisite to voting or standard, practice, or procedure…in a manner which results in a denial or abridgement of the right of any citizen of the United States to vote on account of race or color…" The two Arizona restrictions banned third-party collection of ballots and nullified all votes cast in a precinct other than the one in which a voter is registered.
Alito, writing for six Republican justices, characterized the case as one involving the question of "how ballots are collected and counted." Insisting that section 2 of the VRA is intended only to assure that democratic processes are "equally open" to all voters, the George W. Bush appointee said that the court's precedents focus on equivalent chances to participate in an election. "The essence of a [section] 2 claim…is that a certain electoral law, practice, or structure interacts with social and historical conditions to cause an inequality in the opportunities of minority and non-minority voters to elect their preferred representatives."
After describing the Arizona laws as "generally applicable time, place, or manner voting rules," Alito turned to an examination of statutory language. Section 2, he wrote, incorporates commitments to both equal access and equal opportunity, but the first is the main objective. "The statute's reference to equal opportunity may stretch that concept to some degree to include consideration of a person's ability to use the means that are equally open," Alito said. "But equal openness remains the touchstone."
The former federal appeals court judge then examined the question of when a lack of equally open elections could be discerned. "Every voting rule imposes a burden of some sort," Alito said, before announcing that "the concept of a voting system that is equally open and that furnishes an equal opportunity to cast a ballot must tolerate the usual burdens of voting." Consequently, Alito said, "[m]ere inconvenience cannot be enough to demonstrate a violation of [section] 2."
The majority opinion set election practices in 1982 as a baseline for helping courts decide whether a change in voting laws violates the VRA. "We doubt that Congress intended to uproot facially neutral time, place, and manner regulations that have a long pedigree or are in widespread use in the United States," Alito wrote, referring to that year because it was the last one in which section 2 was amended. 
Federal judges hearing section 2 cases were ordered to take care not to overemphasize "very small differences" in turnout among demographic groups. "To the extent that minority and non-minority groups differ with respect to employment, wealth, and education, even neutral regulations, no matter how crafted, may well result in some predictable disparities in rates of voting and noncompliance with voting rules, Alito said. "But the mere fact there is some disparity in impact does not necessarily mean that a system is not equally open or that it does not give everyone an equal opportunity to vote."
Alito's opinion also mandated that courts consider a state's entire voting system when asked to decide whether one part of it is consistent with section 2. "[W]here a State provides multiple ways to vote, any burden imposed on voters who choose one of the available options cannot be evaluated without also taking into account the other available means," he said. States, Alito emphasized, have a "strong and entirely legitimate interest" in preventing voter fraud and in preventing "intimidation or undue influence." 
The majority next delved into the question whether factors applicable to vote dilution claims should be used. These considerations should get less weight in a section 2 case than they would in a lawsuit brought under other parts of the VRA, Alito wrote. "Some of those factors are plainly inapplicable in a case involving a challenge to a facially neutral time, place, or manner voting rule," he said. "We do not suggest that these factors should be disregarded…But their relevance is much less direct."
Justice Elena Kagan, joined by Justices Stephen Breyer and Sonia Sotomayor, dissented. The three Democratic justices accused the majority of overreaching in its reading of the VRA. "The majority fears that the statute Congress wrote is too radical – that it will invalidate too many state voting laws," Kagan wrote. "So the majority writes its own set of rules, limiting [s]ection 2 from multiple directions. Wherever it can, the majority gives a cramped reading to broad language."
Kagan said that Alito's opinion, joined by Chief Justice John Roberts and Justices Clarence Thomas, Neil Gorsuch, Brett Kavanaugh, and Amy Barrett, misunderstood the VRA through use of an incorrect statutory interpretation method. "What is tragic here is that the Court has (yet again) rewritten — in order to weaken — a statute that stands as a monument to America's greatness, and protects against its basest impulses," she said. "What is tragic is that the Court has damaged a statute designed to bring about the end of discrimination in voting."
Doug Spencer, a faculty fellow at the University of Colorado Law School's Byron R. White Center for the Study of American Constitutional Law and an election law expert, said the decision provides a "test that will guide future litigation" under section 2. However, he continued, "the disappointing part is that the guide that's been proposed is…odd. And also, the bar has been set pretty high." A state can meet section 2 requirements by announcing the interest it seeks to achieve rather than having to show the law actually matches it, Spencer said. "I think everyone is going to be able to articulate [their] interest."
Alito's focus on 1982 troubled Spencer for two reasons. First, it shows the limits of textualism and, second, it may provide state and local leaders with an excessively easy way to avoid VRA scrutiny. "Anytime you're looking to the will of Congress or the will of a state legislature, you're looking at the final product of a messy situation and you're making a determination that they must have meant these things," he said. "And that's why I think textualism has become so controversial." Moreover, Spencer continued, states and local governments can simply "not give any clues that they're aware of any racial disparity and just say 'election fraud, election fraud, election fraud,'" he said.
Sean Gallagher, a partner at Polsinelli who handles election cases, said the Supreme Court's opinion will force lawyers to prove "some meaningful discriminatory effect" from state and local voting laws that have disparate impacts. "It [has] to be adopted with a discriminatory purpose and there [has] to be a discriminatory effect," he said. 
The court's decision is the second in about eight years to weaken the VRA. In a 2013 case called Shelby County v. Holder, the conservative majority invalidated section 5 of the law, which had previously required some states and local governments to obtain preliminary clearance from the Department of Justice before changing their voting laws. 
Gallagher predicted that, as long as the ideological division on the Court favors the GOP-chosen bloc, the nation's principal voter protection law may continue to be read in a stinting fashion. "I think what we really have is just a difference in view of the Voting Rights Act," he said. "I think the conservatives look at it very narrowly. And the progressives on the court look at the act in a more expansive sense."
The July 1 decision was issued in Brnovich v. Democratic National Committee, No. 19-1257.