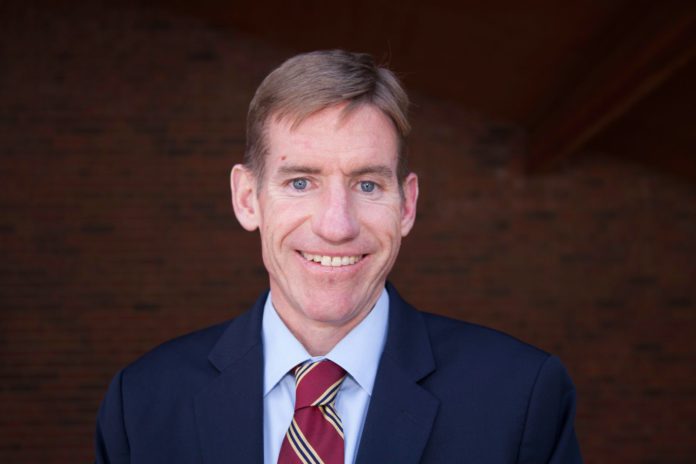 A candidate for Colorado Attorney General is weighing two different political races following an appointment from the governor.
Gov. John Hickenlooper on Wednesday appointed Michael Dougherty to fill the role of 20th Judicial District Attorney in Boulder County. Dougherty fills the DA vacancy created by the resignation of Stan Garnett on March 1.
"I am thrilled to have been selected by [Gov.] Hickenlooper to serve as the next Boulder County District Attorney," Dougherty said in a press release. "The opportunity to lead the District Attorney's Office in this community is an incredible honor and privilege. I will work tirelessly, drawing upon my 20 years of experience as a prosecutor to ensure public safety and achieve progressive criminal justice reform for Boulder County. I look forward to working closely with Stan Garnett and his staff to ensure a smooth transition for the office and the people of Boulder." 
Dougherty serves as a prosecutor in the 1st Judicial District Attorney's Office and has been in a prosecutorial role in Colorado for 10 years. Dougherty is also a candidate for Colorado attorney general but suspended his campaign Feb. 2, when he announced he was applying for the Boulder County DA job. According to Dougherty's campaign, he has not yet said whether he will resume his campaign for attorney general or ask voters in November to elect him to a full term as district attorney. His attorney general campaign website, however, now only includes the above statement about his appointment to district attorney.
Regardless of which seat he seeks, Dougherty will face competition. Dougherty currently trails in fundraising in the attorney general race behind former University of Colorado Law School dean Phil Weiser and private practice attorney Brad Levin. In the 20th Judicial District race, he will likely face Rep. Mike Foote, who currently serves as an assistant district attorney in that office and, prior to Hickenlooper's appointment, said he would run for the office of district attorney regardless of who was appointed by the governor. Foote reiterated that on Thursday and has already filed paperwork with the Secretary of State to run for district attorney.
Dougherty served for 12 years as a prosecutor at the Manhattan District Attorney's Office where he held supervisory positions including deputy chief of the Sex Crimes Unit and was responsible for the management, budget and personnel of the District Attorney's Office while continuing to prosecute serious cases.
In 2010, he moved to the Colorado Attorney General's Office to lead the Colorado DNA Justice Review Project. He later was promoted to serve as the head of the Criminal Justice Section. His campaign for attorney general leaned on his experience as a career prosecutor to set himself apart from the competition. He earned his bachelor's degree from Cornell University and his law degree from Boston University School of Law.
Foote has a long track record as a prosecutor, as well. He has served as a deputy district attorney in Boulder County for the past 14 years, and after graduating from CU Law School, served as a prosecutor in Durango. He also represents Boulder in the Colorado House of Representatives.
Garnett returns to private practice March 1 when he will rejoin Brownstein Hyatt Farber Schreck. Garnett had worked at the firm for 22 years before serving as district attorney. He was reelected in 2016 and would have been term-limited in 2020.
Despite Garnett having been elected in 2016, the vacancy triggers a special election that sets up a June primary and a November election to install a voter-selected district attorney.
Foote said he will continue with his campaign for the district attorney's office. Although he will be running against his new office head, he said he will be on leave from the office through the remainder of the legislative session. He said he believes his experience in Boulder will also help him in getting elected by the voters.
"I have spent my career protecting Boulder County," Foote said. "I have prosecuted tough cases and worked for just results in the Boulder District Attorney's Office since 2004. I have also fought for my eastern Boulder County district as a state representative for the last six years. I understand the office and Boulder County constituents very well."
Dougherty began the transition to the district attorney job on Thursday and is working with Garnett through the one-week transitional period. 
— Tony Flesor