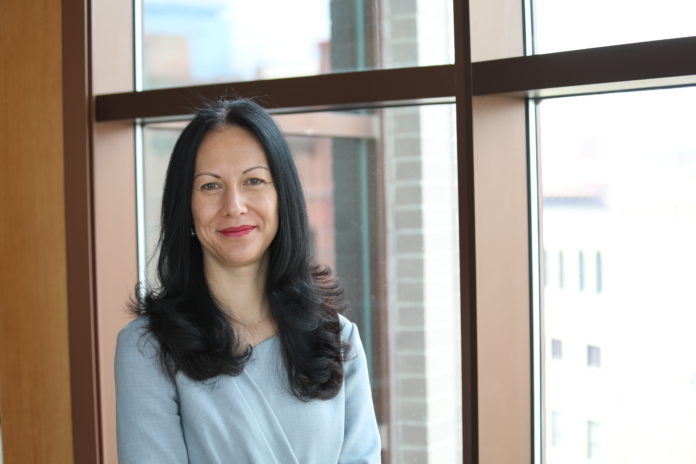 As a law student, Miko Brown was an English major at heart. She never would have thought she'd someday have a trial practice so steeped in science and medical causation. She recalls getting a C- in torts at the University of Pennsylvania Law School — "which is basically impossible to do" — because the subject didn't interest her.
She was forced to learn the subject again early in her career, working under a products liability lawyer at Snell & Wilmer. But once she started working on actual tort cases, which put concepts like centrifugal force and yaw rates in the context of reconstructing car accidents, everything made more sense. "I just fell in love with it," she said.
Passion is one of the keys to successful trial practice, said Brown, who is today a partner at Davis Graham & Stubbs in Denver. "I think you have to love it. I think you have to be semi-obsessed to really excel."
Brown tries a variety of suits from products liability, medical malpractice and mass torts to cases involving automobile accidents. But the vast majority of those suits center around a wrongful death or catastrophic injury claim, where the stakes for her clients are high.
Last year she tried a case where her client, Xcel Energy, faced a negligence lawsuit seeking $25 million in damages. The plaintiff was working on an Xcel site in New Mexico when a set of power line insulators fell and struck him on the head. The impact, he claimed, injured his spinal cord leading to quadriplegia. But Xcel argued in court that the worksite injury didn't cause the worker's paralysis, which didn't occur until days later. The plaintiff had visited his chiropractor after the injury and before the onset of his quadriplegia, and Xcel argued that the chiropractor's malpractice was the cause for the plaintiff's condition.
In a bench trial (the plaintiff waived his right to a jury) the court returned a complete defense verdict in Xcel's favor on March 26. 
One of the main challenges in trying the Xcel case was arguing which of the plaintiff's injuries, if any, were caused by the worksite accident and which injuries, if any, were caused by the chiropractor. But Brown had to make the case that the plaintiff didn't sustain any significant injuries from the worksite incident: if the incident led him to go to the chiropractor, Xcel would arguably be on the hook for the medical malpractice, Brown explained. Other factors that made the complete defense verdict notable were that the case featured a highly sympathetic plaintiff who was wheelchair bound, and that it was tried in Santa Fe County, which is traditionally a tough venue for corporate defendants, Brown said.
Brown worked that case with DGS partner Jackie Roeder (who at the time was a senior associate), Xcel in-house attorney Jennifer Jaskolka and Brown's paralegal at the time, Pamela Lee. "It was the first time that I had an all-female trial team, and it was a blast," Brown said.
The Xcel win came almost exactly a year after Brown had joined DGS. Coming to DGS allowed her to leave her comfort zone in several ways. The firm's partners encouraged her to bring her trial skills to a broader range of cases, and she's begun litigating intellectual property and general commercial matters.
She's succeeded there, too. Brown recently helped a software startup secure IP rights over a smartphone application that its CEO had spent years developing. But those rights were in dispute, and Brown successfully argued in a preliminary injunction hearing to have the defendant stripped of all ownership claims over the application. Brown couldn't share details of that case as it's still ongoing.
Joining DGS also meant she would assume a leadership role and be a consistent first chair on cases. At her previous firm where she'd practiced for nearly 10 years, Wheeler Trigg O'Donnell, there was always a more senior partner on cases whom she could lean on for guidance and to give her work. Moving to DGS, Brown would become that partner.
"I didn't have my safety net anymore," she said. "So it forced me out of my comfort zone, and I think it really built my confidence."
Brown has been nationally recognized for her Women in Leadership Lecture Series program, which she launched in 2013. The program gathers female legal professionals at all levels, from law clerks to general counsel, for panel discussions on advancing women in law. Law.com's Corporate Counsel cited WILLS when it named Brown one of its National Women in Law honorees in December.
Brown continues to thrive outside her comfort zone and take on new challenges. But what's stayed the same throughout her career is what she enjoys most about trial practice: telling a story to a judge or jury and explaining complex issues in medical malpractice or copyright law in a way that will keep them engaged.
"I think being a great trial lawyer is being a great communicator … in your case, explaining the issues in a way that the jury can understand and [makes them] want to side with you."
— Doug Chartier