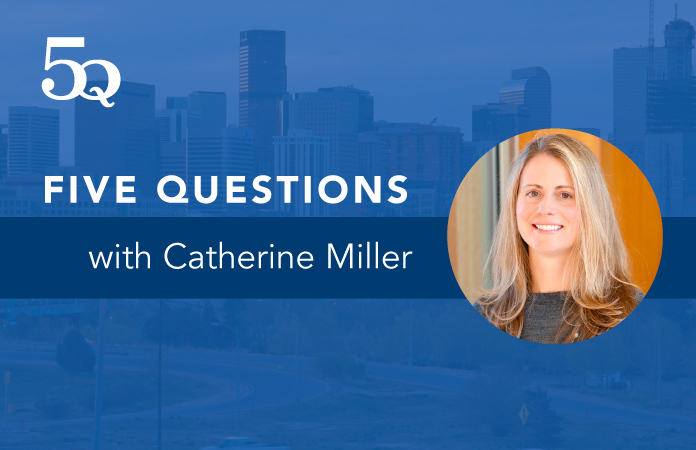 5Q is Law Week Colorado's weekly gateway for members of the legal community to get acquainted with each other. Each week, you'll hear from lawyers, judges and legal academics across Colorado. We ask industry professionals a range of questions from their thoughts on the challenges facing the profession to their personal interests. Their responses are lightly edited for clarity and space. Let us know if you'd like to be included by emailing [email protected]. You can also contact journalist Hank Lacey at [email protected].
This week we spoke with Catherine Miller, Of Counsel at Holland & Hart. Focusing her practice on intellectual property, Miller previously worked for an international television network and for a Swiss law firm. Her practice focuses on the management of trademark portfolios for clients and copyrights. Miller is a graduate of The George Washington University Law School and Tulane University Law School. She earned her undergraduate degree at Duke University.
Question 1
Should the nation consider adopting a "merit selection" system like that used in many states for the selection of federal judges? Explain.
A: Adopting a merit system for federal judges implicates the Appointments Clause (Article II, Section 2, Clause 2) and Article III of the Constitution. Implementing a rulemaking for federal judges would be more complicated than following a shift away from judicial elections at the state level because it could affect not only the appointment process but also the tenure of federal judges. While the concept is surely interesting and could help curtail partisan politics in judicial selection, I think there are unlikely to be any changes to the Constitutional structure even if a merit system were adopted by all of the States.
Question 2
In what ways do you think that public understanding of the role and importance of copyrights could be improved?
A: Based on the number of disclaimers on YouTube channels and other platforms put up by users who want to post infringing content, I think the public generally understands the importance of copyrights to content creators. However, the scope of protection, including what constitutes copyrightable subject matter and the fair use concept, are largely misunderstood by many. With the ease of sharing content on social media and across platforms where content creators also encourage further sharing and interaction with their posts to improve monetization, the lines of authorized use, fair use and unauthorized use have become even more blurred. And while most platforms provide user guidance in their policies and terms of use, few users take the time to read them.
On the side of content creators, registering copyrights is more important than ever. Routine demand letters and takedown requests now carry less weight and may be completely ignored without a registration certificate. Pre-litigation disputes are more difficult to resolve without a copyright registration since a registration (or formal decision of a refusal to register) is now required to bring a lawsuit. Content creators need to incorporate a registration strategy into their business model if they don't have one in place already.
Question 3
Which horse breed is the most spectacular? Discuss.
A: There are so many different breeds of horses and activities that we can do with horses, it's an almost impossible question. Some breeds are genetically better designed in their conformation,their size and build, for certain activities. There are so many different disciplines and sports within the equestrian world, so the question is more spectacular at what? Pulling heavy weight? Endurance? Sorting cattle? Jumping? Racing? Personally, I've owned at least six different breeds of horses and I've participated in the same discipline my whole life (American hunter/jumper). Horses are unique athletes and it's amazing that they, as prey animals, even want to engage with us at all, much less put top effort into helping humans with our work, transportation and giving us a partnership in sport. 
Question 4
You can choose to have dinner with any two of these singers:  Stanley Burrell (a.k.a. MC Hammer), Miley Cyrus, Lady Gaga, Emmylou Harris, Don Henley, Mick Jagger, Beyonce Knowles, John Legend, Bruno Mars, Willie Nelson, Stevie Nicks, Dolly Parton, James Todd Smith (a.k.a. LL Cool J), Taylor Swift, Justin Timberlake or Pete Townshend. With whom do you choose to dine? Discuss.
A: I would choose Willie Nelson and Dolly Parton. I am usually more of a listener than a talker, and I think having those two at the dinner table would spark some interesting conversations. They are also both musicians and activists for various causes and I would love a chance to learn from their life experiences.
Question 5
You are given an all-expenses paid trip to New England. You can stay for one week. What activities would you do or places would you visit during your vacation in that region?
 A: I have been a frequent tourist to New England, and I would focus on aspects of the geography and food that I don't have access to in Colorado. I'd enjoy the fall colors in Vermont and New Hampshire, Vermont cider donuts and maple syrup and local seafood and waterfront communities, especially in Massachusetts and Maine. I'd like to go on a long hike through the countryside with Denny Emerson. 
CORRECTION NOTE: A previous version of this article listed Catherine Miller's title incorrectly and inaccurately represented her practice. Law Week regrets the errors.