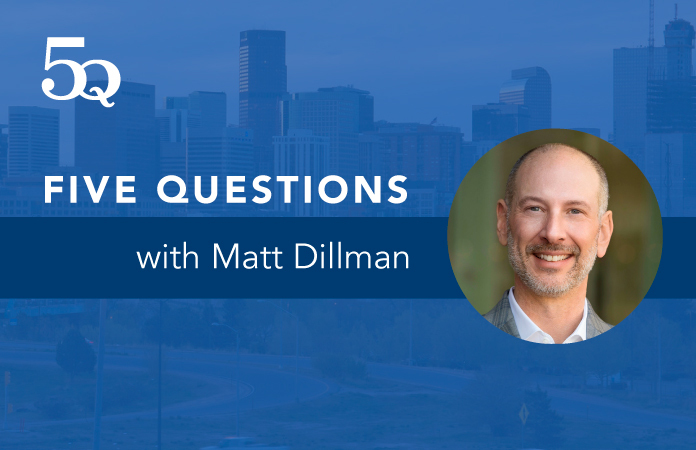 5Q is Law Week Colorado's weekly gateway for members of the legal community to get acquainted with each other. Each week, you'll hear from lawyers, judges and legal academics across Colorado. We ask industry professionals a range of questions from their thoughts on the challenges facing the profession to their personal interests. Their responses are lightly edited for clarity and space. Let us know if you'd like to be included by emailing [email protected]. You can also contact journalist Hank Lacey at [email protected].
This week we spoke with Matt Dillman, a real estate specialist and partner at Moye White. With a concentration on real estate acquisition, disposition, development, 1031 Exchange and financing transactions, and a specialty in real estate leasing, Dillman handles transactions across the spectrum of property transactions. A Colorado SuperLawyer in 2012, Dillman is a graduate of Colgate University and the University of Denver's Sturm College of Law.
Question 1
Does Colorado's system for handling judicial misconduct allegations effectively assure public confidence in the courts? Explain.
A: As a transactional lawyer, I am not involved with the courts in my everyday practice. I started my career as a litigator and believe that Colorado's court system is generally well regarded compared to other jurisdictions. Judicial misconduct was not prevalent in my experience and I have always appreciated how hard it is to be a judge and the public scrutiny that comes with being a judge. Other states have more transparency in their judicial discipline proceedings and I think Colorado should evaluate thoughtful ways to increase transparency in the discipline process.
Question 2 
What is the one thing that you believe most people do not understand or appreciate about the way commercial real estate markets work?
A: I've found that people don't realize how many people are involved in a real estate transaction. We are dealing with multiple decision-makers from different departments within a company. Each transaction can be incredibly complicated and the difference between a bad, average or great outcome often comes down to the team of people working on the transaction. Also, many people do not understand the correlation between pricing and risk. Many groups seeking to lease space in the market do not expect a robust vetting process to evaluate the risk of the future relationship between the landlord and the tenant. Sometimes that process is seen as invasive or onerous. Landlords and capital partners have a fiduciary obligation to protect the asset and securitize the contract that memorializes a long-term financial relationship. This is not just a lease rate or a security deposit. Often there are critical provisions in the lease that safeguard the landlord from future follies of the prospective tenants.
Question 3
Where is the very best place to snowboard in the American West? Discuss.
A: My all-time favorite place to snowboard was Berthoud Pass before it closed. It's steep and deep, and there's nobody else there. As avid skiers and snowboarders, my family and I mostly go to A-Basin and Vail. For spring break, when we can go anywhere, we go to Aspen. Good times." 
Question 4
What is the most impactful novel you have read? Explain.
A: My favorite novel is "Lonesome Dove" by Larry McMurtry. This is how I learned about the West before I moved West.   
Question 5 
When you want a really, really outstanding burger, where do you go in your neighborhood to get it?
I handle Smashburger's national leasing work, so of course I'm on team Smashburger all the way! Smashburger, all day, baby!