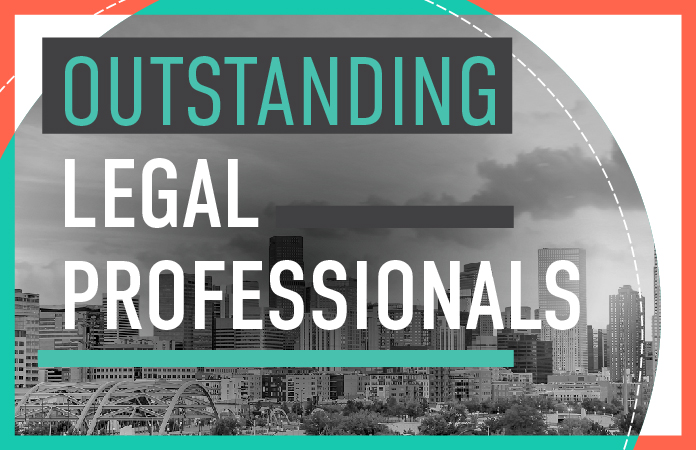 When someone asks David Hagen how he's doing, he doesn't say "fine" or "good" — he says "Awesome!' 
"For the most part, I'm awesome — I mean, I really have no complaints," Hagen said. "I figure I keep telling myself that, then I believe it, and my gosh, it's working." 
Hagen, an administrative assistant in the conference center of Armstrong Teasdale LLP's Denver office, supports the day-to-day office operations and oversees all conference center and reception duties — answering phones, processing mail and deliveries, stocking conference rooms and ordering food — but his colleagues said his mindset is what sets him apart. 
"David has a phenomenal attitude and personality. He makes his coworkers laugh every day despite the often serious nature of legal work. He consistently goes above and beyond — he is described as not only a coworker but also a friend." wrote Armstrong Teasdale Senior Marketing Coordinator Allison Snell. "He is patient when his coworkers have questions and is a dependable team player. His level of professionalism and operational knowledge are evident and valued by those in the Denver office and firmwide." 
Originally from Iowa, Hagen said made his way to Colorado "like everyone" did.  
"I came out around vacations and said, 'I want to live here,' and that's what I did," Hagen said. "I have a cousin that lives out here, and I came out to visit him and his family, and I just absolutely loved it out here." 
After a brief stint of living in Colorado in 1996 that Hagen said "didn't go so well," he returned once again from Iowa back in 2000 and has lived in the Centennial State ever since. 
Hagen started working in the law almost 15 years ago after a friend recommended he apply for an open position in office services. He's done a little bit of everything, he said, focusing mostly on hospitality, where he would help firms set up events, budget, order food and beverages and keep everything stocked. After that, Hagen said, he worked his way up. A few years ago Hagen got the opportunity to try administrative work and Hagen said he enjoyed it just as much as hospitality. Hagen came to Armstrong Teasdale a year ago, where he has a "dual role" working in administration and hospitality on occasion. 
Hagen's favorite part of the job? 
"Oh, the people," Hagen said.
Hagen said he's always enjoyed the hospitality aspect of his job, but what makes it fun, he said, is talking to clients and his colleagues in the office.  
"I love coming to work. They make it fun to come to work … [in] 99% of law firms that I've worked at — they're legit." Hagen said. "When they ask you how you're doing, they really do want to know how you're doing and … I just think that's awesome." 
Snell said his love for people shows. 
"David is most passionate about the people in his role as an administrative assistant at the firm. He appreciates the opportunity to be himself and to brighten someone's day by putting a smile on their face." Snell wrote. "The genuine care he shows for others is well aligned with our firm values and mission statement, including his commitment to teamwork, celebration and inclusiveness." 
Outside of work, Hagen said he enjoys the outdoors, anything from hiking to working in his yard. But professionally, Hagen maintains a positive attitude by telling himself this is who he wants to be. If he's ever in a bad mood, which he said isn't often, he tries not to show it. Over the years, Hagen said he's worked for great companies.
"I just appreciate the people, the opportunity that I've been given," Hagen said, "and I can't thank them enough."