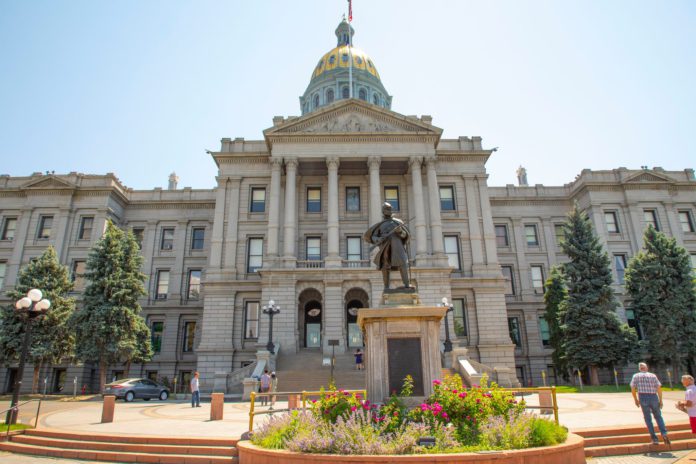 A new Colorado bill is following up on a settlement and a 2019 bill related to how the state handles proceedings and mental health treatment for people judged incompetent to stand trial. Last Wednesday the bill passed out of the Senate Judiciary Committee.  
"This bill is part of a continuing effort to address the issue of people with mental illness who are caught up in the criminal justice system, when they are better treated with behavioral treatment either in the community or in institutions or in the civil setting," bill sponsor Sen. Pete Lee told the committee.
Senate Bill 181 expands requirements for reports prepared on the competency of people charged with crimes to proceed to trial. Among other mandates, it requires mental health evaluators to explain why they believe the defendant may return to competency in the near future if the conclusion is different from a previous court finding. The bill also requires municipal courts to dismiss a case when a defendant is deemed incompetent or when civil commitment to treatment is ordered. 
In 2019, the legislature passed two bills related to mental health treatment in the court system. Senate Bill 222 provided access to spaces at inpatient treatment facilities for people at risk of incarceration, and Senate Bill 223 set time limits in which a person deemed incompetent to proceed must receive treatment services. The bills came out of a settlement agreement in a lawsuit over the state's backlog of people who remain in jails because they haven't yet received treatment to restore them to competency.  
A Supreme Court ruling, Jackson v. Indiana, established the legal standard that a person charged with crimes who is committed for treatment because they have been deemed incompetent to proceed to trial can't be held longer than a reasonable period of time needed to figure out if they may regain competency.  
Last year's bills piggybacked on three bills the legislature passed in 2018. SB 249 intended to redirect people from the criminal court system to community behavioral health services. Senate Bill 250 addressed mental health screening and treatment in jails. Senate Bill 251 created behavioral health liaisons out of the state court administrator's office to connect people with community health services. 
Lee said this year's bill adopts recommendations made by a competency subcommittee of a behavioral task force Gov. Jared Polis convened in response to the state's settlement agreement. 
Groups supporting Senate Bill 181 include Mental Health Colorado and Disability Law Colorado. But the professional community dedicated to mental health treatment is not unanimous in its support.
Patricia Westmoreland, president of the Colorado Psychiatric Society, testified about a section of the bill requiring a court hearing within 35 days of an evaluator's report to determine if a defendant is likely to regain competency. She said the section puts a high burden on evaluators because according to the bill, the hearing carries a presumption that a defendant won't regain competency to proceed in trial in the near future. A party attempting to overcome that presumption would have to prove the defendant's likely regained competency by a preponderance of evidence.
"Presuming that somebody is incompetent to proceed rather than competent to proceed is a very significant departure from current practice and statute," Westmoreland said. "Our concern is that were that to change, this would result in an increased number of contested findings … and delays and more cost to the overall system."
SB 181 requires an evaluator to include previous findings of incompetency if there have been three or more for a defendant in the previous three years. 
Sen. Robert Rodriguez expressed concern about the possibility of long-term stigma attached to a person's judged incompetency, especially in circumstances where a person's mental health has a good chance of improving with treatment. 
The Judiciary Committee adopted an amendment to take out a section of the bill requiring a study on how some criminal sentencing laws impact people with mental health conditions. Some testimony expressed concern the inclusion of the study requirement added another subject in the bill, going against Colorado's single-subject requirement for bills. 
Another amendment made small wording changes to clean up the bill, such as removing traffic infractions from the types of low-level offenses covered by the bill, since they are civil violations. The amendment also removed felonies from the bill's purview.
The committee passed the bill on a 3-2 vote, with Sens. John Cooke and Bob Gardner voting against it. 
Rodriguez and Sen. Julie Gonzales spoke up to say they believe the bill needs more negotiation to address stakeholder concerns expressed during the hearing, but said they support the bill nonetheless.
"For too long we have utilized our incarceration facilities to address what should be a health problem," Lee said before the committee vote. "This is a bill to move us a little bit out of crisis mode." 
—Julia Cardi