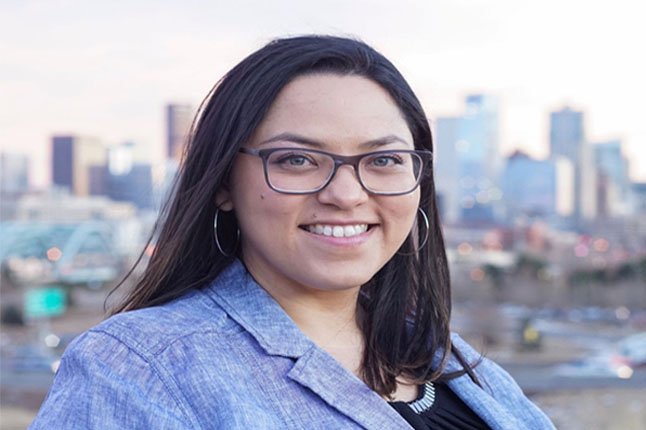 For the past six years, Julie Gonzales has worked as the policy director at the Meyer Law Office, a Denver-based immigration and criminal law firm. On June 26, with 63 percent of the vote, Gonzales won a three-way Democratic primary contest for State Senate District 34. The historically blue district is currently held by Lucia Guzman, who is term-limited. Gonzales talked with Law Week about her primary victory, how her legal work has informed her approach to politics, and the most important issue for voters in District 34.
How does it feel now that you've had a little distance from the primary?
It's been such a humbling experience, the whole thing, start to finish. This was not in my life plan to run for office. I just wanted to do good work and serve the community, and the work that I've been doing through the Meyer Law Office as a policy director has allowed me the opportunity to do that. I was perfectly content to continue doing that work. 
And not get into politics?
Exactly. It was actually about this time last year folks started reaching out to me and saying, 'Jules, you should run for office.' And I was like, 'No, I'm good; I'm getting married in May.' And enough people started asking me multiple times that my fiancé was like, 'Well, let's just move the wedding.' And so, at that point I was like, 'OK, well, maybe I should actually think about this.' 
It was a really amazing opportunity to talk to folks across the city who are excited about and freaked out by the transformation that our city and our state are currently undergoing. To be able to be the Democratic nominee and hopefully have the opportunity to serve for the next four years, it's a huge opportunity, and it's super humbling to know that folks are saying, 'Yeah, you can do this. Here's the work that needs to be done.' I've been trying to meet with folks who are legislators, who are former legislators, or folks who are about to be termed out, and also starting to build some relationships with fellow candidates as well. 
Tell me a little bit about your background and the work you do at the Meyer Law Office.
My family goes back seven or eight generations, depending on who you ask, down in southern Colorado. My mom's side of the family is all from the Walsenburg and Gardner area of Colorado. And my dad's side of the family is all from northern New Mexico. I was born on the Apache reservation down in San Carlos, Arizona, lived there until I was 10, moved to the borderlands in south Texas, where I really watched immigration politics play out in a very real way. 
When did you move there?
Summer of '93, and it's important because that January — we'd lived in Texas for about six months at that point — NAFTA was passed, and my middle school was literally marked by immigrants who were trying to get to Chicago or trying to get to L.A. or trying to get to wherever. They were knocking on our front door and asking, 'Hey, how do I get to Chicago?' And you're like, 'You got a while to go.' Watching how policies have very real impacts on people, even as a little kid — I didn't have a vocabulary at that point to understand it. 
But you could see it? 
Yeah. I didn't learn the vocabulary until I was in college, when I started organizing. There, I learned that if you don't have money or if you don't have influence, if you organize people, you can actually balance out the relationships and dynamics of power and build power for working people. So that's what I've done. 
How did you end up working for the law office?
I'd previously done a lot of nonprofit organizing around labor community partnerships, around education and justice organizing, and then immigrant rights organizing. I was the director of organizing at the Colorado Immigrant Rights Coalition and burned out, quite frankly, and was thinking about going to law school. And so, working with the MLO seemed like a cool opportunity. I applied to and was accepted at both CU and DU law, and then two weeks before I was supposed to start classes at DU law, I realized, 'I don't want to do this. I actually enjoy the work that I'm doing as a paralegal. I don't want to do direct representation. I want to either walk alongside clients and support them or I want to do policy work.' Two weeks before I was supposed to start law school, I withdrew my matriculation, and the rest is history.
It seems like a good fit.
The work that I do on a daily basis as a paralegal is to help clients navigate deeply broken systems, whether that's the immigration systems or the criminal justice system. We follow clients' leads. I've been Jeanette Vizguerra's paralegal for the past six years. It's not me being like, 'Hey, how about we do this?' It's Jeanette being like, 'Hey, this is happening.' We've worked alongside a lot of our clients over the years to lift up to policy-makers and the media how broken some of these systems really are. 
And so, it really begs the question 'How do we change?' Congress is so broken to the point they can't agree on what day of the week it is, but there are tremendous opportunities here in Colorado to make affirmative changes to our criminal justice system. And then to also clarify and delineate what the role of our local law enforcement officials should be versus the role of ICE. My position is that ICE has no business in our state and local governments. And so, that's the work, and that's, I think, how it's been a really good fit. 
When did this thought of going into politics really take hold?
I've participated in a ton of campaigns, mostly issue-organizing campaigns. I worked on Morgan Carroll's congressional campaign in 2016 and learned a lot about how campaigns work and how they don't. I always saw myself as participating in politics through campaigns, not as a candidate. I'd participated in an organization called The New American Leaders Program which trained immigrant candidates and candidates of color to run for office and then to also manage campaigns. 
Time and time again what I've learned as an organizer is that if you're not at the table, it's because you're probably on the menu. And that rings true, as well, for candidates; it rings true for campaign staff, and so diversifying those groups is super important. It was just last summer where folks started approaching me and said, 'Senator Guzman is termed out; you should really consider this.' What I've learned over the years is that, you know, listen to your community.
Tell me a little about the district you're hoping to represent. 
Senate District 34 is comprised of northwest and downtown Denver, so if you can imagine Sun Valley and RiNo in the same area, if you can imagine the Highlands and Westwood — incredible diversity, very much transforming as we speak. Whether you are old-school Northsider, born and raised, or whether you've chosen to move and be a part of this community, everybody wants a safe, thriving, healthy community for them and their kids to grow up in. We have such a tremendous opportunity here in Senate District 34 and in Colorado as a whole to really live our values and fund our budget accordingly so that we can ensure that we have a clean environment, that we do have great public education, and that we do have affordable housing and retirement security. Whether you're new Denver or you're old Denver, whether you're an immigrant to the state or to this country, everybody has a place. 
What were the top two or three things you heard from people while campaigning? What's important to the constituents of this district? 
Affordable housing, affordable housing, affordable housing. Transportation… affordable housing. I talked to so many people when we were out knocking doors who said, 'Hey, Jules. You know, listen, I don't know you, I like what you're saying. My lease is up in May, and so, if I'm still around, yeah, sure, you've got my vote.'
People who might not be there in a couple months?
I went to knock on doors in Golden Manor, which is a senior living home on West Colfax. I had approximately 16 people I was hoping to speak to that day who had all just been displaced by the transformation of the city. Very real needs for affordable housing, and not just here in Denver proper, but across the entire metro area because what we're seeing happen is folks are not just leaving their neighborhoods, folks are moving further and further out. And some folks are leaving Colorado altogether. 
The woman who cleans the building that I live in, she's lived on 6th and Perry for 20 years. Her kids are now in their 20s — and they can't find anything affordable to live in. They're considering moving their entire family out to Phoenix, Arizona, because it's more affordable there. That's the dynamic that so many folks in our community are facing. 
And, quite frankly, a lot of the other issues that are confronting us, whether that's wanting to protect PERA for retirees, whether that's wanting to provide retirement security for folks who don't work for the state, paying teachers more, making sure that we have great public schools, fixing our transportation and our infrastructure, those are all policies that are broken because of TABOR. 
While TABOR isn't the word that comes out when I'm talking to folks, folk are like, 'I don't understand. How come my property taxes are going up year after year, and yet, our roads suck' or 'How come we can't fund our school?' That's a direct result of our broken taxing policy that has forced our state to do more with less over the past 20 years, and now we're living the consequences of those decisions from a generation ago.
What do you feel like you've learned at the Meyer Law Office that, if you're elected, you'd bring to your work at the Capitol? 
One of the things I've learned working alongside Hans and everybody at the Meyer Law Office is that you have to consider all of the angles, and you have to consider what's in the best interest of your client and how you're going to go forward and gather all the documentation and the supporting evidence to build the best case. 
Those are very, very transferrable skills over to the world of politics. Far too often, politicians will say, 'I am the best person to do this." Why? 'Because I said I am.' But they haven't actually listened to the needs of, in this case, not the clients, but the community, or haven't considered the other perspectives that are out there. And I think having done this work, navigating systems with the MLO, and then, before that, doing grassroots organizing out in the community; I think that those skills will hopefully serve me well in this new role at the state legislature.
I also think what I have learned that I appreciate deeply is the fact that nuance matters and that precision matters. As an organizer, a lot of times I would speak about breadth of an issue, but not the depth of an issue. And recognizing now that this person is not going to have his application for permanent residence approved just because he's nice, but there are actual legal standards that we have to go out and demonstrate that he not only is eligible to receive this permanent residence but also merits an approval, right? That level of nuance and specificity matters, and that also carries through at the legislature. 
What will you be up to the next two and a half months before the election?
Three things. I'm going to continue to do work at the MLO, to continue to serve clients and to fight back against this broken immigration regime that is destroying families. 
Two, going to get married. And three, I want to work to not only make sure that we keep my district strong blue and that voters vote up and down the ticket for Democrats, but also, I want to work to ensure that we have a Democratic majority in the state Senate. 
I'd like to go on and actually be able to push forward the policies that are important to the constituents in my community and for the state of Colorado as a whole. And I think that we are best served by that by having a strong Senate majority that is Team Blue. 
—Chris Outcalt