Stay-at-home orders throughout Colorado are delaying people's ability to get into new homes. As the state tries to limit the novel coronavirus' spread, real estate transactions are being held up on two sides: delayed document processing caused by closed title offices, government agencies and appraisers, and limited human contact putting a pause on the in-person parts of the transaction process, such as showings and inspections. 
The Colorado Bar Association has approved an addendum for real estate brokers to use in contracts allowing 14-day extensions of already-set deadlines for required milestones in transactions, such as appraisals and closing dates. The form includes a check box for agreeing to extend closings and a separate box for extending other deadlines related to the transactions. According to the form, parties can still agree to change deadlines in a contract. 
Scott Peterson, general counsel for the Colorado Association of Realtors, has a lot of contact with real estate brokers because of various education and outreach work he does. But, he said, he got a picture of what brokers needed in order to adapt their real estate transactions to the realities of limitations during the coronavirus crisis from hearing questions and issues brought up through a legal hotline he runs.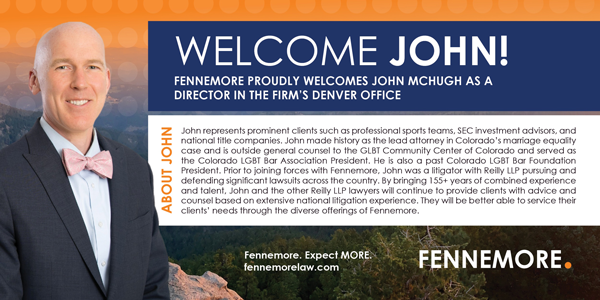 "I was getting blown up from every direction, but the most consistent request — or plea almost — for this was coming out of the legal hotline for brokers who were trying to give their clients [and] consumers some solution."
The Division of Real Estate normally drafts forms for real estate transactions, and it happens in January, February and March. The division adopts the new forms in June, and then the forms go into use the following January. 
"There was no way that process was set up or even appropriate to deal with the velocity that this whole thing was traveling [at]," said Peterson, who also is on the division's forms committee. But state law gives the Colorado Bar Association authority to develop and approve forms as well.
The new form allowing real estate transactions to adapt to realities during the coronavirus crisis is important because brokers' licenses don't give them authority to actually prepare contracts. Cyndi Stovall, a member at Sherman & Howard, said a Supreme Court case ruled that brokers can complete form contracts without it amounting to practicing law. The Colorado Real Estate Commission has approved forms brokers can use without lawyer input.
"That is … certainly what almost every residential deal would be on, but lots of commercial deals are also prepared by the brokers," Stovall said. But she said purchase and sale agreements don't typically include force majeure clauses that allow delay of deadlines and closings because of an unforeseen catastrophe. 
She said the need for businesses to close during the current health crisis can also dampen the ability of parties to close on transactions at all, such as businesses opening new locations and agreements for manufacturing and delivering products. 
"The possibility of not having funds to close probably starts out on the residential side where margins are a little bit thinner, and then the longer this COVID-19 pause goes on, I think it's going to [affect] the commercial side and start to affect the availability of funds for those transactions to happen at all," Stovall said.
Peterson said the new form to deal with the current health crisis is important because even though a state form already exists for brokers to use in amending and extending real estate contracts, brokers trying to write language themselves to tailor contracts to account for the health crisis is risky. 
"It creates a considerable amount of risk for [brokers] … if they're not fully accomplishing what their clients are intending to accomplish," he said. "And while this COVID addendum I wouldn't say from a legal perspective is super complicated, it would be very easy for people to write things that weren't fully consistent with what everyone was trying to accomplish."
Peterson remembered the CBA only taking a few days to approve the addendum. The bar association's authority to develop new forms isn't limited to emergency situations, but he said he doesn't believe the CBA has developed a form for real estate brokers before. 
In contrast to the current needs to adapt real estate transactions on a dime, Stovall said in the future, a viral outbreak probably won't be considered an unforeseeable disaster covered by a force majeure clause because we now know it can happen, as distant as it may have seemed from the realm of possibility just a few months ago. She said under normal circumstances, if contracts have force majeure clauses at all, they tend to use boilerplate language, but the coronavirus outbreak has highlighted that parties shouldn't phone in disaster planning.
"The same effects under a pre-COVID-19 contract might be force majeure [but] maybe aren't in a contract signed subsequent to an outbreak in the United States, because it's now foreseeable," she said.
—Julia Cardi