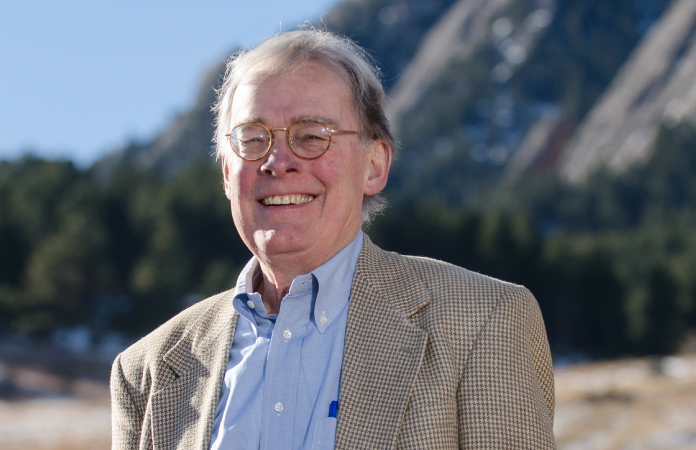 Charles Wilkinson, a longtime University of Colorado Law School professor known for his work on legal issues impacting the western U.S., died June 6 at age 81.
Over the course of his career, Wilkinson represented the legal interests of multiple Native American tribes, authored books that are still taught in law schools and helped shape national policy around the preservation of lands as national monuments. 
According to his online obituary, Wilkinson died of natural causes with his wife by his side. He is survived by his wife, children and grandchildren.
Wilkinson was born in Michigan and grew up in Bronxville, New York and Connecticut before receiving his undergraduate degree from Denison University in Ohio and his J.D. from Stanford Law School. In a 2021 Law Week Colorado profile, Wilkinson said he was inspired to become a lawyer as a child after reading about the U.S. Supreme Court's landmark decision in Brown v. Board of Education in 1954. 
Out of law school, Wilkinson worked briefly in private practice at the Arizona-based office of Lewis Roca and the former San Francisco-based firm Bronson, Bronson & McKinnon. In 1971, Wilkinson came to Colorado to work at Boulder-based Native American Rights Fund, which was founded just a year earlier in 1970 as a nonprofit organization to represent the legal interests of Native Americans in the U.S. 
In his 2021 interview with Law Week, Wilkinson recalled representing the Menominee Indian Tribe, based out of Wisconsin, in reobtaining federal recognition in his first years at NARF. He went on to represent a number of other tribes in the federal recognition process, many based out of the Pacific Northwest, including the Confederated Tribes of the Warm Springs Reservation, Confederated Tribes of Siletz Indians and the Klamath Tribes. 
His work at NARF went on to inform his academic career and writing. He first began teaching at the University of Oregon School of Law in 1975 and recalled persuading the school's dean to let him teach about public lands, federal Indian law and water law, explaining to Law Week that in 1975 those topics were rarely taught in law schools. 
Wilkinson wrote his first book and co-wrote several other casebooks while he was a faculty member at the University of Oregon School of Law on public lands, natural resources and federal Indian law. 
In total, he would go on to write 15 books and numerous articles around legal issues relevant to the American West. According to his obituary, Wilkinson's final book on the landmark 1974 Washington state court ruling, the Boldt Decision, will be published in February 2024 to commemorate the 50th anniversary of the ruling. Wilkinson was copy editing the manuscript in his final days, according to his obituary. 
University of Washington School of Law professor Monte Mills, a former student of Wilkinson, told Law Week in 2021 he still teaches Wilkinson's first book ("American Indians, Time, and the Law: Native Societies in a Modern Constitutional Democracy") to students. "To me, it is the single best resource for anybody [to] understand federal Indian law. Not because it's a legal textbook but because it presents and explains the concepts in the field in such a way that anyone can pick up that book, read it and at least have a functional understanding of the complexities of federal Indian law," Mills said. 
In 2021, University of Arizona's James E. Rogers College of Law professor Rebecca Tsosie told Law Week Wilkinson's writing was a pillar in establishing legal concepts around tribal sovereignty. "He's always made it a point to show why tribal sovereignty is relevant to a lot of the West, or even all of the United States," said Tsosie, who also serves as a justice for the Fort McDowell Yavapai Nation Supreme Court and an associate judge on the San Carlos Tribal Court of Appeals. 
Wilkinson returned to Boulder in 1987 to join the University of Colorado Law School where he was an active faculty member until 2018 when he stepped back to professor emeritus status. At CU, he continued his research and writing and covered a number of other topics relevant to the American West including land rights, water rights and more. In 1997, he was recognized for his teaching when he was named a distinguished university professor by CU's Board of Regents. 
In 2013, he became one of the namesakes for the University of Colorado Law School's Getches-Wilkinson Center for Natural Resources, Energy and the Environment which works to educate students and the public and bring together scholars on emerging and important legal topics of the American West. While working for CU Law during the Clinton administration, Wilkinson helped then-Secretary of the Interior Bruce Babbitt create a plan to establish the Grand Staircase-Escalante National Monument in Utah. He also worked with a number of tribes to petition for the creation of Bears Ears National Monument in Utah decades later under the Obama administration. 
University of Colorado Law School's dean, Lolita Buckner Inniss, said in a statement posted by the university to announce his death that Wilkinson was remarkably dedicated to his work. "Charles Wilkinson's passing brings into sharp focus his extraordinary legacy—a legacy that embodies the very best of what our law school stands for. He was a brilliant advocate, and his life's work will continue to guide and inspire us," said Buckner Inniss.