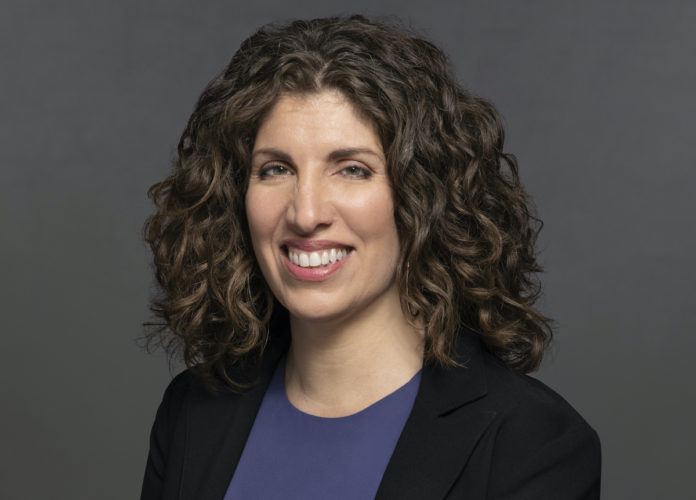 The Senate Judiciary Committee's consideration Wednesday of a prominent voting rights lawyer for a federal appeals court vacancy in New York provided another example of Congressional battles over judicial selections. The proceeding may presage a floor debate and vote on Myrna Pérez' candidacy to become a judge of the 2nd U.S. Circuit Court of Appeals based largely on legislators' partisan affiliation
Pérez, who leads the Brennan Center for Justice at New York University School of Law, is an advocate against a variety of measures that curtail American citizens' eligibility to cast a ballot. During her 15-year tenure at the Brennan Center, Pérez represented clients as amicus curiae parties in several U.S. Supreme Court cases involving constitutional limits on those efforts, including this term's Brnovich v. Democratic National Committee and the 2013 Shelby County v. Holder Voting Rights Act cases.
"The right to vote keeps us free," Pérez said in response to questions from Illinois Democrat Richard Durbin, the committee chairman. "It protects us from tyranny." During later questioning by Sen. Sheldon Whitehouse of Rhode Island, she explained that her work requires her to pay close attention to proposed voting rights laws that might reduce access to the franchise. "As a civil rights litigator I am duty-bound to be hyper-sensitive and attuned to issues of disparity and racism and to protect and guard against any threats to a free, fair, and accessible election and, as such, I have been vigilant about monitoring and watching and researching potential threats to a fair vote," Pérez said.
Republicans repeatedly attacked Pérez' work as a voting rights advocate and unsuccessfully attempted to draw from her a statement of her constitutional philosophy. Ranking member Chuck Grassley of Iowa asked her to define her conception of a "living Constitution," which provoked Pérez to invoke for the first of numerous times during the hearing a statement that the nation's charter is "enduring." The nominee also said that 
Louisiana's John Kennedy pushed Pérez to explain when judges should create "new rights," but the nominee, who worked as a lecturer or adjunct professor at Columbia Law School and NYU School of Law, did not take the bait. "I would look to precedent," she said. "There's always some precedent." Kennedy, in response, expressed annoyance. "It bothers me that you're dodging my questions," he said.
Later, when questioned by the Democrats' Whitehouse, Pérez expanded a bit on the description of her likely jurisprudence. "I love that under the Constitution, we are all equal under the law," she said. "I love that we all have the right to free exercise and I am entirely persuaded in the wisdom of the frameworks it sets up, things like the rule of law, separation of powers, an independent judiciary, and federalism."
When other committee Republicans later got their turns, they either accused Pérez of being unable to be impartial as a judge, if confirmed, or insinuated that she would be a political plant by the Biden administration that is expected to push for more voting rights than Congress wants. 
Missouri's Josh Hawley and Texas' Ted Cruz, for example, called  Pérez an "activist," a label that has been used by Republicans to justify opposition to Biden judicial nominees, and asked her view on the merits of the Supreme Court's decision in the Brnovich case. He also highlighted her criticism of a position in that dispute advocated by him and other conservatives as "outrageous and harmful." Pérez said in response that the views she expressed as an attorney on behalf of clients are not germane to the work she would do as a federal judge. "What I said as an advocate when it was pending before the court is not relevant," Pérez told Cruz.
Mike Lee of Utah made another attempt to persuade Pérez to elucidate a philosophy of constitutional interpretation. Pérez declined to do so, explaining that her work as a lawyer rather than a jurist has not required her to develop one. "I am not a judge, she said. "I don't have a judicial philosophy yet."
Another Republican, Tennessee's Marsha Blackburn, accused Pérez of being dishonest because she declined to tell Kennedy, Hawley, Cruz, and other GOP senators whether she agreed with several of the Supreme Court's voting rights decisions. "I get this funny feeling that you're trying to hedge us, that you've rehearsed your answers, that you're spouting out what you think will not get you into trouble so that you can go through the confirmation process and then do the happy dance and get on the court and then go back to your activist ways," Blackburn said. 
Blackburn did not mention that other judicial nominees sent to the Senate by presidents of both parties also declined to answer specific questions about whether decisions by the Supreme Court are right or wrong or provide their opinions about the merits of those cases. 
Responding to questioning by California Democrat Alex Padilla, Pérez pointed out that she did not want to give potential litigants before the 2nd Circuit the impression that she could not be impartial. "I know that when I'm a litigant in court, I want to be able to go before a judge that allows me to make the arguments, that allows me to make the case, and sets aside whatever personal viewpoints," she said. "Our system does not work unless judges do that."
Pérez is the daughter of two Mexican immigrants, including a U.S. Air Force veteran and a waitress. During her opening comments, she lauded the values they passed on to her. "While I never heard any complaints, I never heard the words discrimination or poverty as a young child, I knew that much of their life was very challenging and full of hardships," Pérez said. "They never communicated anything but gratitude for what they had. [T]hey taught me that, on my worst day, I'm still better off than most of the world on their best." That background was highlighted when the Texas native and New Jersey resident was introduced by Senate Majority Leader Chuck Schumer. "Myrna Pérez's life is a quintessentially American story," he said. "As we will tell you, her upbringing was steeped in the immigrant experience of many first-generation Americans."
If confirmed, Pérez would replace Judge Denny Chin, who assumed senior status on June 1. She would become the first Latina on the 2nd Circuit since Justice Sonia Sotomayor sat on its bench between 1998-2009.
The 2nd Circuit is headquartered in the Thurgood Marshall U.S. Courthouse on Foley Square in Manhattan and hears cases arising in federal trial courts in Connecticut, New York and Vermont.
The Judiciary Committee also grilled several other Biden judicial nominees, including two for the federal district court in the nation's capital and one each for the U.S. District Courts in Connecticut and New Jersey.