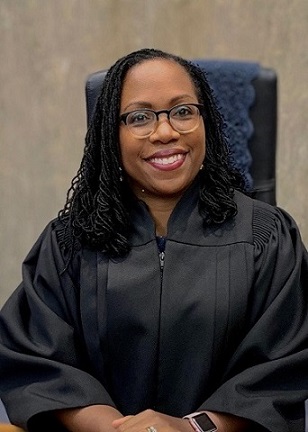 The Senate decided Thursday to end debate on President Joe Biden's first appeals court nominee. The 52-46 cloture vote on U.S. District Judge Ketanji Brown Jackson's nomination to the U.S. Court of Appeals for the District of Columbia Circuit means that she is likely to be confirmed.
Jackson has been a federal judge since 2013. Appointed to the district court in Washington by President Barack Obama, the former assistant counsel to the U.S. Sentencing Commission and assistant federal public defender is described by The Washington Post as a "gifted writer and unflappable jurist who works long hours and has handled many types of cases."
As a trial judge, Jackson issued several notable rulings involving Trump administration policies. They included a 2019 decision ordering former White House counsel Don McGahn to testify before a Congressional committee, a decision upheld by the DC Circuit. After additional delay and a settlement of the dispute by the Department of Justice Justice Department and legislative investigators, McGahn appeared June 4 for a closed-door deposition about Trump's handling of the investigation by special counsel Robert Mueller into Russian interference in the 2016 presidential election. 
A Harvard Law School graduate, Jackson clerked for Justice Stephen Breyer at the beginning of her legal career. She has been of counsel at Morrison & Foerster and was an associate at Feinberg Rozen and at the international firm Goodwin Proctor. 
Jackson is the daughter of two public school teachers. During college, she was a stage actress. The ABA Journal reported that she once partnered with actor Matt Damon in a production.   
If confirmed, Jackson would replace Attorney General Merrick Garland, who served on the D.C. Circuit for 14 years. A Black woman, Jackson has been the subject of speculation among lawyers that she could be a potential Biden nominee to the Supreme Court in the event of a vacancy among the justices during his presidency. Obama apparently considered Jackson for the seat later filled by Justice Neil Gorsuch when he was considering nominees to replace Antonin Scalia, who died in 2016. Jackson would be the third African-American woman ever to serve on the powerful Washington, D.C.-based appeals court, and the ninth ever to serve on any federal appellate court, if the Senate approves her nomination.
The Senate also confirmed Zahid Quraishi to be a federal district judge in New Jersey on an 83-16 vote. The Army veteran will become the first Muslim American to serve as a U.S. district judge.