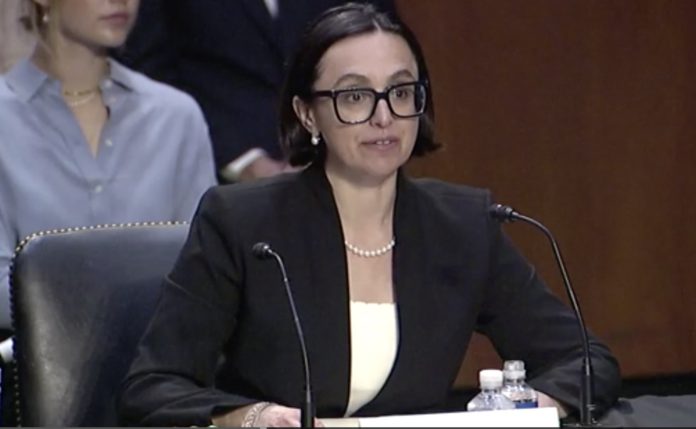 Veronica Rossman, the Denver assistant federal public defender nominated to sit on the 10th U.S. Circuit Court of Appeals, testified before the Senate Judiciary Committee Wednesday as the panel considered whether to recommend her confirmation.
Rossman appeared alongside Eunice Lee of New York, a nominee to sit on the 2nd U.S. Circuit Court of Appeals, and three lawyers chosen to be district judges on the federal court in Seattle. 
Sen. Dick Durbin, the committee's chairman, opened the hearing by pointing to a lack of diversity in professional experiences among federal appeals court judges. "We need in our judiciary a reflection of America, across the board," he said. 
Durbin explained that 48 appellate judges have been federal prosecutors during their careers, but only two have been federal public defenders. "The numbers are even more stark when it comes to the 2nd and 10th circuits," the Illinois Democrat continued. There, he said, half of the courts' judges have worked as a federal prosecutor, but none have experience in a federal public defender's office.
The committee's ranking minority party member, Chuck Grassley of Iowa, used his opening statement to take issue with the emphasis placed on experience representing individuals charged with crimes. "A circuit judge needs to be a generalist," he said. "Criminal defense lawyers aren't going to be criminal defense judges. They'll be hearing every kind of federal appeal." 
Sen. Michael Bennet, Colorado's senior senator, introduced Rossman at the hearing. "Ms. Rossman cares deeply about justice and the rule of law because she knows what it means to live without them," Bennet said. "Veronica was born in Russia, where her family faced anti-semitism at every turn." He described discrimination that had been inflicted on Rossman's family, including her father, a scientist, and her mother, a music teacher, and told the committee that Rossman arrived in the U.S. as a political refugee. "From virtually nothing, she built a distinguished legal career," he said.
In her opening comments and accompanied by her husband, Lewis & Roca partner Kenneth Rossman IV and the couple's 18-year old and recent high school graduate daughter, Veronica Rossman spoke of her family's odyssey. "Like so many immigrants to our great nation, my parents left behind all that they knew to build a better life in the United States," she said. "I still remember the day that we became citizens. I was in middle school." "Given how our American story began, it is beyond our wildest dreams that I would be sitting here today," she continued.
Durbin opened up his question period with a "general, softball-type" inquiry, as he described it, that focused on equal justice. Rossman responded with a reference to her work as an appeals advocate. "One thing that I have witnessed that has really stayed with me is the importance of appellate courts in the lives of ordinary people," she said. "People come to the appellate courts wanting to be heard, wanting for the judges to be impartial, neutral, receptive, in the sense not of an outcome-determinative way in every case, but knowing they're going to get a fair hearing before the court."
The Prairie State's senior senator then asked Rossman to describe her work to help prisoners obtain discharge from incarceration during the COVID-19 pandemic. "Many hundreds died in our prisons," Durbin said. "The rate of infection was six times what it was in the general population." Rossman said that she has been actively engaged during the past year in that representation. "My work specifically in the last year has focused on the so-called compassionate release portion of the act," she said. Rossman was referring to the First Step Act, a prison reform law enacted in 2018 that gave federal prisoners the right to ask U.S. courts for transfer to home confinement if "extraordinary and compelling reasons" are present. "What we saw during the pandemic was a true crisis with individuals who were experiencing COVID within the prison system." She explained that, for "eligible individuals – certainly not for everyone," compassionate release "was an incredibly important avenue to pursue."
When Grassley's turn came he invoked the 10th Circuit's approximately 3:1 annual ratio of civil cases to criminal cases to first ask Rossman why she is a "good fit for the generalist docket" of the court. Rossman said her "training ground was in civil litigation," explaining that her work as a law firm associate had encompassed antitrust, business, contracts, and intellectual property disputes. "This was certainly a long time ago, as I've spent the last 11 years at the federal public defender's office, but I consider the work that I have done before as accessible to me," she said. 
A former Morrison & Foerster and Mastbaum & Moffat associate of about seven years, Rossman's experience in private practice included work on antitrust and intellectual property cases. According to a questionnaire she submitted to the committee, Rossman has also been a staff attorney at the 9th U.S. Circuit Court of Appeals and a visiting professor at the University of Denver Sturm College of Law. 
Grassley also nudged Rossman to say whether she ascribes to the originalist view of constitutional interpretation favored by political conservatives. Rossman did not directly answer, but said she has a "deep and abiding love and respect for our constitutional and our democratic system, largely borne of my experience as a political refugee but also [of]  my experience as a practicing lawyer, especially in the criminal justice area." Tennessee Sen. Marsha Blackburn also raised the question of Rossman's constitutional philosophy. When Rossman said she does not have one, Blackburn cut her off. "I'm astounded," the Republican said. 
Several Republican senators, including Thom Tillis of North Carolina, Josh Hawley of Missouri, Tom Cotton of Arkansas and Blackburn returned to the subject of Rossman's work to secure compassionate release for federal inmates. Each asked her to justify arguments she had made on behalf of incarcerated clients. Rossman said, in response to various questions, that the question of whether a prisoner had been infected by COVID-19 and the length of time already served behind bars were not alone determinative. Rossman also told Hawley that any motion for compassionate release is accompanied by a plan for release that will be likely to assure the community's safety. 
Most of the committee's Democratic members did not question either nominee. Chris Coons was the only other majority party senator to do so. His two inquiries focused on the support Rossman's nomination received from colleagues and the difference between the roles of an advocate and that of a judge.
Rossman was selected to replace Carlos Lucero on the 10th Circuit. Lucero, and a native of tiny Antonito in the San Luis Valley, had practiced law in Alamosa for nearly 30 years and had been an active judge on the court for almost 26 years until assuming senior status on Feb. 1. 
More than 90 Colorado lawyers signed a letter in support of Rossman's nomination. "Throughout her career as a federal public defender, she has taught us all that credible, effective advocacy requires the ability to respect the law and to argue for its accurate and equitable application on behalf of those whose lives will be forever changed by the outcome of the case," they wrote. "As evidenced by the diverse group of her supporters, many of whom are prosecutors, there is wide agreement that she will bring wisdom and balance to the court."
The Judiciary Committee has not yet scheduled a vote on Rossman's nomination.