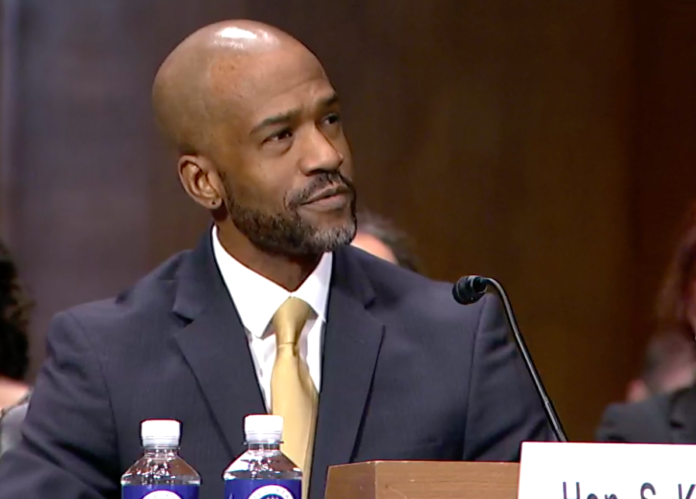 On Wednesday, the U.S. Senate advanced nominees for Colorado's federal court. 
Judge Gordon Gallagher on March 22 was confirmed by a 53-43 majority of the Senate and Judge Kato Crews was questioned by the Senate Judiciary Committee. 
Gallagher, an attorney and magistrate judge for the U.S. District Court for the District of Colorado since 2012, was nominated last fall by Pres. Joe Biden to fill a vacancy created by U.S. District Court Judge William Martínez who assumed senior status on Feb. 10. Gallagher appeared before the Senate Judiciary Committee in December 2022 before his March 22 vote. 
Gallagher's confirmation fell primarily along party lines, with present Senate Democrats voting in favor along with a handful of Republicans. 
Sen. Richard Durbin introduced Gallagher and expressed his support in statements in the March 22 Senate record. "Given his significant trial experience and deep knowledge of Western Colorado, I strongly support the nomination of Judge Gallagher and am glad to see him confirmed," said Durbin in the statement. 
Gallagher received his J.D. from the University of Denver Sturm College of Law and after graduation worked briefly in private practice before joining the 21st Judicial District Attorney's Office in Mesa County on the western slope. After working as a prosecutor, Gallagher represented clients on the other side of the courtroom as a solo practitioner in a criminal defense firm while also working for the office of alternative defense counsel. Since his appointment as a federal magistrate judge in 2012, Gallagher has maintained an active practice.  
According to Senate records, Gallagher has tried a total of 275 cases, including 250 jury trials, and presided over a dozen criminal misdemeanor and petty offense trials as a magistrate. 
Earlier in the day, senators questioned Crews who was nominated by Biden in February to fill an upcoming vacancy created by Judge Raymond Moore who will assume senior status June 20. 
Crews was one of three federal court nominees questioned by the Senate Judiciary Committee on March 22 but received the majority of tense questions from senators. 
As well as receiving support from Colorado Sens. Michael Bennet and John Hickenlooper, Crews went in front of the committee with letters of support from multiple former clerks, the Colorado Women's Bar Association, the Colorado Hispanic Bar Association, the Asian Pacific American Bar Association of Colorado, the Sam Cary Bar Association, a former union representative, several groups of Colorado attorneys and Colorado Supreme Court Justice Monica Márquez. 
Crews was appointed as a federal magistrate judge in 2018 and became the first Black magistrate in Colorado's federal district court. Prior to his appointment, Crews worked in employment law matters first with the Denver office of the National Labor Relations Board then in private practice as a partner at what is now Lewis Roca Rothgerber Christie LLP. Afterward, Crews was one of the founding partners of Hoffman Crews Nies Waggener & Foster LLP where he practiced civil litigation and labor and employment law. He received his J.D. from the University of Arizona, James E. Rogers College of Law. 
Introducing him to the full committee, Bennet said Pueblo-born Crews' experience representing companies and workers in labor and employment matters and his time on the bench are reasons he's supported Crews. 
In his more than four years as a magistrate judge, Crews has presided over five jury trials and established the Federal Limited Appearance Program in partnership with the Colorado Bar Association's Young Lawyers Division to pair pro se litigants with pro bono representation in federal hearings. 
"He's one of the most successful judges in our state, and one of the most qualified," said Bennet. 
While Crews had robust support heading into the hearing, the committee pressed him on his record and judicial approach. 
Republican Sen. John Kennedy asked Crews to address the 18 cases where a decision of his was reversed or partially reversed on appeal. 
Crews noted that in his career he has issued more than 1,500 orders and recommendations and added that he approaches all cases before him in the same way. "Which is to analyze the law, analyze the Supreme Court and 10th Circuit precedent that bears on those cases and I apply those to the facts of that case," Crews said. He added that many of the overturned cases were matters he reviewed de novo and he said he respected the decisions of district court judges who disagreed with him. 
Kennedy then asked Crews to describe how he approaches a Brady motion, which requires prosecutors to disclose evidence in their possession that could be exculpatory. Crews responded that he hadn't been presented with a Brady motion on the bench. Kennedy asked Crews to recall the originating Supreme Court case, Brady v. Maryland, and its holding. 
"I believe that the Brady case involves something regarding the Second Amendment. I have not had occasion to address that," Crews responded. "If that issue were to come before me, I would certainly analyze that Supreme Court precedent and apply it as I would need to to the facts in front of me," he added. 
The Senate committee will need to vote to advance Crews. If a majority of the committee agrees to advance his nomination, it will be sent to the full U.S. Senate for consideration.