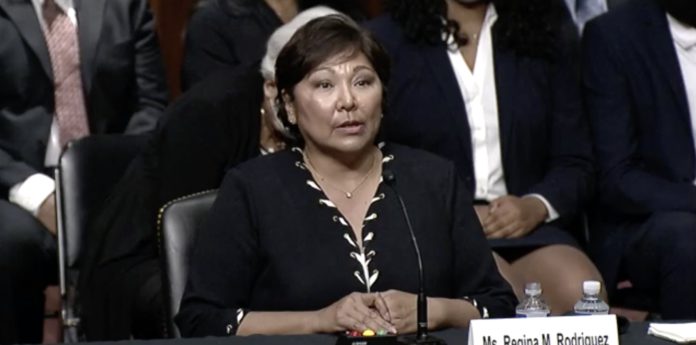 The Senate Judiciary Committee on Wednesday approved the nomination of Regina Rodriguez, a WilmerHale partner, as a federal district judge. The 17-5 vote indicates the Senate is likely to take up the nomination soon.
Both parties' committee leaders lauded Rodriguez's professional background. "Tremendous experience in the courtroom," said Democratic chairman Dick Durbin of Illinois. "I have no doubt that she's ready to serve on the bench. She's practiced for 30 years, taken 35 cases to verdict representing the government as an assistant U.S. attorney, rising to become chief of the civil division in her office."
"Her background as a law firm partner and former prosecutor is very impressive," said Republican Sen. Charles Grassley of Iowa, the ranking member, in his comments about Rodriguez's nomination. Rodriguez has also been a partner at Hogan Lovells from 2016 to 2019 and Faegre Baker Daniels, where she worked between 2002-2016.
Durbin also spoke of the historic nature of Rodriguez's nomination. "Regina Rodriguez is the daughter of a Mexican American father and a Japanese American mother," Durbin said. "Her mother's family was interned during World War II. Only in America could their daughter now be nominated to be a federal judge. If confirmed, Ms. Rodriguez would be the first Asian-American judge to serve not only the District of Colorado, but in the 10th Circuit."
Rodriguez was born in Gunnison in 1963. A University of Colorado alumnus, she earned her law degree at the University of Iowa. Rodriguez was a member of the Colorado Commission on Higher Education and now serves on the state's Supreme Court Nominating Commission.
Previously nominated by President Barack Obama to a seat on the U.S. District Court for the District of Colorado in February 2016, Rodriguez saw her aspiration to become a judge foiled when her nomination was not taken up by the then-Republican controlled Senate. The nomination expired when the 114th Congress ended in January 2017. Rodriguez appeared before the Senate Judiciary Committee on April 28 for her first hearing.
Every Democrat on the evenly-divided Judiciary Committee voted Wednesday to confirm Rodriguez. Five Republicans voted 'no.' They included Sens. Tom Cotton of Arkansas, Ted Cruz of Texas, Josh Hawley of Missouri, Mike Lee of Utah and Ben Sasse of Nebraska.
Rodriguez's nomination does not yet appear on the Senate's executive calendar, meaning it is not clear, as of press time, when her nomination will reach the floor.
The Judiciary Committee also approved the nominations of two district judge candidates in New Jersey, including Zahid Quraishi. Quraishi, born in 1975, is a former Riker Danzig partner, Department of Homeland Security lawyer and Army judge advocate general. He would be the first Muslim federal judge with a lifetime appointment in the nation's history if the Senate votes to confirm him.
Members of the committee also advanced two federal appeals court nominees. Both are Black women who were tapped by President Joe Biden to sit on the 7th U.S. Circuit Court of Appeals and the U.S. Court of Appeals for the District of Columbia Circuit.