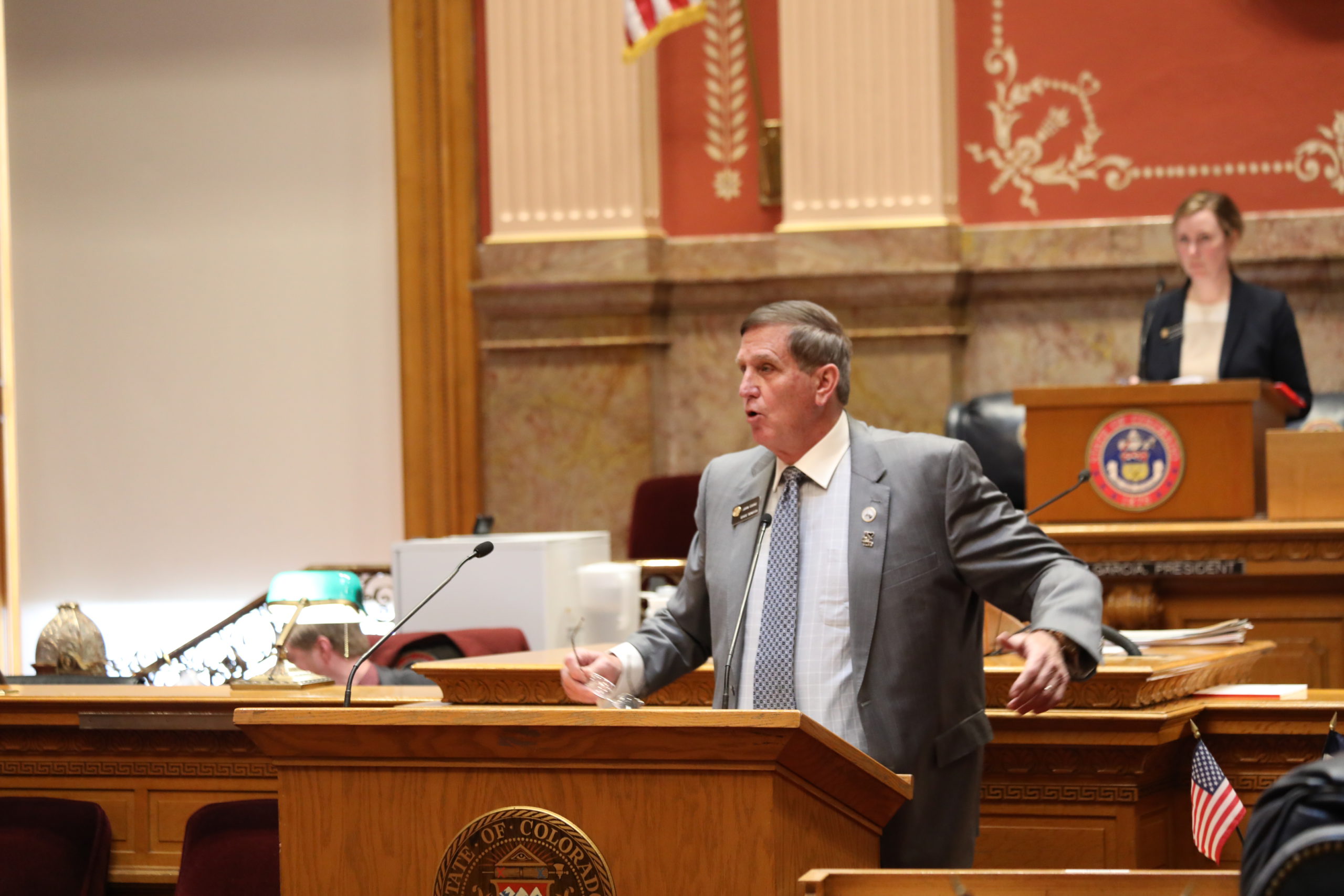 Sen. John Cooke (pictured right) took the podium on the chamber floor Tuesday to rail against Senate Bill 181, a sweeping regulatory overhaul of oil and gas operations in Colorado. Among other components, it would change how the Oil and Gas Conservation Commission makes decisions about allowing drilling by requiring the prioritization of public health and safety. Republican lawmakers have decried both the merits of the measure and the speed with which Democrats introduced and pushed it through the Senate. 
Critics of Senate Bill 181 say it will hamstring operations and endanger the jobs of the tens of thousands of people who work in Colorado's oil and gas sector. 
"Let's be clear what this bill is. It's an attack on entire community," Cooke said. "It's an attack on a community that produces the products we all use." Cooke represents Weld County, the state's biggest producer of oil and gas. 
Senate Majority Leader Stephen Fenberg (pictured left) watched as Sen. Paul Lundeen spoke to the chamber to denounce the fast pace at which Democratic lawmakers introduced and held a hearing for Senate Bill 181. After Lundeen spoke, Sen. Jessie Danielson scolded Republican legislators for focusing on the bill's process rather than the components of the bill itself.
At the podium, Fenberg countered criticism that the measure will hamper oil and gas operations on a wide scale. He said Senate Bill 181 is in a sense the opposite of Proposition 112, a failed ballot measure that would have increased setback requirements statewide for drilling, because it allows for local control of oil and gas operations rather than the one-size-fits-all approach of Proposition 112.
"This bill is also not a job-killer, or something that will devastate the economy," he said. "The reality is, if our intention with this bill was to destroy the oil and gas industry, I could've written that bill in less than a page. This has almost 30 pages because the intention here is to create a regulatory framework to have certainty for not only the oil and gas industry, but the communi-ties that are impacted by it."
—Julia Cardi