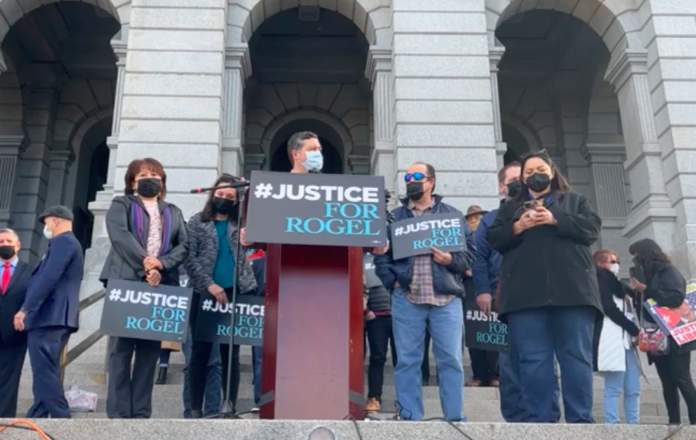 Supporters of a 26-year-old truck driver sentenced to 110 years in prison for a crash resulting in multiple deaths called for justice system reform at a rally on Wednesday. 
The rally, held on the steps of the Colorado State Capitol in Denver, asked Gov. Jared Polis to grant clemency to Rogel Aguilera-Mederos, who was convicted by a jury of 27 counts ranging from vehicular homicide to reckless driving in October and handed the lengthy sentence on Dec. 13. Current and former state representatives joined Aguilera-Mederos' family, supporters and attorneys.
While the rally focused on leniency in Aguilera-Mederos' case, speakers called for larger reforms to Colorado's minimum mandatory sentencing requirements, which have come under fire since the sentence was handed down. 
In 2019, Aguilera-Mederos, a Cuban American truck driver from Houston, lost control of an 18-wheeler on Interstate 70 in Lakewood and crashed into stopped traffic resulting in four deaths and multiple injuries. Aguilera-Mederos' family and attorneys have contested the conviction and sentence, arguing that he was not under the influence of drugs or alcohol, had no prior traffic convictions and the crash could have happened to anyone. Prosecutors in the case argued Aguilera-Mederos could have taken multiple safety measures to prevent the crash, including using runaway truck ramps. 
District Court Judge Bruce Jones said during Aguilera-Mederos' sentencing that he would not have handed down such a harsh sentence had it not been for Colorado's laws around mandatory minimum prison sentences. Several counts that Aguilera-Mederos was convicted of are crimes-of-violence, which under Colorado law carry mandatory minimum prison sentences that must be served consecutively. 
Since the sentence was handed down, attorneys representing Aguilera-Mederos and several interest groups have asked Gov. Polis to grant sentence clemency. And yesterday, the Jefferson County District Attorney who led Aguilera-Mederos' prosecution announced she will ask a state judge to reduce his sentence to 20 to 30 years on Monday. 
But according to current and former lawmakers who spoke at the Wednesday rally, Aguilera-Mederos' case is about larger issues with Colorado's criminal justice system. 
"Today's a really tough day for us because what we're talking about is how our system at this building has created a situation where a judge, at their own discretion who doesn't want to issue a sentence has to issue that sentence," said state Rep. Alex Valdez, speaking on behalf of the Colorado Democratic Latino Caucus. "What we hope to achieve is reforms, that's really what this is all about." 
"There are dozens if not more people who have pending applications for clemency before the governor right now," said Sen. Julie Gonzales, who is part of Colorado's Sentencing Reform Task Force and worked to pass bipartisan sentencing reform for misdemeanors. 
"In every aspect of the criminal justice system, we have seen racial disparities," Gonzales added. "That's our work, that's your work, that's DAs' work, that's defense attorneys' work, that's the judiciary's work to address and to eliminate every aspect of racial disparity and bias that exists within our system." Gonzales said she plans to prioritize passing felony sentencing reforms in the 2022 legislative session. 
Former Colorado General Assembly member, attorney and 2022 Colorado Senate candidate Joe Salazar criticized the origins of mandatory sentences and called for accountability in district attorneys offices. 
"The bookends of the court system [are] the DAs and the judges who do the sentencing, in between swinging in there are community members facing the injustice one way or another," said Salzar.  "Real criminal justice reform also includes holding judges and DAs accountable." 
Other lawmakers in attendance included Colorado Senator Robert Rodriguez, Colorado General Assembly Representative Adrienne Benavidez, Colorado General Assembly Representative Kerry Tipper and Colorado General Assembly Representative Kyle Mullica. 
In a press release, the League of United Latin American Citizens called for Colorado to revisit its minimum mandatory sentencing laws. LULAC president Domingo Garcia met with Gov. Polis on Wednesday to ask he grant the clemency petition. 
A Change.org petition asking Gov. Polis for a sentence commutation for time served or for clemency racked up 4.8 million signatures. Reality TV star and 2022 California bar candidate Kim Kardashian drew more national attention to the case on Tuesday with a series of tweets where she called the sentence "shocking and unfair" and called for sentence reforms.