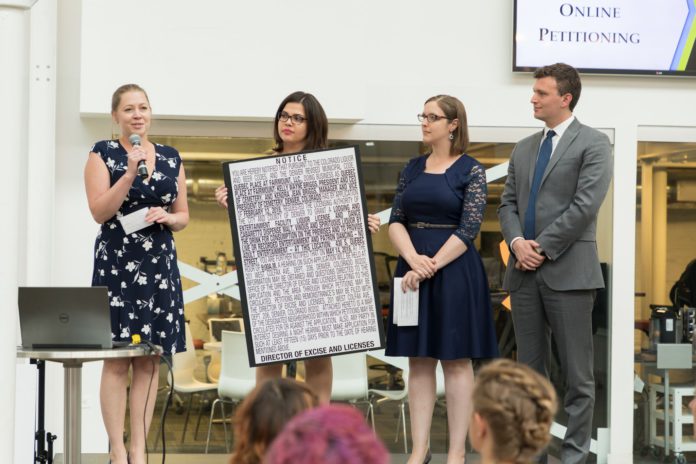 Increasing involvement in liquor license hearings, cutting long jail processing times for low-risk defendants, more efficiency for the Department of Local Affairs and recruiting foster families: Teams of students from the University of Colorado's Silicon Flatirons Center and public employees pitched ideas for improving efficiency and saving money in these public-sector areas to a panel of Colorado's high-ranking civic leaders.
Denver Mayor Michael Hancock, Lieutenant Gov. Donna Lynne and Techstars partner Nicole Glaros listened to each group's eight-minute pitch and then peppered them with questions, feedback and praise. The judges and other speakers spotlighted the pitches for their injection of innovation into the typically slow-moving government.
"The idea of innovation and government coming together isn't the most natural combination of words that you can imagine," said David Edinger, the City and County of Denver's chief information and performance officer. "In fact, the natural state of government that I've learned over the last 10 years … is one of compliance, not performance." The Governmental Entrepreneurial Leadership Accelerator is a catalyst for government change, he said.
Teams comprising Silicon Flatirons students and public employees come up with innovative ideas to address a problem statement assigned to them relating to a particular area of government. Along the way, teams work with government and law firm mentors. Wednesday evening's event was the third GELA pitch night. In the accelerator's first year, the City of Denver adopted one of the programs.
Silicon Flatirons director and founder Phil Weiser opened the event with remarks about the need for governmental innovation in Colorado's "world-class entrepreneurial ecosystem." David Padrino, Lynne's chief of staff and the state's deputy chief operating officer, said it was not overly dramatic to characterize GELA's importance as "restoring faith in the government" through innovation that brings together the private and public sectors, investing in people and delivering results to its customers — the state's citizens.
"Team Hearings" pitched an online petitioning system for liquor licensing to increase community input during the process to replace Denver's paper-based petition. In addition to making it easier for the public to give input, the group said an online system would make it easier for the government to validate signatures on a petition and decrease costs for the petitioner. The group said the model could also be implemented across city departments, such as planning and zoning.
"That was a really wonderful explanation; I feel like I didn't understand the problem before, and I understand it more clearly now," Glaros told the group.
"Team Jail" highlighted the problem of low-risk individuals with warrants out for their arrest spending unnecessary days in jail due to long processing times, which can lead to ripple-effect consequences such as job loss for missing work. The group said a study has shown that low-risk individuals who are in jail for two to three days are 22 percent more likely than those detained less than one day to miss their hearing court dates, as well as 40 percent more likely to commit additional crimes before their trials. The team proposed an express-release pilot program for individuals already identified as low risk as an alternative to the first-in, first-out processing system.
Glaros questioned the group about additional training for the pilot program they said would be needed for the Denver Sheriff's Department, courts' warranted bond staff and other departments involved. 
"Often retraining behavior can be a difficult thing to [accomplish]," she said. "It sounds to me like the technology side is probably the easier piece. Behavioral change can be harder."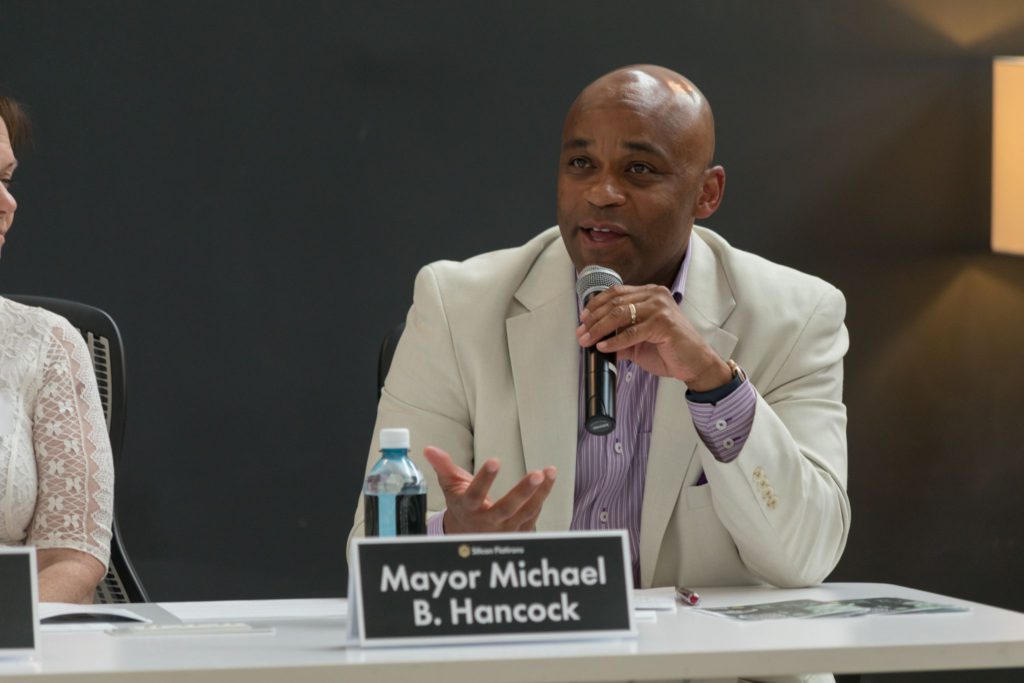 "Team DOLA" offered a software solution to expedite the normally months-long process of distributing grant money through the Department of Local Affairs, which they said awards more than $23 million to different communities in the state. The current process takes 12 steps and five different signatures. Processing time could come down to as low as four days, the group said. For grant recipients, the average 173-day time savings could mean another construction season well-utilized or a rural town could expand its broadband infrastructure in time to meet demands for an upcoming busy tourist season.
Lynne expressed concern about the possible elimination of government jobs with such a large efficiency jump. The team responded they hope the employees tasked with grant processing and distribution would instead be able to take on other duties.
And "Team Foster" proposed a digital system designed to address Colorado's shortage of hundreds of foster homes. They plan to both increase recruitment of foster families and retention of families who may drop out of the foster care system because of feelings of isolation and burnout. Team Foster proposed a universal application for foster families in the state to reduce the normally lengthy and arduous process. The group also proposed small support webs for foster families that are also designed to help them address the unique needs of the children they foster. 
After the pitches concluded, Hancock praised each team and voiced his support for the accelerator program's growth. "This really is about recognizing that government can't hide behind the cloak of bureaucracy anymore." 
—Julia Cardi