The Wheels of Justice cycling team celebrated another year of fundraising for the Children's Hospital Center for Cancer and Blood Disorders June 22 at Denver's Epernay Lounge. The organization raised more than $423,000 in 2017, and has so far raised about $184,000 this year from cyclists. The fundraising period ends Aug. 31. 
The cycling team participates each summer in the Children's Hospital Colorado's Courage Classic, a multi-day ride through the Rocky Mountains surrounding Copper Mountain. This year's ride is expected to have at least 184 riders participate.
"…Unfortunately we still have kids (with cancer)," said team co-captain Amber Dunlap. "We still have these stories, and there are 300-plus cases of new pediatric cancer diagnosed and treated at Children's Hospital Colorado every year."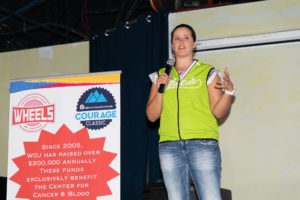 Dunlap said Wheels of Justice has raised more than $3.5 million over its 13-year lifetime. The organization's fundraising fully funds the CCBD's wellness program, as well as the salaries for three research fellows. Team co-captain Aaron Bradford said the organization typically raises about $125,000 from corporate sponsors and looks for about $300,000 in contributions from riders. Cyclists sometimes participate in the yearly ride in memory of children they know who have died from cancer. Michael Lopez, founder and CEO of Litigation Solutions Inc., said he was introduced to Wheels of Justice by Bernie Gehris, whose son, Nathan, died more than 20 years ago. LSI was the primary sponsor for the event.
"Nathan is the reason I ride," Lopez said. "I think of Nathan every time I get on my bike." 
Bradford said the wellness program aims to support patients both mentally and physically, as well as provide support for families because of the toll a cancer diagnosis takes on them. The stress can even lead to divorce, he said.
"This program is designed to treat the family as much as it is to treat the kid," Bradford said.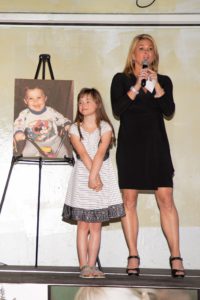 The organization got its name to honor the sponsorships, administrative support and Colorado Lawyer and The Docket advertisements from the Colorado and Denver bar associations. Bradford joked about the irony of the name since in reality, the "wheels of justice" do not actually move very fast, but the name stuck.
This year's party featured Kim Arnold and her daughter, Addison, who has fought leukemia and also has Down syndrome, and as a result has battled lung and heart problems. Arnold said by the time her daughter was 4 years old, she had spent 10 to 15 percent of her life at Children's Hospital.
"This is one tough little girl," Arnold said. She expressed thanks to Wheels of Justice and its sponsors for "empowering people who are saving lives. … You don't just have to have a mission. You have to put your money behind your mission."
—Julia Cardi