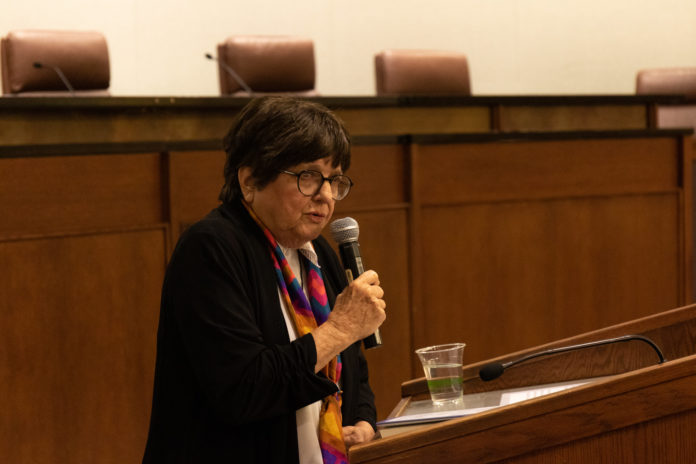 Sister Helen Prejean has never forgotten the sight of an execution she witnessed in Louisiana three and a half decades ago. She watched a man she had known for months as his spiritual adviser and whose human side she had seen brought in shackled hand and foot, then strapped down and the electric chair switched on. The experience led her to the belief she's held ever since in the moral absurdity of capital punishment, she said, and that truly understanding what she sees as its violation of inalienable protections against cruel and unusual punishment requires an emotional connection to it.
But most members of the public won't ever witness an execution, so they don't have that direct emotional connection to capital punishment that Prejean does. Executions happen behind closed doors, so the public only get the narrative put out in the news, and Prejean said it usually takes a tough-on-crime tone: The person was guilty, they got the punishment they deserved, and any need for reflection ends with the execution. 
Prejean's opposition to the death penalty goes beyond the risks of executing wrongly convicted people. Even the execution of a person guilty of the crime they are executed for amounts to state-sanctioned killing of a defenseless person, she said, and that poor defendants disproportionately receive the death penalty. 
She has seen people involved firsthand in executions, such as prison wardens and victims' families who witness them, begin to speak out more about the moral issues they see with the death penalty. 
When New Jersey's legislature got rid of the death penalty in 2007, she said, dozens of murder victims' families testified about their opposition to capital punishment.
"Sixty-two murder victims' families came and testified, 'Don't kill for us; The death penalty revictimizes us and puts us in a public holding pattern where we're promised this so-called justice or closure at the end of it.'"
Prejean has spent about 30 years talking about the flaws of capital punishment's basis in an eye-for-an-eye philosophy. She talked about her work as a death penalty opponent Wednesday evening at the University of Colorado's Wolf Law building, where she followed her talk with a reception and book signing. 
Her most recent book, "River of Fire: My Spiritual Journey," came out in August.
"What the eye has not seen, the heart cannot feel," said Prejean, who became a national figure in the subject of the death penalty after writing her 1993 book "Dead Man Walking." She said she believes film, books and theater are so important to her cause for that reason: Their portrayals are the best way to connect members of the public to the death penalty emotionally and get them to form their own opinions about the morality of killing someone legally. 
"When we are brought indirectly as a witness, then we have a moral obligation … to tell the story," she said. "And so, in a way, I come to you directly from that parking lot outside Louisiana State Penitentiary and the killing chamber there." 
"Dead Man Walking" came from Prejean's experiences as a spiritual adviser to two men on death row in Louisiana. It was adapted into an opera and an Oscar-winning film starring Susan Sarandon and Sean Penn. Despite the book propelling Prejean to national prominence and her belief in the importance of artistic works to help the public connect emotionally with capital punishment, she said the book may not have seen success at all had it not been for the publishing house's editorial director at the time, Jason Epstein. He advised Prejean that the sympathy she advocates for people on death row won't come as readily for audience members, and her book needed to lead them to open-mindedness to thinking in a different way about the people society has condemned as the worst of the worst.
Epstein pointed out the first draft of her book focused on the human rights of the convicted man but lost sight of his murders of two teenagers, he said. She needed to first explicitly disavow the man's crimes, Prejean said Epstein told her.
"Your job when writing this book is to walk down that thin wire where you are gradually going to take people in the journey of this book and that final moral of then being in that execution chamber and watching as that person is rendered defenseless and killed, and then to ask themselves the question: What have we accomplished here?" she said he told her.
The film version of "Dead Man Walking" ends with a scene of the murderer's execution by lethal injection next to a scene of his killing a teenage couple that he was sentenced to death for. 
"The theater managers told [screenplay writer Tim Robbins] that when 'Dead Man Walking' had ended, everybody in the audience sat fixed in their chairs till the screen went blank, and they filed out in silence because they were thinking," Prejean said.
She said Robbins understood the difference between art and propaganda and even though he personally opposed the death penalty, each viewer interpreted the film's message differently. For some, Prejean said, it affirmed their support of the death penalty. She said Robbins was especially moved by letters he received from victims' families thanking him for his compassionate, humanized portrayal of them instead of as people bent on getting vengeance through the death penalty.
Prejean ended her talk by explaining her realization that her spiritual duty as a nun requires more of her than just praying for God to help people who are suffering, but to actually get involved in advocating for social justice.
"I had a lot of waking up to do about my own spirituality … that you don't just pray as a pious nun for God to help the suffering people of the world."
—Julia Cardi