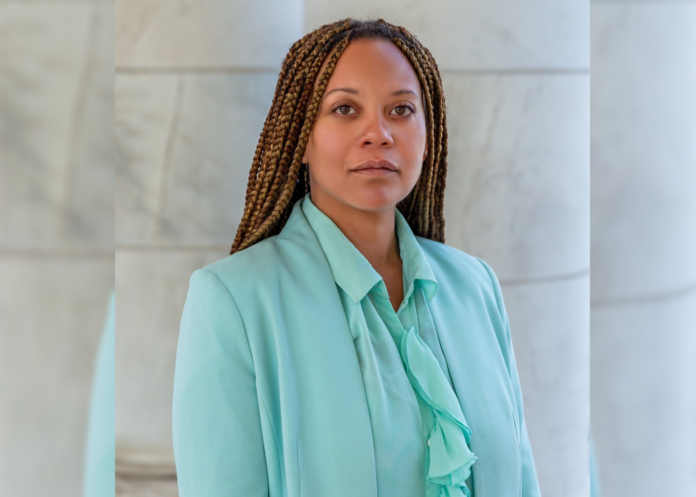 The civil and criminal legal justice systems can be difficult places to find yourself in the middle of. That's especially the case for victims of crime or people going through trauma. For Rachel Robinson, who opened a solo practice last year focusing on victim's rights law, that's where she comes in. 
Robinson opened doors to her solo practice in April 2022 after working as a prosecutor at the Denver District Attorney's Office for four years. She works with clients who have been the victim of a crime, or suspect they have, through legal advocacy and by offering resources and a space to assist with recovery. 
Robinson describes her practice as a holistic approach to victim's rights law that's been informed by her own personal experience and her work as a prosecutor. 
Born in Jamaica to an English father and a Belizean mother, Robinson came to the U.S. as a toddler and grew up in Ohio. She decided she wanted to be a lawyer at a young age when visiting relatives in Jamaica. As her uncle, an attorney, was leaving for work, Robinson asked him what being an attorney meant. 
"He explained to me that an attorney is a voice for those who don't have one. And that is when I decided I was going to be just like him," said Robinson. She said that description has informed her personal philosophy and now guides her practice. 
A series of traumatic events solidified that definition for Robinson, she said, after bullying in high school led the straight-A student to drop out her senior year and she struggled with mental health, family alienation, rebellion and substance use as a young woman. 
"I was someone who was not protected by my parents and the school at that time. And I was forced out, is the way I look at it, and I lost everything and then came back," said Robinson who went on to receive her bachelor's and master's degrees from Bowling Green State University and then her J.D. from Washington University School of Law. 
Robinson has since written about her experience as a young adult and said while it was traumatic and painful, it has shaped who she is.  
"So the slogan that I have for my law firm right now has a double meaning because not only is it the way that I envisioned a lawyer from the day I decided to be one, but I'm also embodying the type of protector and attorney and person that I didn't have," said Robinson. 
In her final semester of law school, Robinson worked at the St. Louis Circuit Attorney's Office and decided she wanted to become a prosecutor. 
"I very quickly learned the type of power that a prosecutor has to make a difference when the discretion is used to serve people," said Robinson. "And I also see the importance of diversity within prosecutors offices. We have to be able to see our reflection in the people that we're serving."
She said working at the Denver DA's office created an opportunity for her to advocate for those without power in the criminal justice system including victims of crimes and juveniles in the justice system. 
After leaving the DA's office last year, Robinson decided to focus her practice on advocating for victims of crime and abuse in Colorado. Many of her clients find her through the Rocky Mountain Victim Law Center, she said, and she offers services in both English and Spanish. 
Robinson said her practice includes ensuring client's rights under the Colorado Victims Rights Act are being honored in legal proceedings, working with clients to present evidence to law enforcement or prosecutors to bring criminal charges, advocating for clients in family law proceedings where abuse has occurred even if there haven't been charges and more. 
On top of providing legal advocacy for clients, Robinson encourages them to engage with therapeutic resources as well that can help process trauma. 
"I'm gonna go hard for them in court and then I'm going to help them be gentle with themselves and through the healing process outside of that," said Robinson. "Because it does not matter what happens in court if their minds, spirits, hearts are broken."
Many of the resources she directs clients to come from her own experiences recovering from trauma, she said, and her practice has created a space for her to be the attorney she set out to be as a child: a voice for those who don't have one.
More information on Robinson and her practice, the Law Office of RWRobinson, can be found here.