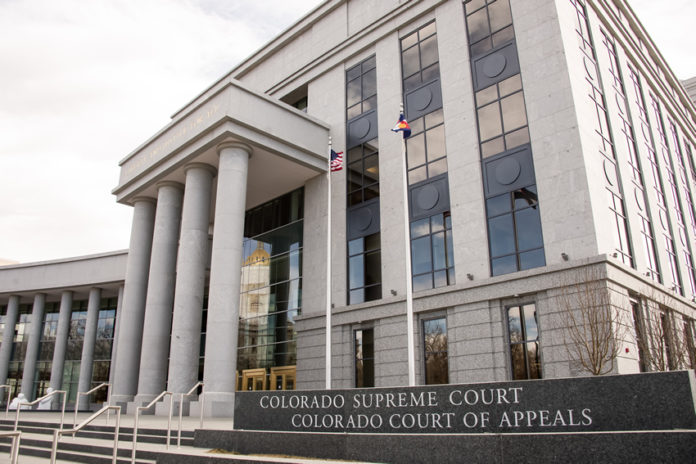 The Colorado Supreme Court will hear oral arguments Monday in a case that could bring much-needed clarity on whether "use-it-or-lose-it" vacation policies are allowed under state law.
The case, Nieto v. Clark's Market, involves former grocery store employee Carmen Nieto, who claims she was entitled to pay for her unused vacation days upon her termination from Clark's Market. However, the grocery chain denied Nieto the payout, pointing to a policy in its handbook that says employees "forfeit all earned vacation pay benefits" if they are dismissed for any reason or fail to give two weeks' notice.
Nieto alleges the grocer's forfeiture policy violates the Colorado Wage Claim Act, which says that when an employee is discharged, wages or compensation "earned, vested, determinable and unpaid at the time of such discharge" is due and payable immediately. 
Under the CWCA, vacation pay is considered wages or compensation if "earned in accordance with the terms of any agreement" and if "earned and determinable in accordance with the terms of any agreement between the employer and the employee." 
Citing these provisions, Clark's Market argues the plain language of the CWCA allows employers and employees to enter into agreements that determine when or if vacation time becomes "earned, vested or determinable." Under its policy, Clark's Market argues, Nieto's vacation time didn't vest or "become determinable" because she was terminated.
In June 2019, the Court of Appeals upheld a lower court's decision siding with Clark's Market. The court said in its opinion that Nieto's right to vacation pay hinged on the employment agreement, which "unequivocally says the vacation pay she seeks wasn't vested given the circumstances under which she left the Market's employ."  The employer-friendly decision was seen as a clear green light for "use-it-or-lose-it" vacation policies following years of what attorneys say had been confusing or conflicting guidance from the Colorado Department of Labor and Employment. 
But months after the Court of Appeals' Nieto decision, CDLE adopted new Wage Protection Act rules that conflicted with the court's ruling. According to the 2019 rules, the law doesn't allow forfeiture of earned vacation pay but does permit employment agreements that cap accrual of vacation pay as well as agreements that define how much vacation pay is allowed and how often it accrues.

POTENTIAL CLARITY
In Nieto, the Supreme Court will consider whether the CWCA allows an employment agreement to forfeit an employee's accrued but unused vacation pay upon separation of employment. Employment law attorneys hope the high court's ruling will finally clear up the confusion over whether to follow the Court of Appeals' ruling or CDLE guidance.
"When the Court of Appeals decision in Nieto came out, on the one hand, I was thrilled by the prospect that my clients might have more flexibility with their vacation policies," said Sherman & Howard member Brooke Colaizzi. 
"But the decision itself seemed directly at odds with the way the CDLE has always interpreted the wage act and our understanding of what happens with vacation time," Colaizzi said, adding she has remained "very cautious" when advising employers because she has "not been confident" the Court of Appeals' reasoning will hold up.
In her opening brief to the Supreme Court, Nieto argues the Court of Appeals' interpretation of the CWCA "contravenes clear legislative intent." According to Nieto, legislative history shows the legislature had intended to create a "substantive and non-waivable right" for employees to be compensated for unused vacation. 
Even if the Court of Appeals got it right, Nieto argues, the CDLE has since abrogated the court's decision through the rules it finalized in late 2019. But Clark's Market argues that the new rules don't apply to Nieto because her employment at the grocery chain ended more than two years before the rules were enacted. Clark's Market also claims that "serious concerns exist about the legality of the Wage Protection Act rules" because they put unwarranted restrictions on which topics employment agreements can address.
The Supreme Court could decide to issue a narrow ruling that does not address the validity of the Wage Protection Act rules since they weren't in place at the time of Nieto's employment. 
"Employers could very well end up, even after Nieto, with the same uncertainty they had going into it — namely, whether to follow the courts or the agency with respect to interpreting the statute," said Holland and Hart employment attorney Brad Williams. 
Williams said he thinks that scenario is "a real possibility," noting that the Court of Appeals declined to address the CLDE's new rules in a similar case he litigated this year, Blount Inc. v. CDLE, because the rules were not in effect when his client and the client's employee parted ways.
Other questions that could remain unanswered following a very narrow ruling include whether vacation time must also be "vested," in addition to "earned" and "determinable," before requiring a payout, according to Williams,  and whether unused time is ever "vested" if a forfeiture policy is in place. 
But Williams added he "would be surprised if that happens," since it's not that often that litigants are willing to spend the time and money fighting these cases up to the Supreme Court. "I would imagine that … the Supreme Court would issue a comprehensive decision that would address the 'earned' argument and the 'vested' argument and the outstanding regulations and resolve all of this once and for all," he said.
Colaizzi was also hopeful for a relatively broad ruling from the high court. "Given the specific question in front of them, it certainly would lend itself to some fairly substantial analysis of the scheme as a whole," she said. "And that will certainly provide more clarity to employers and employees."
WAITING FOR NIETO
In the absence of clarity over "use-it-or-lose-it" policies, Colaizzi said, employment lawyers have tried to come up with policies in which earned and accrued vacation days would be limited or non-existent. 
One solution could be to not offer any vacation time at all, she said, but that could negatively impact employee morale and recruiting.
Some employers, especially tech companies, start-ups and others with less traditional workplace cultures, have adopted open-ended policies in which there is no defined amount or cap on vacation time. Employees simply request time off when they want it, she said, and the employer lets them know if the request can be accommodated. "The theory there is that if you never promised any specific vacation time, it's never really earned and accrued," Colaizzi said, but she added that not many employers are able to adopt such loose policies. 
According to Colaizzi, the most common approach has been for employers to adopt a cap on the amount of time that can be accrued. The Wage Protection Act rules also addressed this approach, specifying that an employment agreement may cap the amount of vacation pay to be paid upon termination, but that the amount to be paid must be at least a year's worth of vacation pay. 
By adopting a cap, employers at least know their maximum payout, Colaizzi said, calling it the "best compromise" between unspecified amounts of vacation time and "use-it-or-lose-it" policies whose legality remains in question. 
For employers that offer PTO rather than vacation time, Williams said, "it may make more sense for employers to clearly define buckets of vacation time versus sick time versus other time — in part because they are all going to be potentially subject to different rules." These include new rules under Colorado's paid sick leave law, which was enacted in July. 
—Jessica Folkerhttps://www.zp-pdl.com