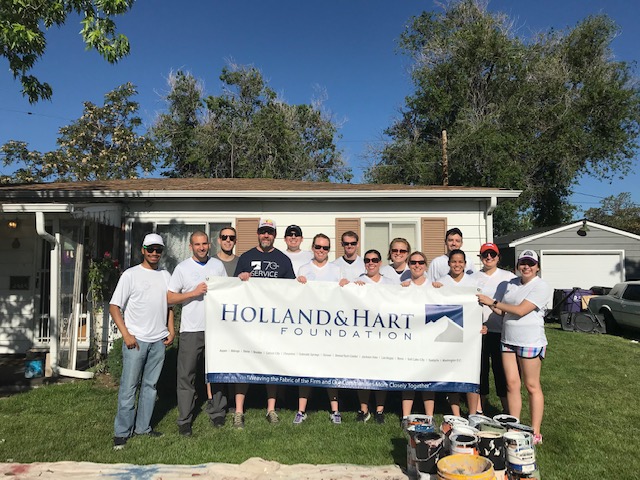 Law schools and law firms alike praise "experiential" learning for students as crucial for their entrance into the profession. And while law schools are offering more and more opportunities for students to get practical experience, students' summers might be the best chance for that type of education.
Summer associate programs have transformed from the long-term interview and largely social experiences of decades past to avenues for hands-on lawyering experience that in some instances even require capstone projects similar to any other intensive class.
Such programs around Denver seem to have been on the rise as law firm hiring and revenue have gone up as well. Three of Denver's large home-grown firms discussed how important their summer programs are for onboarding young attorneys.

The Capstone Project
Sherman & Howard summer associate program coordinator Cory Kalanick is an example of the success of summer associate programs. He came up through the program himself and is now an attorney at the firm and a mentor to other "summers." 
Kalanick said the program is distinct from others in the market because it's moving away from the practice group-specific approach that is typical of summer programs. 
"We've found a lot of 1Ls interviewing for a summer associate program might think they know what they want to do, and it might not be the right fit," Kalanick said. "I came to Sherman & Howard to be a litigator and now I'm a public finance lawyer."
At Sherman & Howard, the program is focused on four main features — mentorship, social events, practice selection and a capstone project. 
The capstone project might be the most distinguishing feature. Any student taking a class would expect to have some sort of final exam or project. Sherman & Howard's program highlights the educational component with a project that sums up all of a summer clerk's work, including an oral presentation. 
One example was an associate this year who worked with the firm's aerospace team on an active case. She got to work with the trial team, learn the fact pattern of the case and draft a motion for summary judgment. That motion won't get used in the case, as the work is ongoing and is expected to still be going once the summer clerk returns to work at the firm next summer, but the motion will serve as a useful writing sample.
"Sherman and Howard's summer program exceeded my expectations," said Chelsea Reinhard, one of the firm's 2019 summer associates. "The highlight of my experience was the capstone project, which provided the unique opportunity to work on an active case with a greater degree of depth and understanding than typical summer assignments." 
With that focus on student experiences, the firm is refining its program to expand students' exposure to different practice areas. Like Kalanick found in his own experience, it's difficult for students to know what area they want to work in. The program currently gives its summer clerks the chance to pick a practice and work with a specific practice group. Beginning next year, the firm will implement a rotation that gives clerks experience across its core service areas. 
As for future plans, Sherman & Howard expects to double the size of its program next year as well.
"We want to replicate success," Kalanick said. "Homegrowing associates is one of the best ways to grow the law firm."

All Onboard
Holland & Hart's program is designed to onboard its future associates and help law students see what it's like to work at the firm and whether it's the right fit.
"One of the main focuses of the summer program is to make sure our summer clerks get a feel for what it's really like to be part of the firm when they come back as an associate the following year," said director of recruitment and professional development Misae Nishikura "We build our program with that as a guiding post."
The process begins with an internal assessment of its needs, estimating about two to three years out in order to determine not just where the program's participants will work during the summer but where they might work as future associates. The firm also assesses its needs in order to make sure it isn't overhiring summer clerks, which could foster a more competitive environment.
"We want each of them to feel they have a place here and want them all to work together to build a team within the firm," Nishikura said.
Once at the firm, they go through orientation and then get introduced to the firm through mentoring, social activities, pro bono and volunteer projects and legal work.
Nishikura said a big component of getting introduced to the firm is making sure there's a good cultural fit. The summer clerks participate in pro bono and volunteer projects — this year, a "paint-a-thon" event with Brothers Redevelopment — as well as social events like taking a cooking class or going to a barbecue at a partner's home. Nishikura said family members were invited to the barbecue as well. 
"For summer clerks, we want them to assess who we are, and it usually is a family decision," she said. "We want to make sure the clerks and the important people in their lives have a chance to get to know us as well."
Holland & Hart is also taking a unique approach to its program with a pilot project that not only exposes the summer clerks to the legal work but also introduces them to the firm's corporate clients as well. 
The firm will host clerks for five weeks — there they get mentors and direct feedback — and for the remaining five weeks, they will work on Holland & Hart-related work in-house. 
Nishikura said that is intended to give their clerks the chance to see how lawyers function in the corporate legal department setting and give them a closer look at client relationships, an even wider network of mentors and the in-house and outside counsel look at legal work.

The Full ExperiencE
"I know you get a lot of good training in law school, but you don't always necessarily learn the nuts and bolts of niche corporate practices or civil litigation. We want to expose students to what you do as a lawyer." Brownstein Hyatt Farber Schreck's director of legal talent acquisition, Erica Gartenberg, sums up the mentality behind most summer programs with her description of the motivation behind Brownstein's.
The firm's program is described as "self-guided" — law students are encouraged to try all practice areas to see what they like. 
"We want to make sure they're coming into this with eyes wide open and that they're making informed decisions about where they want to work and in what practice groups," she said. "We want to make sure summer associates get exposed to both the substantive side of what it's like to be a lawyer and the fun side of working at Brownstein and the culture of the firm."
Summer associates are assigned two mentors — a partner and an associate — who guide them through the program and offer assistance as they go. 
Gartenberg said the firm takes the input of the summer associates about what they want to do and makes sure they get exposed to the broad spectrum of work that's available as well. 
"We want to make sure they get real work — that they get client interaction experiences and are doing work that is going to go somewhere as opposed to not having anyone look at it."
As the program has evolved, it's become more community oriented as well. The program includes plenty of social and networking events, but Gartenberg said the program reflects the general trend of the legal profession as well in making wellness a bigger part of it. "Not everything is about a happy hour or eating."
Like at the other firms that talked with Law Week, Brownstein is growing its program as well. According to Gartenberg, this summer included the largest group in several years. The firm hosted eight summer associates in Denver and two in Santa Barbara, California.
"The firm is growing and the summer associate program is growing in parallel," Gartenberg said. "We continue to get and grow the best talent."
— Tony Flesor, [email protected]