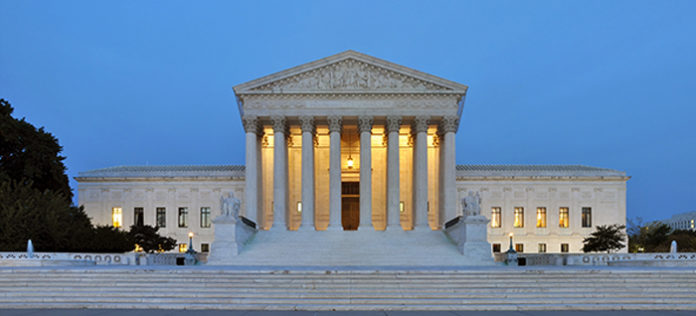 The U.S. Supreme Court announced Monday that will take up a case involving a constitutional challenge to Mississippi abortion laws, setting the stage for a midterm election year spectacle in the half century-old debate over reproductive rights. 
At issue in the dispute, known as Dobbs v. Jackson Women's Health Organization, is a state statute that forbids abortion after 15 weeks of gestation except in instances of lethal fetal abnormality or health emergencies. The justices' decision to grant certiorari will give the court's six judge conservative majority its first opportunity to consider how or whether to change two well known precedents that restrain state restrictions on abortion since Justice Amy Coney Barrett replaced the late Justice Ruth Bader Ginsburg in October.
Whether the court's choice to hear the Dobbs case necessarily indicates those landmark rulings — 1973's Roe v. Wade and 1992's Planned Parenthood v. Casey — are at risk of being  overruled is not a question that leads to an easy answer.
Fate of Roe, Casey at Issue
Jennifer Hendricks, a professor at the University of Colorado Law School whose research interests focus on constitutional family law matters, said she thinks the court will inevitably give states more room to limit abortion access. "The question they took cert on [is] whether all pre-viability restrictions on abortion are unconstitutional," Hendricks said. "The answer to that question is obviously going to be 'no,' based on the court we have." 
Danaya Wright, a professor at the University of Florida Levin College of Law who specializes in constitutional issues, agrees that the court is unlikely to have taken up the Dobbs case to maintain the status quo. "They're obviously not taking this case in order to strike down the Mississippi law because the lower courts had done that," Wright said.
The Roe case established that the freedom to access abortion services is an aspect of a constitutional right to privacy, which had been recognized by the court for decades before 1973, but that states retained a limited authority to regulate abortion. "A state may properly assert important interests in safeguarding health, maintaining medical standards, and in protecting potential life," wrote Justice Harry Blackmun. "At some point in pregnancy, these respective interests become sufficiently compelling to sustain regulation of the factors that govern the abortion decision." Blackmun and six of his colleagues concluded that, in general, regulation of abortion during the first trimester of pregnancy is impermissible, allowable only to protect a mother's health during the second trimester and subject to state limitation in the third trimester. 
Nineteen years later, the court, in a plurality opinion, ruled that regulation of access to medical services or health care providers that create an unjustified restriction on the right to choose an abortion are unconstitutional. 
"We recognize that the state has a legitimate interest in seeing to it that abortion, like any other medical procedure, is performed under circumstances that insure maximum safety for the patient," justices Anthony Kennedy, Sandra Day O'Connor and David Souter wrote for the Casey plurality. "A statute which, while furthering a valid state interest, has the effect of placing a substantial obstacle in the path of a woman's choice cannot be considered a permissible means of serving its legitimate ends. Moreover, unnecessary health regulations that have the purpose or effect of presenting a substantial obstacle to a woman seeking an abortion impose an undue burden on the right."
Wright said that the court in the Casey plurality opinion converted the Roe trimester framework "into a two-stage process where, pre-viability, you can regulate as long as it's not an undue burden [and] post-viability, you can regulate all you want …So that really moved regulation up to the date of conception, [which] Roe would never have allowed," she said. 
Reading the Court
Since Casey was decided, the justices have issued rulings in five additional abortion cases, including in June Medical Services, LLC v. Russo last term, but has not taken any further steps to weaken the Casey court's protection of abortion rights. In the Russo case, even Chief Justice John Roberts, a conservative who argued while a government lawyer that Roe was wrongly decided, voted along with justices Stephen Breyer, Ruth Bader Ginsburg, Elena Kagan and Sonia Sotomayor to reject a challenge to a Louisiana law that strictly regulated abortion providers. Roberts wrote in a concurring opinion that he felt bound by precedent to do so.
Since the end of last term, Ginsburg died and Barrett has replaced her reliably progressive vote and expansive view of constitutional freedoms with a supposed pro-life and more restrictive understanding of constitutional interpretation. For that reason, Hendricks and Wright agree that the court now might not have enough members interested in saving even the remnants of the Roe doctrine left in place by the Casey plurality, though there might not be a majority willing to overtly say Roe's principal holding — that access to abortion is a constitutional right — should be jettisoned.
"I think three justices would like to declare a right to life — that's [justices Samuel] Alito, [Clarence] Thomas and Barrett," Hendricks said. "And then we have the three who would prefer to uphold Casey."
"We know that Roberts has a preference for stealth overruling," she continued. "He cares a lot about the institutional capital of the court, so he will presumably prefer an approach that is more 'we're not overruling Roe and the right to an abortion,' but that is some rationale about how 'this is a ban after 15 weeks and, well, 15 weeks is long enough.' The real question is where [justices Brett] Kavanaugh and [Neil] Gorsuch come down on that."
Wright, on the other hand, said she thinks the court will not wish to confront the logical contradictions inherent in any ruling that questions a right to privacy, as overruling Roe and Casey would presumably force it to do. "I think Thomas is the only one who is willing to throw privacy out the window, entirely," she said. "I don't think any of the other justices are willing to throw that out the window.
"But if you're not willing to throw privacy, the whole basis for the abortion decision, out the window, then you have to distinguish between the right to, say, contraception or the right to have a vasectomy versus the right to have an abortion," Wright continued. "That means you've got to walk a really fine line. How do you say that one is privacy and one is not?"
Impacts on Future Cases
The other challenge the justices would face by stretching Casey's pre-viability/post-viability analytical structure to the Mississippi statute lies in the conflict between continued efforts by states to write statutes that proclaim viability at ever-earlier stages of gestation and the continued scientific consensus that viability of a fetus is not assured until at least nine weeks later than Mississippi law specifies. Even earlier statutory fetal viability declarations or so-called "fetal heartbeat" statutes,  which ban abortions once an obstetrician can detect cardiac activity in the embryo, are included in the laws of Arkansas, Georgia, Iowa, Kentucky, Missouri, North Dakota and Ohio, according to the Kaiser Family Foundation, and Texas Gov. Greg Abbott recently signed into law a statute that bans all abortions in the Lone Star State once an embryo's or fetus's palpitation is detected, which can occur after six weeks of gestation.
While survival rates for preterm infants are rising, medical studies have indicated that 24 weeks remains the lower limit of likely fetal survival outside the womb. "Infants born between 22 and 24 weeks of gestation often die or survive with long-term neurodevelopmental impairment," according to a 2017 paper published in The New England Journal of Medicine. The youngest known preterm infant that survived was born at 21 weeks, 5 days, according to the Guinness Book of World Records. 
Wright thinks the court will handle that problem by simply refusing to hear cases involving state laws that ban abortions before 15 weeks, assuming it upholds the Mississippi law. "Those are going to get struck at the lower court level and my guess is the Supreme Court's not going to take those cases," she said. "They're going to take a case like this, which definitely pulls it back, but it's not a complete ban. I don't think they could justify it. They can't come up with reasoning that will allow them to support a state ban." 
Since 2019, lower federal courts have invalidated pre-viability abortion ban laws in Alabama, Arkansas, Georgia, Kentucky, Louisiana, Montana, Missouri, Ohio, Oklahoma, South Carolina, Utah and Tennessee in addition to striking down the Mississippi law at issue in the Dobbs case. The Supreme Court had, in 2016, declined to hear cases involving North Dakota's ban on abortions after six weeks of gestation and a ban after 12 weeks of gestation enacted in Arkansas.
The justices considered Mississippi's petition for certiorari at 13 conferences since January. The case will be the second addition in a growing array of disputes around contentious and controversial social issues that are facing the court. The Dobbs case joins a dispute from New York that raises the question whether the Second Amendment protects a right to openly carry a firearm on the court's 2021-2022 docket. The justices have also been asked to consider a case arising from a challenge to Harvard University's affirmative action program and are considering whether to grant certiorari in another dispute involving the question whether cities and states can invoke state tort laws in lawsuits against oil companies aimed at gaining compensation for greenhouse gas pollution-caused damages.