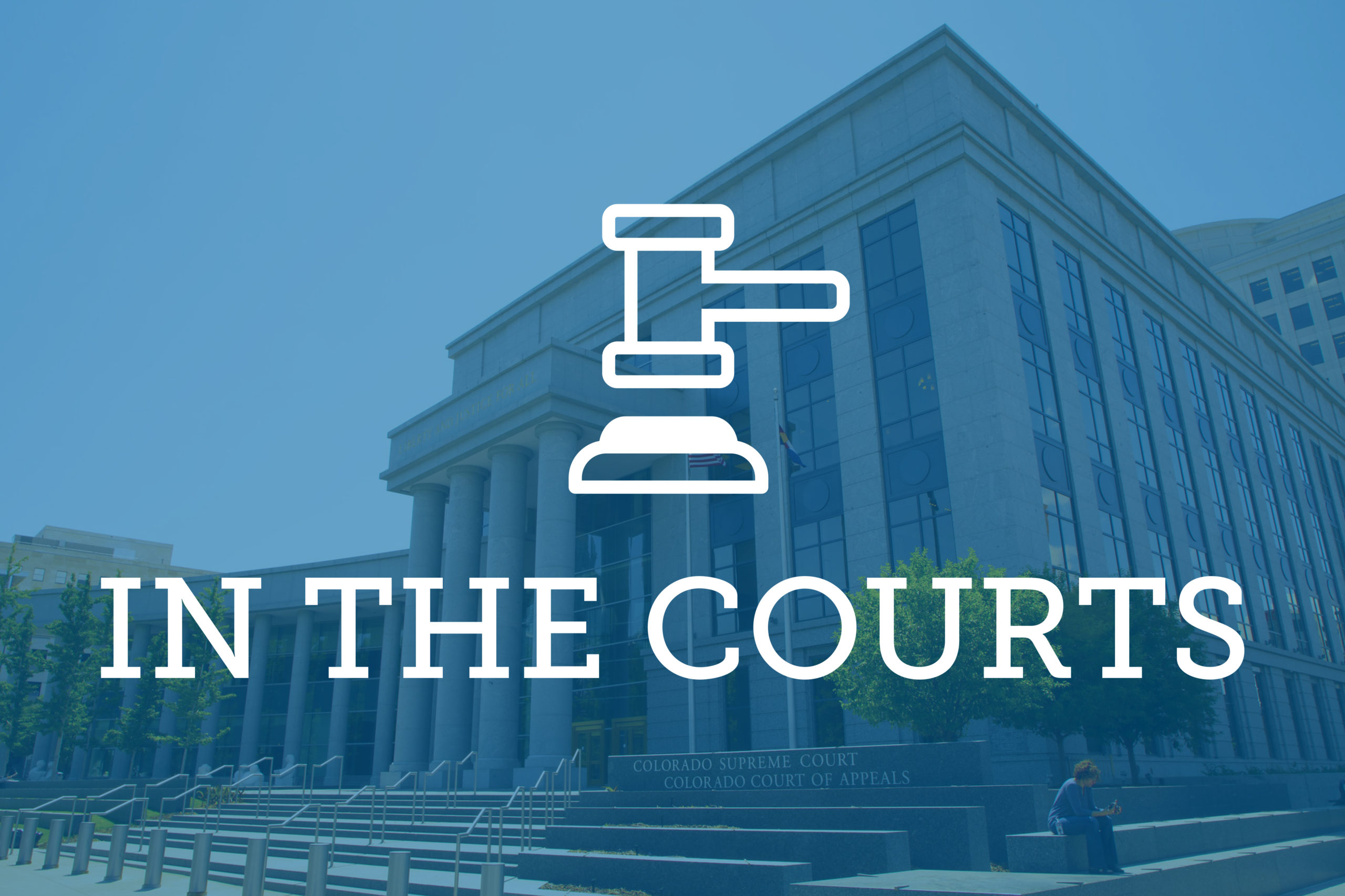 Denver doesn't have to answer for the injuries a deputy sheriff inflicted on a shackled detainee during a hearing, according to a new federal appellate opinion.
Anthony Waller was a pretrial detainee when Deputy Sheriff Brady Lovingier slammed Waller's head into a glass wall during an advisement hearing in 2012. Waller sued Lovingier for excessive force and claimed the City and County of Denver was liable for the deputy's actions. But the federal district court dismissed the claim against Denver, and the 10th Circuit Court of Appeals affirmed in a decision issued Aug. 5.
Waller failed to show the deputy's assault could be linked to Denver's alleged failure to properly hire, train, investigate or discipline the city's law enforcement officers, according to the appellate panel of judges Jerome Holmes, Monroe McKay and Nancy Moritz.
The decision could end litigation surrounding the high-profile assault, which was captured on courtroom video that circulated around Colorado news outlets.
"The City is indeed pleased with the decision in the case," said Denver City and County spokesperson Ryan Luby. "It affirms that the plaintiff failed to state a valid claim against the City and that Mr. Lovingier's actions were contrary to the Denver Sheriff Department's policies and values."
Appealing the dismissal, Waller put forth several theories of municipal liability to tie Lovingier's use of excessive force to systemic city practices. But the 10th Circuit panel held that Waller's original and amended complaints failed to allege that the deputy's sudden attack was linked to a "municipal policy or custom."
Waller's counsel at Denver firm Padilla & Padilla did not respond to requests for comment on the 10th Circuit decision.
In September 2012, Waller attended his first advisement hearing on assault and kidnapping charges at the Denver City Jail. He appeared before Judge Doris Burd wearing handcuffs, leg shackles and a waist chain with Lovingier standing behind him. On the courtroom video of the incident, Waller appears to be softly addressing the judge just before Lovingier grabs him from behind by his waist chain, spins him face-first into a nearby glass wall, and then drags him out of the courtroom. Waller claimed "serious and permanent injuries" from the impact.
Internal investigators determined that Lovingier's attack was "unprovoked" and "egregious," and a year later he was placed on 30-day unpaid suspension. Then-Denver District Attorney Mitch Morrissey declined to prosecute Lovingier.
Waller sued Lovingier and the City and County of Denver in July 2014 for violation of his Fourth Amendment rights. District Judge Wiley Daniel adopted the magistrate judge's recommendation to dismiss Waller's claim against Denver because his original and amended complaints didn't sufficiently allege municipal liability.
The case proceeded to trial on the claim against Lovingier. In May 2017, a jury awarded Waller $50,000 but no punitive damages. He appealed the district court's dismissal of his claim against Denver, which the 10th Circuit panel reviewed de novo.
The Supreme Court held in Monell v. Department of Social Services that a city government can't be sued for civil rights violations committed by a government employee unless the employee made the violation according to the city's policy or custom. In trying to demonstrate a policy or custom linked to Lovingier's attack, Waller argued several theories of municipal liability, including inadequate hiring practices, failure to train and failure to investigate.
The court rejected some of Waller's liability theories because the examples of misconduct in the complaints — with the exception of one — either took place after Waller's incident or weren't related to excessive force. This included Waller's theory that Denver was liable from a failure to adequately train its deputies. But because relevant examples occurred after Waller's incident, not before, according to the panel, Waller didn't plausibly allege Denver had been on notice that its training was deficient at the time Lovingier injured him.
Waller argued that Denver created an atmosphere of impunity for deputy sheriffs by failing to investigate misconduct in their ranks. The complaints cite a 2013 report where the Office of the Independent Monitor condemned DSD's internal investigation practices as being too slow or failing to probe many serious grievances altogether. But the report was too general, according to the panel, as it concerned a range of misconduct, and it was issued after Waller's incident besides.
Similar to the failure-to-investigate theory was Waller's failure-to-discipline theory. But the panel said this allegation suffered the same lack of relevant pre-2012 examples to support it.
Waller failed to allege that Denver acted with "deliberate indifference" when it hired Lovingier, or that an excessive force incident would be an "obvious consequence" of hiring him, according to the opinion.
"Although the complaint alleges that Denver has hired some deputies with criminal records, it does not allege that Deputy Lovingier is one of these deputies," according to the opinion written by McKay. 
Even if Waller sufficiently alleged the Denver Sheriff's Department had a "custom" of using excessive force that deputies followed, it wouldn't explain the spontaneous assault he suffered, according to the opinion.
"We are not persuaded … that we can infer the existence of such a custom or practice because nothing else would explain why Deputy Lovingier would brazenly launch a wholly unprovoked attack on a detainee in front of a judge — and multiple cameras — in a courtroom."

— Doug Chartier