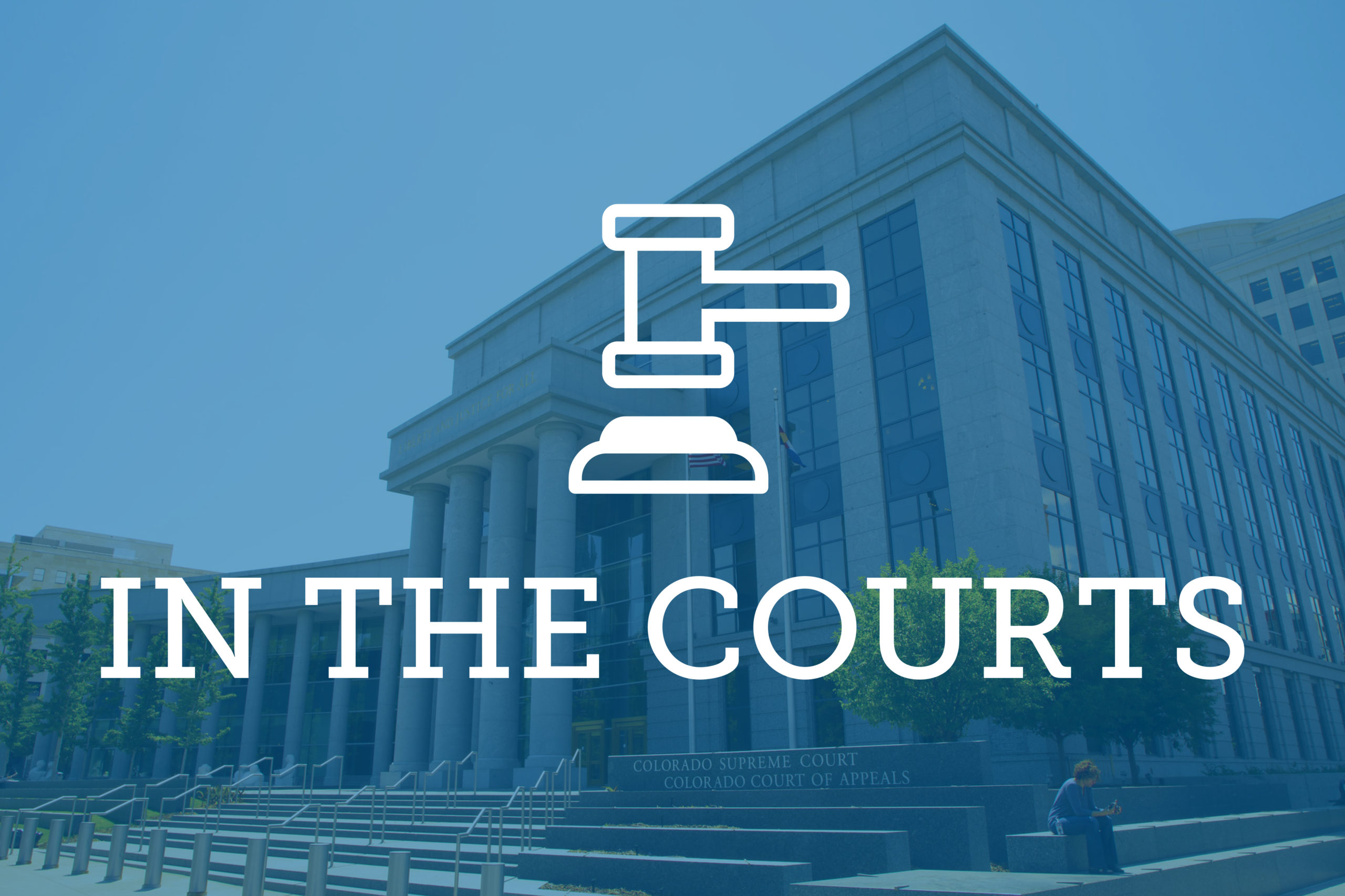 A man claiming sheriff's deputies violated his constitutional rights by walking him nude through a hospital will see his claim proceed, thanks to a recent appellate decision.
The 10th Circuit Court of Appeals largely upheld a district court ruling that Christopher Colbruno, who is suing six Denver Sheriff's deputies among other defendants, successfully claimed a constitutional violation that would overcome the deputies' qualified immunity protection. A 2-1 panel majority held that Colbruno's allegation that the deputies unjustifiably forced his public exposure amounted to a clear violation of his 14th Amendment rights.
The decision dug into complex constitutional case law and drew a dissent from Chief Judge Timothy Tymkovich. The City and County of Denver is currently weighing its options, which presumably include getting the case reheard before the whole 10th Circuit.
A spokesperson said Denver is still finalizing its plans on what to do next in the litigation, which is still at an early stage.
"[W]e're prepared to continue to defend the case and tell our side of the story, which we have not yet done," said the City and County of Denver's public information officer, Ryan Luby. "The court has not been able to consider anything outside of the allegations in the complaint itself." 
Counsel for Colbruno did not respond to a request for comment.
In May 2015, Colbruno was in jail awaiting trial when, in an apparent psychotic episode, he dismantled an emergency call box in his cell and swallowed several of the metal pieces. Jail officials called a doctor at Denver Health, who said Colbruno needed to be brought in for X-rays within an hour. Sheriff's deputies transported Colbruno to Denver Health, and he soiled his smock on the way. The deputies disrobed Colbruno and, without first getting a hospital gown to cover him, walked him through the hospital while he wore nothing but orange mittens, according to the complaint. The 10th Circuit opinion noted Colbruno passed through the hospital's ambulance bay, entrance, atrium and hallways and was then chained naked to a bed.
The defendants would later argue that Colbruno needed medical attention quickly, leaving insufficient time to get him a clean covering before they escorted him to the hospital room. The plaintiff contended, however, that the deputies took more than two hours to get him to the hospital and that he wasn't immediately treated or X-rayed once he was bound to the bed.
Colbruno sued in May 2017, claiming his exposure was an "unreasonable seizure" violating his Fourth and Fourteenth Amendment rights. The defendants invoked qualified immunity, which protects government officials from civil liability except when their conduct violates "clearly established" constitutional rights that a reasonable person would have known. The late Senior District Judge Wiley Daniel rejected that defense in a January 2018 order.
In determining whether the claimed violation overcame the deputies' qualified immunity, the court had to find that the law was clearly established that their alleged conduct violated Colbruno's constitutional rights. That would require "precedent of the Supreme Court or of this court declaring that there would be a violation under closely similar facts," according to the majority opinion by Judge Harris Hartz, joined by Senior Judge Michael Murphy.
The court struggled, however, to find precedent that closely aligned with the case's facts. Also narrowing the field of applicable case law was the fact that the plaintiff wasn't an inmate, but a pretrial detainee. In its opinion, the majority ran through other cases that involved bodily exposure of a detainee.
"All we need to take from these cases is a conclusion that was obvious without them: exposing a person's naked body involuntarily is a severe invasion of personal privacy," according to the opinion. "The conclusion that Defendants' alleged conduct constituted a violation of the Fourteenth Amendment readily follows." 
In determining whether Colbruno claimed a substantive due process violation, the majority and dissent disagreed on which standard to apply to his situation as a pretrial detainee. The majority used the Supreme Court's 2015 Kingsley v. Hendrickson standard: whether the deputies' alleged actions weren't "rationally related to a legitimate governmental objective" or were "excessive in relation to that purpose."
In his dissent, Tymkovich argued that the proper standard was whether the deputies' decision to walk Colbruno nude through the hospital "shocked the conscience." Tymkovich said "the complaint fails to tie the invasion of Mr. Colbruno's privacy to the constitutional requirement for intent." 
Tymkovich noted the lack of facts that have been established in the case — particularly why the deputies decided to rush Colbruno through the hospital nude. "[W]e do not know whether a suitable gown was readily available; and we do not know whether time was really of the essence." Without more information, the court can't find that the deputies' actions "shocked the conscience," he said.
Scott Skinner-Thompson, an associate law professor at the University of Colorado Law School, said the Colbruno decision highlights "an important area of judicial and philosophical differences that the Supreme Court and lower courts are still working out." Qualified immunity, he added, is "a tricky area" that takes days to unpack in his civil rights class.
According to Skinner-Thompson, the majority "define[d] what the violation is at a high level of abstraction." But Tymkovich's view seemed to be that the majority framed the violation too broadly, and in a way that invoked other constitutional provisions besides due process, Skinner-Thompson added. 
Tymkovich noted how there was no precedent for a clearly established constitutional violation with the "appropriate level of specificity" of this case's facts.
Looking at how the Colbruno decision fits with broader constitutional case law, Skinner-Thompson said, "The Supreme Court in recent years has continued to take a relatively expansive approach to qualified immunity" while the10th Circuit "is arguably narrowing that."
Skinner-Thompson said he wouldn't be shocked if Denver tried to press the appeal for en banc review. "Institutional actors," he added, have an interest in maintaining strong qualified immunity protections.
The Colbruno incident also spawned a separate civil suit from an internal affairs investigator-turned-whistleblower. 
Brent Miller, whom the Denver Sheriff's Department tasked with probing the Denver Health incident, claimed DSD wrongfully terminated him when he refused to destroy video that captured Colbruno's nude walk. His speaking out against destruction of evidence constituted First Amendment-protected speech, and his firing was retaliation, he argued.
Miller's case resolved in March 2017 when Judge Wiley Daniel granted Denver's motion for summary judgment. 
The defendants were entitled to qualified immunity because Miller's speech was in the scope of his duties and wasn't protected by the First Amendment, Daniel determined. •     
— Doug Chartier