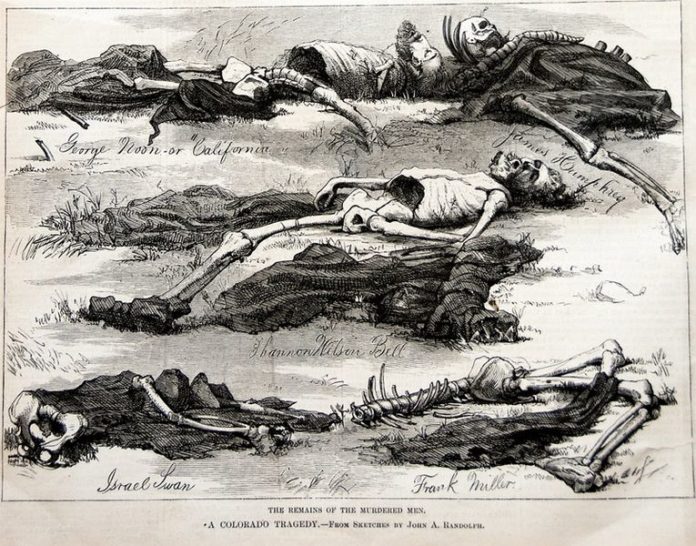 There's a lot of information still circulating about Alferd Packer, also known as the Colorado Cannibal and dubbed by local papers as the "Man-Eater."
In the fall of 1873, Packer left with 20 prospectors on an expedition toward San Juan country. Many of the men returned home from the expedition after fierce snowstorms boxed in the party but six men including Packer continued on. Only Packer returned in the winter of 1874. 
The Arrow reported in January 1965 that a blizzard caught the six men without sufficient food and Packer wandered into the Los Pinos Agency in Southwest Colorado three months later. "After a confession, a search for the bodies and a trial, Packer was sentenced to forty years at the Colorado State Penitentiary," the article states.
Packer gave three confessions — one in May 1874, one in March 1883 and a final confession was sent in a letter to the Rocky Mountain News in August 1897. In the first confession, Packer detailed the ill-fated voyage with minimal information, noting the first two deaths were circumstantial given the rough conditions and that everyone partook in cannibalism to stay alive. He said one man was "killed accidentally" while he was collecting firewood and that another man in the party, Shannon Bell, killed a man he called "California" and said he then killed Bell in self-defense before traveling for 14 days back to civilization.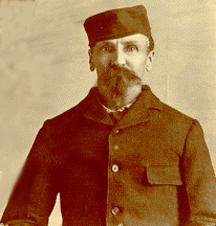 In his second confession, Packer said he was asked by the party to go up a nearby hill to see if he could see anything farther away that would help them navigate. When he returned to camp after a full day of going up and coming back down the hillside, Packer said that Bell had killed the entire camp and was eating the leg of a man that he had roasted in the campfire. When he approached the fire, Packer said Bell rushed at him and Packer shot him through the stomach with the rifle he'd taken on his trip up the hillside. "I went back to the fire covered the men up and fetched to the camp the piece of meat that was near the fire," Packer said in his 1883 confession. "I made a new fire near my camp and cooked the piece of meat and ate it. I tried to get away every day but could not so I lived off the flesh of these men, the bigger part of the 60 days I was out." Packer's third confession included more details but had largely the same information. 
District Court Judge Melville Gerry during sentencing in 1883 reportedly said, "stand up, Alferd Packer, you voracious, man-eating s– of a b—-. There were seven Democrats in Hinsdale County, and you ate five of them. I sentence you to hang until you are dead, dead, dead as a warning against reducing the Democratic population of the state," the Washington Post reported in April 1984.
Packer's death sentence was overturned by the Colorado Supreme Court in 1885 because of a "grandfather clause." Packer's attorney assigned several errors to the court including that Packer didn't get a speedy trial and his indictments on the murder charges came after what was then a statute of limitations consisting of three years. Packer was resentenced in 1886 to 40 years in prison and was paroled by former Gov. Charles Thomas in 1901. 
The United Press International in 1982 reported that Packer's posthumous pardon was declined by then-Gov. Richard Lamm the year before. In a pun-filled speech, Lamm said, "I realize that several of you have a bone to pick with me because of my refusal to grant Alferd Packer an unconditional pardon last year." Lamm told the onlookers in 1982 at a bust unveiling of Packer at the Capitol Rotunda, "you claim that the evidence indicates that Mr. Packer killed but one man, and that one only in self-defense. Unfortunately, the proof was in the pudding and Alferd ate that, too." 
The New York Times reported in 1982 that Lamm congratulated sculptor Tom Miller at Packer's bust unveiling, saying, "in the immortal words of Alferd Packer, uttered when asked how he liked his fellow man, I say [to] you, Tom Miller, 'Well done!'"
Packer remains a wildly popular figure in state history. A restaurant in Boulder, Colorado, the Alferd Packer Grill, was named in his honor. Events and traditions honoring Packer take place annually in Colorado and 12 other states, according to the Washington Post.