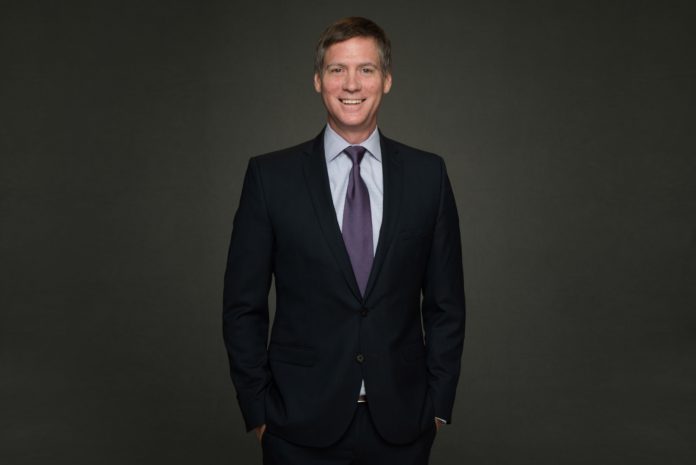 The thriving startup economy in Denver and Boulder has been a rising tide that raised a number of ships, including patent law practices like Merchant & Gould's. Denver office managing partner Timothy Scull said that when he first came to Colorado in 1998, he had a sense even then that it would be a fertile market for innovation. 
"It feels like this energy has been building for quite a number of years," Scull said. "I've always had this feeling of like, this is the place to be." Not only was that true for him personally, as he and his family would make their home here, but also for tech development.  
This month Merchant & Gould's Denver location, its second oldest, is celebrating its 20-year anniversary. The Denver office opened its doors about a century after the firm's original office was founded in Minneapolis in 1900. Today the intellectual property firm has grown to more than 100 attorneys in seven cities, with the Denver office having 20 attorneys, Scull was one of the office's founding attorneys. 
The office's two-decade span also covers a time of major technological and economic transformation, from the dotcom bubble to the rise of "smart" products, with patent practice changing in turn. In that time Colorado would emerge as one of the nation's innovation hubs — and a great place to have an IP practice. What makes Colorado different from other U.S. cities of its size in terms of entrepreneurial energy, Scull said, is the educated workforce and the desirability of living in the state. "Folks want to be here," and that energy goes into their innovation, he said. When the U.S. Patent and Trademark Office opened a satellite office in downtown Denver in 2014, it seemed like a national endorsement of Colorado's patent community. 
On What's Changed in 20 Years 
Since 1998, much has changed in patent practice, which by definition is dependent on advances in technology. The e-commerce IP that was the cutting edge of business at the time has become commonplace, giving way to patents related to Internet-of-Things technology and devices, Scull said. 
With his practice primarily in software patents, Scull's work has been particularly affected by the push and pull of court decisions and legislation issued in the past couple decades. Reflecting on which changes in patent law have been most momentous, Scull said a couple stood out. One was the 2014 landmark decision in Alice Corp. v. CLS International, in which the U.S. Supreme Court instituted a test that made it much more difficult for software to avoid the "abstract idea" designation and be patent eligible. Two years later, however, the Federal Circuit Court of Appeals would uphold certain software inventions as patentable in Enfish v. Microsoft and McRO v. Bandai Namco. 
But the biggest turning point in patent litigation, regardless of subject matter, was the America Invents Act of 2012, according to Scull. The AIA, along with the inter partes review process it introduced to test the validity of patent claims, "really changed the face of patent litigation in providing the defendant a venue to knock out patent claims more cheaply," he said. 
Scull said that these major court and legislative developments have forced patent attorneys like those in his firm to adapt their practices to serve clients effectively. "We've actually had to innovate ourselves … and adjust our practice in light of those changes."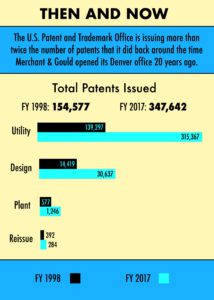 On Where Patent Practice is Headed 
Multimillion-dollar damages awards from patent infringement suits have become less common than they were even 10 years ago, Scull said. That and other factors have forced companies and their lawyers to "think about patents a little differently." Patent strategy is shifting more toward how patent owners can leverage their portfolio, from raising capital to seeking licensing deals — "ways to use those patents to gain value instead of the more traditional old school way of, you sue anyone who infringes," Scull said. 
Patent law practitioners are also shifting how they write patent applications according to the changes in USPTO rules and case law. 
As time goes on, fewer claims will be invalidated in IPR proceedings, and fewer inventions will be found ineligible for patent under Alice, Scull said. 
But the bedrock of patent law has remained intact throughout the procedural and legal fluctuations of the past 20 years — people can come up with an idea, file a patent to protect it, and it provides them an avenue to build a business if they want to. "That's still there," Scull said. 
More than the then-and-now of the patent law world, the type of reflection that the Denver office anniversary has inspired for Scull is personal. 
"We've spent so much time … thinking about our 20-year anniversary, and I frankly have thought more about the people in our office, the people that have come through the doors, the relationships we have formed inside the firm, the relationships with our clients that we've built." 
— Doug Chartier