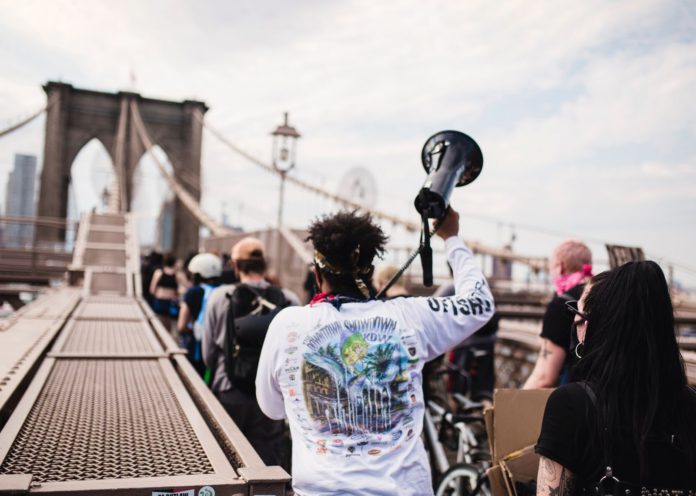 Research has shown a deep divide among Americans over their opinions about this summer's protests of deaths of Black people at the hands of police. A June survey from the Pew Research Center showed public opinion about motivations for the protests have fallen along partisan lines. Eighty-two percent of Republicans who responded said people taking the opportunity to commit crimes have been a major contributing factor to the protests, compared with just 39% of Democrats. 
Denver District Attorney Beth McCann announced Wednesday she charged one protester with inciting a riot during demonstrations on Aug. 22. Timothy Wempen has been accused of throwing fireworks into the Denver Police Headquarters plaza and injuring an officer as part of a group of people who gathered outside the building to demand the police department's abolishment. 
"My message to those who rioted on Saturday or who may be thinking of rioting in the future is that Denver will hold you accountable for your actions," McCann said in a news release. "We will prosecute people who are alleged to have injured police officers and damaged property."
And in a press conference after the vandalism of the police headquarters, Denver Department of Public Safety Executive Director Murphy Robinson denounced the behavior as "anarchy."
But crimes committed by some and the divide in opinions about the motivations behind the protests carry the chance of diverting the debate about the role of systemic racism in policing and possible reforms, a type of weaponization people of color say isn't new. Even peaceful protesters can end up prosecuted in the court of public opinion.
Denver City Councilwoman Candi CdeBaca, who earlier in August sponsored an unsuccessful measure to ask voters whether to abolish the Denver Police and replace it with a "peace force," said racial diversity in Denver's government leadership can actually be used as a tactic to discredit the presence of lingering systemic racism. With people of color in some of Denver's most prominent leadership roles, such as Mayor Michael Hancock, Chief of Police Paul Pazen and Public Safety Director Murphy Robinson, CdeBaca said their high-ranking positions can be used as evidence that institutionalized racism in government has been dismantled.
"When we have been starved so long of the opportunity to even be in these spaces, an older generation clung to the idea of advancement being seeing ourselves without recognizing that putting us, our faces, in these places makes it easier for us to believe that we've achieved the changes we want to achieve," she said, "Rather than continuously forcing us to understand the structure is the problem, not the individuals."
Tyrone Glover, counsel at Stimson Stancil LaBranche Hubbard, said employing community voices such as Robinson's has historically been used as a strategy to silence dissent more effectively than tactics such as quashing protests with force, which tends to galvanize people more. 
"If what you can do is get some — in strong bold quotes — 'reasonable' voices to talk people out of their dissent and talk them out of their anger and say don't be so angry that you protest in this particular way, then that's a much more effective strategy to get things back to business as usual," he said.
Glover added that broadly condemning racial protests makes it easier to avoid the difficult debate about tackling systemic racism because it shifts the focus from violence against Black bodies to violence against property. 
But CdeBaca did say the summer's events have sparked renewed attention on the relationship policing had to slavery in the U.S., when slave patrols were part of policing in Southern slave states.
"The history of police has been talked about in the last five months more than I've ever heard it talked about in my entire life," she said.
Killmer Lane & Newman partner Mari Newman, who had a role in drafting Colorado's sweeping police reform and accountability legislation, said each day stakeholders and lawmakers met to work on the legislation, they could hear protesters outside the Capitol and saw them whenever they went into and left the building. Newman said it's "100% certain" the demonstrations influenced lawmakers.
"That is a perfect example of the fact that protest works and protest is important in shaping public policy."
Newman added painting peaceful, First Amendment-protected protests in broad strokes as criminal riots and looting is a "dishonest narrative that is being promoted by many who are seeking to stem the inevitable tide of police accountability and antiracism."
—Julia Cardi