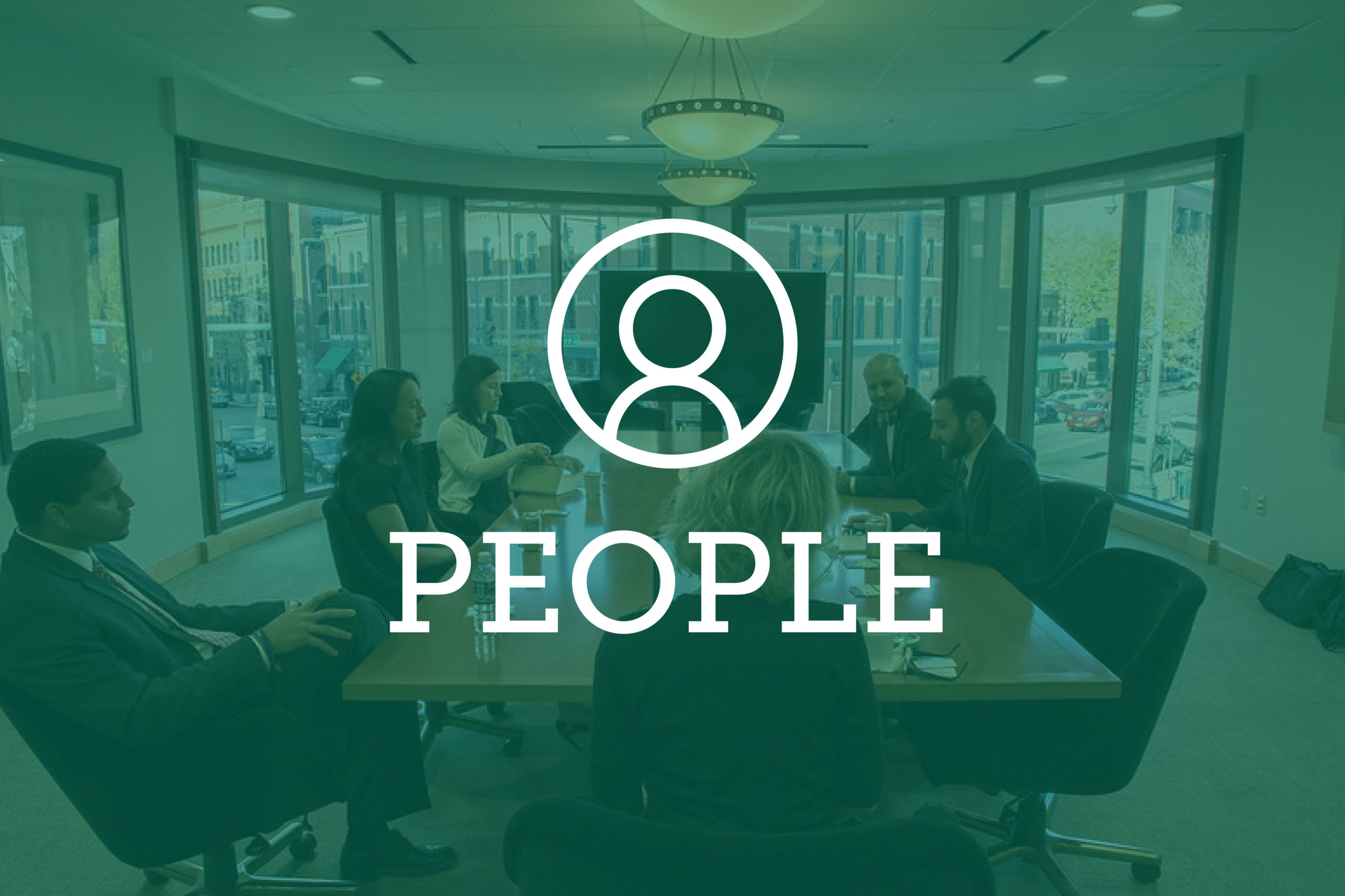 Otis Bedingfield & Peters managing partner Tim Brynteson announced Tuesday that effective May 16, the firm divided into two law firms.
Otis & Bedingfield, with partners Fred Otis, Jeff Bedingfield, Tim Brynteson and John Kolanz, along with associates Corey Moore, James Godbold, Don Hoff and of counsel Mike Stewart will continue in its two current locations at 1812 56th Ave. in Greeley and at 2725 Rocky Mountain Ave., Suite 320 in Loveland. 
In addition to the six attorneys, Otis & Bedingfield will have eight support staff. The firm will continue to provide estate and succession planning, real estate, environmental, and general business legal services. 
"We will be in the same Greeley and Loveland offices, have the same phone number and continue to serve our clients and our community with the same dedication and commitment to excellence as we always have," said  Brynteson.
The net result of the split is that four attorneys will relocate to 1935 65th Ave., in Greeley. The new law firm will focus on litigation and is named Peters Schulte Odil and Wallshein, with partners, Jennifer Peters, Christian Schulte, Tim Odil and Nathaniel Wallshein.

LATERAL WATCH
Greenberg Traurig announced Thursday that trial attorney Steven Kelso joined the firm as a shareholder in the franchise and distribution and global litigation practices. 
Kelso joined the firm from Wheeler Trigg O'Donnell. He defends motor vehicle manufactures/distributors and franchisors in disputes with dealers and franchisees and advises clients on dealer network and distribution issues. 
He began his legal career by serving in the U.S. Air Force Judge Advocate General's Corps. He received a law degree from Notre Dame Law School and a bachelor's degree from the University of Colorado at Boulder. 
Lewis Roca Rothgerber Christie announced Wednesday Nina Ward joined the firm as of counsel in its business transactions practice group. Ward has experience in management of commercial transactions such as strategic sales and acquisitions and cross-border finance.
Ward handles complex matters across various industries with a focus on the aviation industry. She regularly counsels clients in domestic and international transactions involving the manufacture, supply and support of aerospace products and services as well as in government contracting and subcontracting, including contract award, compliance and administration.
Ward received her law degree from the University of Michigan Law School, a master's degree from the University of Michigan and a bachelor's degree from Middlebury College. 
Steptoe & Johnson announced Wednesday that Thomas Sengewalt rejoined the firm's litigation department. His practice will focus on energy litigation and energy transactions from the firm's Denver office.
Sengewalt rejoined the firm after serving as diversified business unit manager for CNX Resources Corporation. In that role, he led multimillion-dollar transactions including the sale of oil and gas assets and the stock sale of two subsidiary companies. 
He also worked with in-house and external legal counsel on major transactions, assisting with due diligence review, document drafting and issue resolution. 
Sengewalt also worked in the legal department for CONSOL Energy, Inc., where he provided legal counsel in support of the company's exploration and production operations. He also mitigated potential litigation involving royalty disputes, lease terminations and trespass allegations.      
Sengewalt earned his law degree from Duquesne University School of Law and his bachelor's degree from West Virginia University. He is licensed in Pennsylvania, West Virginia and his practice in Colorado is temporarily authorized pending admission.
Moye White announced Tuesday that Mark Kaplan joined the firm's real estate section as a partner.
Kaplan partners with clients in complex real estate transactions, including the acquisition, development, financing, leasing and disposition of commercial properties.
He has experience with mixed-use, retail, office, industrial, and medical projects.
Prior to joining Moye White, Kaplan served as assistant general counsel at a Fortune 200 company where he negotiated real estate deals for dialysis centers throughout the country. 
He also served as in-house counsel at a national home improvement retailer where he handled transactions for the acquisition, leasing and development of properties for the construction of stores and distribution centers. 
In addition to his legal work, Kaplan also has experience on the developer side and has developed Target- and Walmart-anchored shopping centers.
Kaplan received a law degree from Duke University and a bachelor's degree from Bucknell University.
Kaplan is admitted to practice in Georgia and is temporarily authorized to practice in Colorado, pending his admission to the state bar.
ASSOCIATE WATCH
Josh Mahoney has joined Faegre Baker Daniels' business litigation team as an associate in the firm's Denver office.
His practice focuses on internal investigations and complex commercial matters, including construction litigation, criminal and civil antitrust, and business torts. Mahoney previously worked at Kirkland & Ellis, where he represented commercial clients in contract and business tort disputes, large-scale construction litigation and antitrust and product liability matters in public and private forums throughout the country.
Mahoney began his legal career as a judicial clerk for Judge Michael Melloy of the U.S. Court of Appeals for the 8th Circuit and for Judge Rebecca Pallmeyer of the Northern District of Illinois. Before law school, Mahoney served as a paralegal for Iowa Legal Aid through the AmeriCorps program.
Mahoney received a law degree from the University of Chicago Law School and a bachelor's  degree from the University of Northern Iowa.
FIRM PROMOTIONS
Cheryl Foster Smith has been named a shareholder at Robinson Waters & O'Dorisio.
Smith will continue to focus her practice in the areas of domestic relations and wills, trusts, and estates. Her work in family law matters includes dissolution of marriage, legal separation, premarital agreements, post-nuptial agreements, parenting time issues (custody), child support, drafting and reviewing marital agreements, high conflict matters, high asset cases and modifications of orders and agreements.
Smith received a law degree from New York Law School and a bachelor's degree from Lehigh University.  She is admitted to the New York, Colorado and Denver bar associations.
JUDICIAL ANNOUNCEMENTS
The 1st Judicial District Nominating Commission has nominated three candidates for a district court judgeship created by the resignation of Judge Dennis Hall, effective June 2. Nominees Amy Cardone and Robert Lochary, both of Golden, and Russell Klein of Arvada were selected by the commission on June 4.
The governor has 15 days from June 5 to appoint one of the nominees as district court judge for the 1st Judicial District.
The 2nd Judicial District Nominating Commission has nominated six candidates for two district court judgeships created pursuant to Senate Bill 43, effective July 1.
Nominees Ericka Englert, Priscilla Gartner, Michal Lord-Blegen, Anita Schutte, Lisa Teesch-Maguire and Christine Washburn, all of Denver, were selected by the commission on June 5.
The governor has 15 days from June 6 to appoint two of the nominees as district court judges for the 2nd Judicial District (Denver County). Comments regarding the nominees may be sent via e-mail to the governor at [email protected]