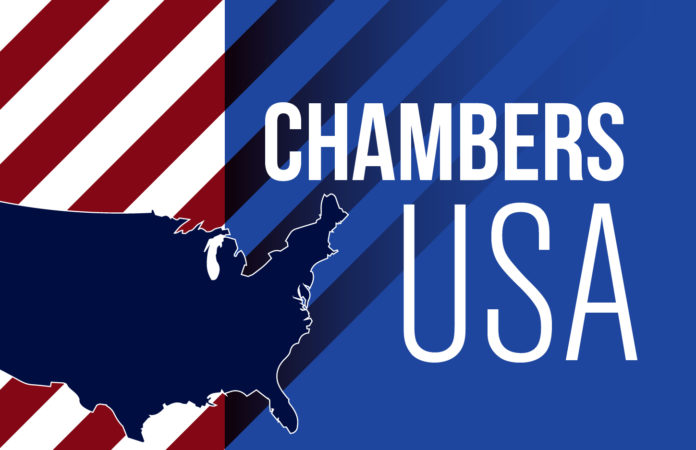 As the economy has been hit with downturns and the capabilities of artificial intelligence grow, local top ranked intellectual property lawyers reflect on the unique challenges to their practices.
Since 1989, Chambers and Partners has released its regional rankings for lawyers and practice areas. The research firm bases its rankings on a number of criteria including past performance, client feedback and more and places lawyers and law firms into tiered categories. 
Law Week received numerous Chambers and Partners ranking announcements this year, including for firms and attorneys recognized for their intellectual property practices. Law Week caught up with some of these lawyers to learn about their experiences over the last year plus trends and challenges facing the practice area. 
Headwinds, Tailwinds and Emerging Challenges
Over the last year, economists in Colorado and across the country have raised flags about high inflation rates, increasing interest rates and warned about a potential recession. IP clients haven't avoided these headwinds, according to Kilpatrick Townsend & Stockton partner Darin Gibby, which have in turn impacted attorneys. 
Gibby has practiced IP law at Kilpatrick Townsend since 1993. This year is his 19th year ranked by Chambers USA. 
"Another trend that we continue to see is fee pressure," explained Gibby in an email to Law Week. "As the economy slows, companies are demanding fee reductions. This is all the more reason to develop new technology to more efficiently handle legal matters." He added that this pressure from clients could propel IP lawyers to embrace new technology to streamline their practice and reduce fees.
Kilpatrick Townsend's Denver office also received a Chambers ranking for its IP practice group, according to an announcement from the firm. Justin Krieger is the office's managing partner and is part of the firm's IP practice, bringing his litigation experience in front of the United States Patent and Trademark Office for matters like inter partes review, post-grant review, challenging third party patents and defending patent challenges in front of the Patent Trial and Appeal Board. 
Krieger said that over the last year, USPTO's appeal board has become "an excellent forum for challenging invalid patents." Specifically, Krieger wrote to Law Week that under the office's new director, Kathi Vidal, who was appointed in April 2022, the appeals board has become easier for lawyers to navigate. 
"Over the past year, the Director has done an outstanding job improving the predictability of PTAB proceedings through precedential opinions, guidelines, and notice and comment rulemaking," wrote Krieger. "With these improvements, the PTAB should continue to grow and become an even more efficient forum for litigants to invalidate weak patents over expense and unpredictability of jury trials."
Gibby added that since the pandemic changed workplace norms, he's seen an increased number of clients, colleagues and even courts embracing hybrid and remote work and the trend might be here to stay. 
"After the pandemic, many associates, particularly in the patent prosecution space, prefer to work at home," wrote Gibby. He added that he is currently handling a litigation matter based out of Canada where judges do all hearings remotely until a trial stage. 
Alphabet Soup: IP and AI 
International firm Dorsey & Whitney also announced that three of its Colorado lawyers made the 2023 rankings. Lee Osman, a partner based out of Denver who has led the firm's patent group for almost 20 years, received a ranking from Chambers this year, marking his 15th year in the guide. 
In an email to Law Week, Osman wrote that going forward, he expects the firm's IP practice will be called upon increasingly to guide clients through legal matters around emerging technology like AI. "Our clients need guidance in the ever-changing technological and commercial landscapes, including the opportunities and challenges caused by the integration of artificial intelligence in all areas of technology," he wrote. "This exciting new area of law will result in the further convergence of intellectual property with many other areas of law."
Gibby also predicted that in the next several years IP attorneys will likely need to embrace emerging technology like artificial intelligence and remote work tools. He noted that with economic pressures from clients to offer lower rates, AI could help lawyers and firms stay competitive and work efficiently. 
"I believe that within the next 2 to 3 years the artificial intelligence software will be able to substantially prepare drafts of patent applications," wrote Gibby. He said that while AI tools probably won't complete applications perfectly, they have the potential to save lawyers significant amounts of time. "While they will not be perfect, I believe that they could get an application approximately 80% of the way to the final draft. A seasoned patent attorney could then spend minimal time in reviewing and updating the application."
He noted that there are several considerations for lawyers who might use AI to prepare applications. Gibby emphasized AI depends on good prompts and user inputs and added there might also be security considerations since lawyers would need to ensure any AI engine would keep confidential client information secure. 
"However, I believe these are challenges that could easily be addressed," wrote Gibby. "I am confident that a new patent practitioner will be able to succinctly describe an invention and provide the appropriate inputs into the artificial intelligence engine so that a well drafted application could be prepared. The challenge will be finding good patent attorneys who can master an invention and determine the best input into the software." 
Chambers Ranked Colorado IP Lawyers 
Law Week received announcements that the following lawyers were also ranked for the IP practice: 
Charlene Krogh, Dorsey & Whitney 

Greg Tamkin, Dorsey & Whitney

Jared Briant, Faegre Drinker Biddle & Reath

Timothy Scull, Faegre Drinker Biddle & Reath

Kirstin Stoll-DeBell, Faegre Drinker Biddle & Reath

Gregory Durbin, Polsinelli

John Posthumus, Polsinelli

Scott Havlick, Holland & Hart

Timothy Getzoff, Holland & Hart 

Michael Drapkin, Holland & Hart

Andrea Anderson, Holland & Hart

Jon Tandler, Sherman & Howard