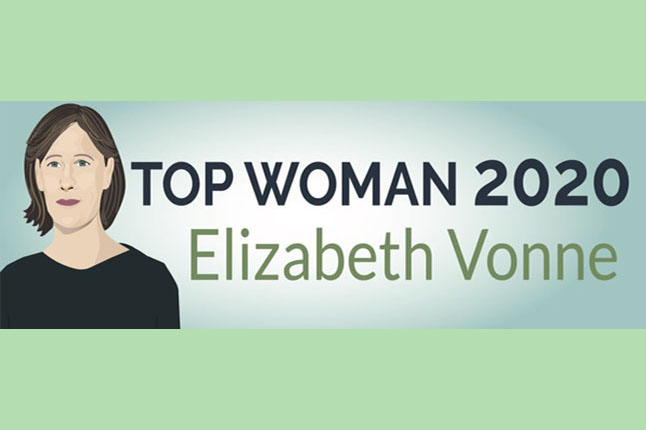 Despite splitting her time between a half-time in-house counsel role for a multinational medical manufacturer, acting as general counsel for several companies, and plenty of community and family work, Davis Graham & Stubbs partner Elizabeth Vonne is a top female lawyer with plenty of expertise, an open mind and a client list that speaks for itself.
Vonne practices the spectrum of businesses sizes, from those she helps start to selling businesses and everything in the middle. "In every representation, I develop a deep knowledge of my clients' goals and challenges and proactively and effectively advise on legal, business and strategic matters that arise during the course of my clients' business," she said. For her, the varying challenges she encounters make it enjoyable. She added "there is little work that I do and don't like doing."
Vonne has worked with companies such as US Bank, TTEC, Elementum 3D, DASCO, Garmat, Parasoleil, Innova Emergency Medical Associates and TRIO. And earlier this year, she began working as half-time in-house counsel at Mesa Laboratories, Inc., a Colorado headquartered global manufacturer of quality control and calibration instruments, among other products used mostly in healthcare, medical device, pharmaceutical and food and beverage industries. Vonne splits her time between DGS and Mesa Labs.
"Starting at Mesa Labs was a welcome transition to experience life in-house first hand. I am really glad to have the opportunity to join a growing company, and it has been all around positive." Vonne is the only member of the legal department at the company currently, which has resulted in few dull moments. 
M&A and other advanced corporate transactions are filled with lots of moving parts, Vonne said. Heightened challenges arise from international transactions — like coordinating local deal teams in different time zones or overcoming hurdles to close in multiple jurisdictions. When major issues arise "it can seem like moving mountains to get to close — in the end, it is very rewarding to solve complicated issues and help companies achieve their growth objectives," she added.
When thinking about selecting an area of law to practice, Vonne said it can be hard to settle on a practice area when you're unsure where you'll be going in a few years. "It's good to develop a solid foundation on a specific area of law that is not too esoteric while being as long-term nimble as possible," she said. For example, her career began in securities law and evolved to private company and broader transactional practice, including outside general counsel representations. And now, she's performing in-house general counsel work, a position that she said "knows no legal boundaries.
And last year was a busy one for Vonne. Her M&A deals included Mesa Labs' acquisition of Global Protein Technologies and TTEC's acquisition of First Call Resolution on the buy side. Her sell-side deals had a private equity investment in Garmat, an American paint spray booth manufacturer, and the sale of a division of DASCO, an international company providing crop nutrients, feed ingredients and industrial chemicals to businesses. Vonne also lead equity company offerings including a public offering for Mesa Labs and private placement for Elementum 3D.
Her work for other companies included helping Parasoleil, a Colorado-based manufacturer of laser-cut aesthetic metal panels, protect its intellectual property, and representing US Bank in corporate bond offerings, which included work continuing on into 2020. US Bank was her first "large company" client when they retained Vonne in 2013, after she noticed a legal need and proceeded to network with the bank. "Now I am the only lawyer in Colorado on their national list of lawyers permitted to represent the bank as trustee in corporate bond issuances," she said.
Vonne also has an impressive list of organizational affiliations inside and outside of the legal world. "Most lawyers are bookworms, and I am no exception, so I jumped at the opportunity to be on the Board of Trustees of the Denver Public Library Friends Foundation," Vonne said. She added that libraries have evolved from a home for books to something much more — which include resources for career services, social work, technology use, immigrant and refugee services and more.
She has also spent time abroad, and after three years living in Japan, Vonne joined The Japan Society of Colorado shortly after moving to Denver. She described the organization as vibrant and sponsored a sumo tournament in Denver last year. 
When she moved to Denver nearly a decade ago, her practice was still predominantly in securities law, she led the Securities Law Subsection of the Colorado Bar Association. She said it made sense and was an excellent experience. The position included being on the executive committee of the Business Law Section, in which she organized presentations on securities law developments for Colorado lawyers — and assisted drafting the Colorado crowdfunding statute.
But, Vonne is also very aware of the struggles of other females in the legal profession — past and present. Vonne is "very grateful" for the women who came before her and can't imagine having difficulty such as being unable to get a law firm job or be taken seriously. "It's still not level; for example, I'm pretty sure that I have to put in more time doing business development than the men to get the same amount of work," she said.
"And sometimes clients will say things to me that remind me they do keep my gender in mind, such as one commented that he knows I send emails late at night because I am taking care of my kids before that, when reality was that I was working straight through the day into the night," she said.  
Those types of incidents have taught her to be careful about her own assumptions, Vonne said. And, as many people are still currently working from home, when a woman doesn't respond to an email immediately, the assumption should not be she is taking care of kids — she could very well be stuck on calls or something work related.
However, for a career at a law firm, Vonne believes learning how to be adept at business development, sales and marketing is required. "These are not classes taught in law school," she said.  
"Currently, while women have come to be seen as potential productive business generators, they are not seen as promising from the start as men," Vonne said. She added that in general, female law firm partners and general counsel are paid less than male counterparts. "It's said among female partners that they have to take a pay discount because the law firms don't believe their revenue; that is, the firms don't have conviction it is as reliable revenue from year in and year out as the men's revenue."
Personally, Vonne has found it helpful to speak with men and women alike about what they have been through and how they deal with various situations — "even if it is not a formal 'mentor' relationship."
"Over the years I had plenty of conversations with general counsel at companies, mostly with the goal of trying to get business from them, but all the questions I asked them, conversations I had with them and what they told me about the ins and outs of being general counsel, turned out to be wisdom that I am drawing on now in my position at Mesa Labs," Vonne said.
— Avery Martinez