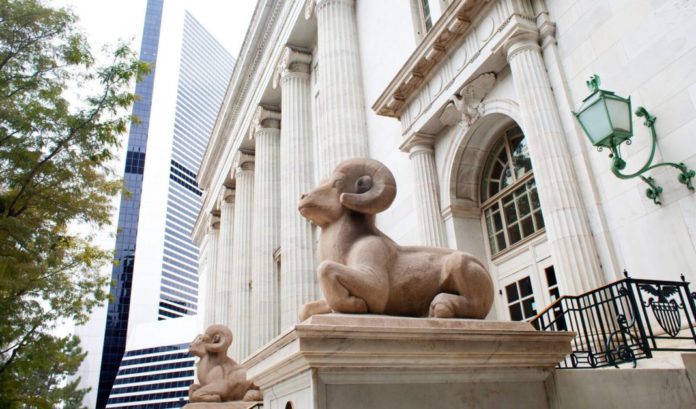 Fort Collins was dealt a setback at the 10th Circuit Court of Appeals on Feb. 15, and it is likely to see part of its public nudity ordinance ultimately struck down.
In a 2-1 decision, a 10th Circuit panel upheld a Colorado federal court's preliminary injunction on a Fort Collins city law that restricts women — but not men — from baring their breasts in public. In its opinion, the majority said that provision of Fort Collins' public nudity ordinance "is likely unconstitutional." The decision, which sided with the "Free the Nipple" campaign that claimed the law violated the Equal Protection Clause, clashes with a 2017 ruling out of the 7th Circuit over a similar ordinance.
Fort Collins has yet to decide whether it will appeal the injunction further. A spokesperson for the city said the Fort Collins City Council might hold an executive session where it would decide the city's next steps. Hall & Evans is representing the city in the case.
While the 10th Circuit majority said its decision was on a narrow question, Andrew McNulty, an attorney at Killmer Lane & Newman who represents the plaintiffs, contends that the opinion was in effect much broader than that.
"This decision pushes Equal Protection jurisprudence toward a standard that basically any discrimination against women that's not justified is unconstitutional," McNulty said. He added that cities in other 10th Circuit states — Kansas, New Mexico, Oklahoma, Utah and Wyoming — "are on notice now" that those laws might be unconstitutional.
Asked about whether the circuit split could drive Free the Nipple v. City of Fort Collins up to the nation's highest court, McNulty said, "We'll see if the Supreme Court decides to weigh in if the City of Fort Collins decides to go that route."
Ban Fails 'Heightened Standard'
Fort Collins enacted a public-nudity ordinance in 2015 that made it a misdemeanor for any female over 10 to have her breast exposed in public. The law made an exception for women who were breastfeeding in public, but it also included women whose breasts were exposed while on private property if they were easily viewable by someone standing in a public area.
The Free the Nipple campaign, along with Brittany Hoagland and Samantha Six, sued the city immediately after it passed the ordinance, claiming that it violated their free speech rights under the First Amendment, as well as the Equal Protection Clause under the Eighth Amendment. The district court would dismiss the free speech claim. The plaintiffs sought a preliminary injunction, which U.S. District Judge R. Brooke Jackson granted Feb. 22, 2017. "Fort Collins has not shown the Court that a law permitting public exposure of female breasts would have a significantly negative impact on the public," he wrote in his order.
Fort Collins appealed the injunction, arguing at the 10th Circuit that the plaintiffs' equal protection argument was unlikely to succeed on the merits because banning female toplessness is "substantially related to an important governmental objective."
The city argued that women's breasts have social, physical and sexual characteristics that make them different from men's breasts, which the 10th Circuit panel acknowledged. It also acknowledged that the U.S. Supreme Court found that physical differences between genders justified differential treatment — "but not always."
"Any law premised on 'generalizations about 'the way women are' — or the way men are — will fail constitutional scrutiny because it serves no important governmental objective," Judge Gregory Phillips wrote for the majority, citing the Supreme Court's U.S. v. Virginia decision. In that 1996 case, the high court struck down a state military school's male-only admissions policy. Judge Mary Beth Briscoe joined the 10th Circuit opinion.
The majority wasn't persuaded by Fort Collins' arguments that its female toplessness ban went toward protecting children from public nudity, maintaining public order and promoting traffic safety. The majority suggested that the public safety threat that female toplessness might pose is "hypothesized," and that idea mostly relied on the "sex-object stereotype of women's breasts." The opinion noted that Denver and Boulder, which don't have a ban on women baring breasts in public, haven't suffered the kind of public safety woes Fort Collins described.
"And absent contrary proof we, like the district court, doubt that without a female-toplessness ban on the books, topless women would 'regularly walk[] through downtown Fort Collins,' 'parad[e]' past elementary schools, or swim in public pools," the majority said.
The majority also said that, at least since its decision in U.S. v. Virginia, the Supreme Court's arc of equal protection jurisprudence "bends toward requiring more — not less — judicial scrutiny when asserted physical differences are raised to justify gender-based discrimination, while casting doubt on public morality as a constitutional reason for gender-based classifications."
In his dissent, Judge Harris Hartz contended that Fort Collins' ordinance distinguishes between the sexes not based on "talents, capacities, or preferences" but rather "inherent biological, morphological differences," which he said are not stereotypes.
Hartz also disagreed with the majority having applied the "heightened scrutiny" standard in this case, as opposed to using rational-basis review. It would be nearly impossible for a city to show "exceedingly persuasive evidence" that its indecency law is justified in treating men and women differently, he argued.
'On This Lonely Limb'
The 10th Circuit decision potentially presents a split with the 7th Circuit Court of Appeals, which in November 2017 allowed the city of Chicago to enforce its ordinance that banned women from exposing their breasts in public. The U.S. Supreme Court denied cert for that case, Tagami v. City of Chicago, last April.
More recently, the New Hampshire Supreme Court decided 3-2 on Feb. 8 to affirm the indecent exposure convictions of two women who went topless at a beach in Laconia, New Hampshire. Laconia's city ordinance that prohibited public nudity had defined nudity to include "the showing of the female breast" but not the male breast.
In his preliminary injunction order in the Free the Nipple case, Judge R. Brooke Jackson acknowledged that other courts have upheld ordinances like the one Fort Collins had. However, he didn't "accept the notion, as some of those courts have, that we should continue a stereotypical distinction 'rightly or wrongly,' or that something passes constitutional muster because it has historically been a part of 'our culture.'"
"After much thought, I have concluded that going out on this lonely limb is the right thing to do," Jackson continued.
— Doug Chartier