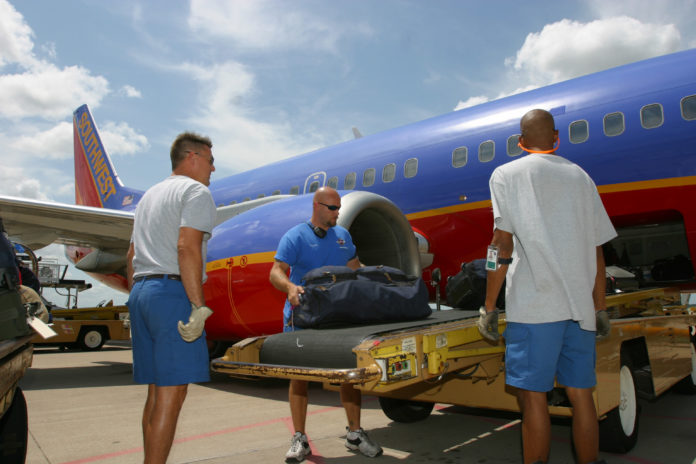 The U.S. Supreme Court sided Monday with a ramp supervisor seeking overtime compensation from Southwest Airlines, ruling a federal law that brings some employment disagreements into private arbitration, is not valid in her case, which brings into question arbitration for other gig jobs.
The ruling centers around the Federal Arbitration Act which focuses on who can and cannot bring their employment claims to court rather than private arbitration. The law says if a worker engages in interstate or foreign commerce, they are exempt from the FAA which means they can go to court.
The case involves ramp supervisor Latrice Saxon, who works for the airline in Chicago. According to the Supreme Court opinion, Saxon says she also helps load and unload cargo with ramp agents. 
Saxon said that Southwest was not paying her correctly for overtime, and brought a putative class action against the airline using the Fair Labor Standards Act as a guide instead of going to private arbitration, per her contract.
Eventually, the case reached the U.S. Supreme Court. Justice Clarence Thomas wrote the unanimous opinion: "Saxon frequently loads and unloads cargo on and off airplanes that travel in interstate commerce. She therefore belongs to a 'class of workers engaged in foreign or interstate commerce' to which [the] exemption applies." 
Saxon also argued that all airline employees should be exempt from the FAA, which the Supreme Court rejected.
This ruling could have wide ranging impacts on a variety of industries. Denver-based attorney Jon Watson, a partner at Spencer Fane, however, said the argument in the U.S. Supreme Court was narrow.
"I think one thing that's notable about the decision is really the great lengths they go … to make clear this is a narrow decision; it applies strictly to Saxon's claims and her unique circumstances for Southwest as a person that loads and unloads cargo onto planes," Watson said. 
A major area of concern for the ruling also involves the gig economy including those working in Colorado.
"Uber and others did file briefs with the Supreme Court and express their positions and so I think everyone was looking to the Supreme Court to see if this decision would give some insight into the more gray areas of the analysis and it just really doesn't," Watson said. "What I presume will happen is those advising employers or entities in the gig economy, sort of the last-mile delivery folks, and others in the gig economy, I presume they'll continue to seek to enforce their arbitration agreement. There's nothing in here that expressly would fit those individuals."
Although this decision is narrow, Watson said more issues with gig workers will continue to mount — whether they make the U.S. Supreme Court is another matter.
"I think if you have transportation companies who have workers that are directly engaged in the loading or unloading of not just cargo, but anything into a transportation vehicle that is [doing] interstate commerce, then it probably applies to them, but it does not extend in my opinion to the second step of that," Watson said.    
Some clients in the transportation industry have reached out to the firm for advice. Watson said what he tells them is dependent on the specific duties of the employee. For example,   if employees are directly involved with transporting goods across state or international borders, then businesses would need to rethink their use of their arbitration agreement.
Law Week Colorado did reach out to Denver International Airport, who in turn, asked us to speak with Southwest Airlines about the case.
They sent the following statement to Law Week Colorado, adding they have about 5,000 workers in Colorado.
"Southwest greatly appreciates the Supreme Court agreeing to hear its appeal and the clarity provided by the court's decision, narrowly defining the Federal Arbitration Act exemption to airline workers who frequently load and unload cargo on and off airplanes that travel in interstate commerce, and rejecting Ms. Saxon's request to exempt all airline employees from the Federal Arbitration Act," Southwest said in a statement. "We believe the impact of this decision on the applicability of Southwest's alternative dispute resolution policy overall will be minimal. Southwest's arbitration program is only applicable to certain employment-related legal claims asserted by non-union employees. Because non-union employees rarely handle cargo on a regular basis, Southwest will continue to rely on the Federal Arbitration Act to enforce its arbitration program in the future."