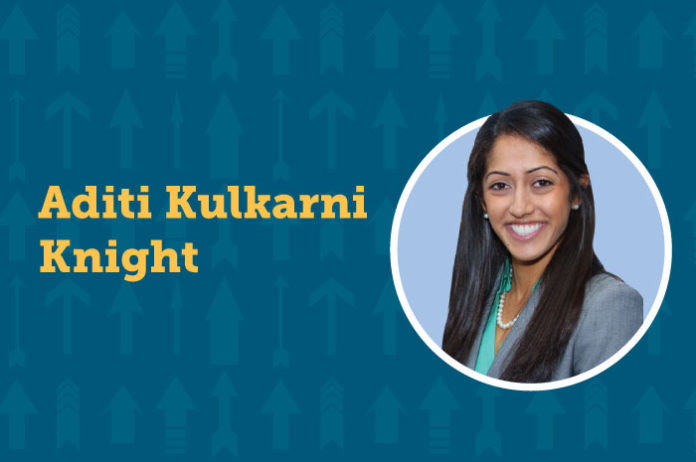 Aditi Kulkarni-Knight had an early preview of the pandemic virtual world in February when she first-chaired an international arbitration hearing. She represented a Kenyan client and led the arbitration with the opposing counsel appearing via video.
"We were ahead of the curve in terms of doing a full-day arbitration by video before COVID hit," she said. "It was a useful experience."
At the time, she had some other useful — if unusual — experience to pull from in that arbitration, which resulted in receiving the full damages amount for her client plus attorneys' fees. Her experience as captain of an NCAA gymnastics team at Seattle Pacific University helped her transition to the law. Skills like cultivating a hard work ethic, working as a team and staying competitive all transfer, she said.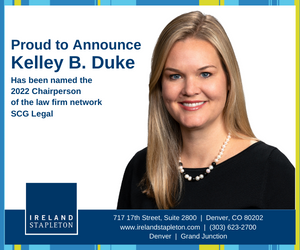 As a commercial litigation associate at Davis Graham & Stubbs, Kulkarni-Knight regularly puts all of those skills to work in preparing witnesses for trial, practicing the performance of opening and closing statements and studying documents ahead of a trial. Her work involves contract and royalty disputes, government investigation work and appellate work.
Kulkarni-Knight said she has found she has a lot of the skills needed to be a successful lawyer, but she didn't always know she would go into the law. As college professors, her parents instilled an importance of learning as well as an international experience.
She spent every other summer traveling from Denver to Pune, India, where her parents had grown up before emigrating to the U.S. She said the experience gave her an appreciation for the opportunities she had — she later travel with her parents for "semester at sea" programs where they would teach college students and she would travel with them around the world. She visited half-a-dozen before middle school and has traveled to 20 countries so far.
Later in her education, she planned to become an accountant but found that she liked the firm style but not the accounting work itself. Working in a law firm was an alternative that worked for her. She said she was drawn to litigation for the opportunity to advocate for a client in writing and before judge in court.
"Prepping for trial is really fun," she said. "That's my favorite part of the job — being in the trenches with your team, knowing your case and being your client's advocate for the time you're in front of the judge."
And although she said she didn't have any lawyer mentors before deciding to go into the profession, she now coaches the mock trial team at D'Evelyn High School and has served on the Young Professionals Council for Denver Kids.
In addition to her legal work with DGS, Kulkarni-Knight is involved in several boards, including the University of Colorado Alumni Board, South Asian Pacific Bar Association and SunGate kids, a nonprofit organization that provides counseling to children who have been victims of sexual abuse and provides preventative services in the Cherry Creek School District.
"I was mostly drawn to the organization because they work with children," she said. "They are completely innocent victims, and to the extent we can help get them through this traumatic experience, we should."
Kulkarni-Knight also provides pro bono legal services for asylum seekers through the Rocky Mountain Immigrant Advocacy Network. She said she feels fulfilled by the opportunity to be one of the first contacts in the U.S. for many of the asylees help them seek release from detention or along the road to citizenship.
She has so far represented five detainees in her two years of working with the organization. Two were granted parole and released from detention, and all of them have now been able to remain in the U.S.
"When you're working with corporate clients on a regular basis, you don't always see the immediate impact of your work, but when you're representing asylum seekers on a pro bono basis, getting to watch them walk out of the detention center and start their life in the U.S. is a really impactful experience."
— Tony Flesor, [email protected]