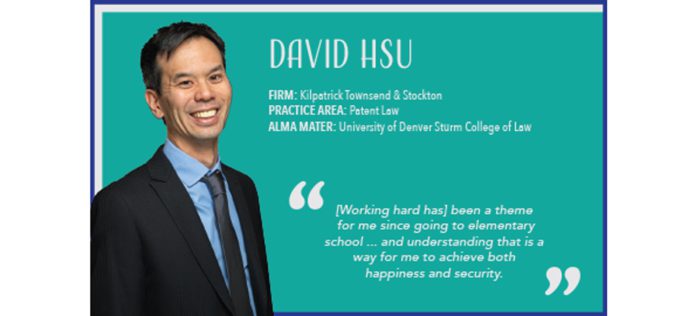 David Hsu lives by this proverb: "The best time to plant a tree is 20 years ago. The second best time is today."
In that sense, his current success as an early-career patent attorney is the product of his hard work as an undergrad in MIT, then a PhD candidate in chemical engineering, then an engineer — then in law school.
Hsu's clients through his firm, Kilpatrick Townsend & Stockton, are also reaping the fruits of his pre-law experience. A semiconductor manufacturer sought a patent for an invention involving a microplasma — and not just any microplasma but the type on which Hsu happened to have written his PhD thesis at the University of California – Berkeley. The patent office had rejected the client's first patent application, pointing to another patent that it said already existed for that invention. Hsu stepped in and, feeling quite at home with the subject matter, pinpointed the nuances in the client's invention that distinguished it from the "old" patent, and he got the patent granted in a few months.
It's rare that a patent should draw so directly upon an attorney's engineering background, said Hsu, who's previously worked with microprocessors at Intel and biofuels at the National Renewable Energy Laboratory. But even when an invention's subject matter doesn't fall squarely into his experience, his knowledge of chemical processes in general makes him feel "very comfortable working in that space."
Despite his comfort with highly technical subjects, Hsu said he doesn't walk into any patent project as a know-it-all. Being a good patent lawyer, Hsu has learned, also means knowing what he doesn't know. The client is the expert on their invention, not him, so he tries to stay inquisitive with clients to understand the details of their inventions, he said.
Other successes Hsu has compiled in his first five years of practice have involved patents that, while being clearly beneficial innovations, were a tough sell to the U.S. Patent and Trademark Office. Much of Hsu's work has involved a procedure that makes it safer and easier to diagnose genetic conditions in a fetus. Yet that procedure is difficult to patent thanks to recent Supreme Court decisions making inventions based on abstract ideas and "natural phenomena" largely ineligible.
For the past decade or so, doctors have used a practice called amniocentesis to draw amniotic fluid from a pregnant woman and then analyze it to detect whether the fetus has genetic conditions like Down syndrome. The procedure bears a risk of miscarriage, however. Today, doctors can simply draw the mother's blood and get similar information using a process called bioinformatics. That involves analyzing different interactions between the mother's DNA and the trace amounts of the fetus' DNA her blood contains.
Bioinformatics, then, is difficult to patent on two fronts: it involves both biological processes in the body that might be considered natural phenomena as well as mathematical formulas, which might be considered abstract ideas, to help identify genetic conditions.
"Being able to safely diagnose a fetus, if you just think in lay terms, that seems like an invention. It should be patentable," Hsu said. "But now we have this case law that's made it very hard."
But Hsu has been able to get several bioinformatics-related patents granted. Through an extended back-and-forth with patent examiners and by finding small openings in new case law, he was eventually able to successfully argue for the process' patent eligibility.
While his practice at Kilpatrick has him working with corporate clients, Hsu's pro bono work allows him to make a more personal impact. Since his first year as an attorney in 2013, Hsu has volunteered through the Rocky Mountain Immigrant Advocacy Network to help non-citizens stay in the U.S. through the Deferred Action for Childhood Arrivals program. The work involved filing paperwork to federal agencies on behalf of mostly high school- and college-age DACA beneficiaries, who must renew their status every two years in order to avoid deportation.
"It's amazing how important filing these forms is for someone's life, because it brings them a sense of security to have even a two-year window where they feel like they won't be deported," Hsu said.
The Department of Homeland Security rescinded DACA and halted renewals for the program in September 2017, but in January a federal court granted an injunction that has allowed active DACA recipients to continue renewing their status. After Hsu read about the decision, he contacted his past DACA clients to help them apply for renewals — and extend their stay in the U.S. — while there was still the opportunity.
Hsu's community involvement reaches outside of law. He, his wife and his daughter can be found volunteering at the Denver Museum of Nature and Science every other weekend, where he guides visitors through the Prehistoric Journey exhibit. Hsu also serves as vice-chair on the planning commission for his hometown of Louisville.
Volunteerism was a value his family instilled in him while he was growing up, Hsu said. Hard work was another, and it's been paying off.
"I was always raised by my family to value hard work and dedication. And so that's been a theme for me since going to elementary school, is working hard, and understanding that is a way for me to achieve both happiness and security." 
— Doug Chartier