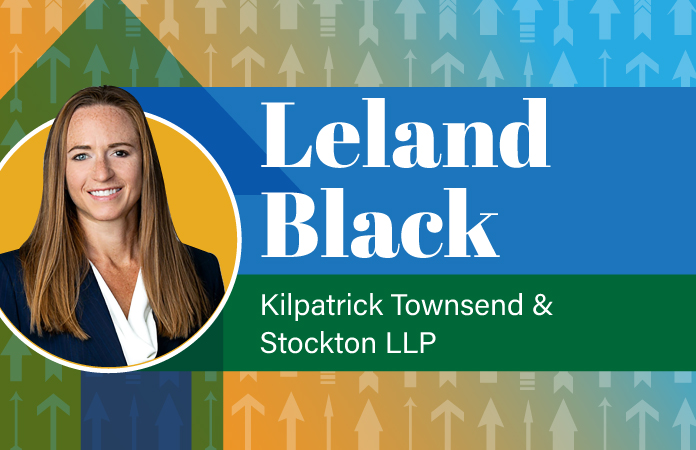 By Jennifer Verzuh
LAW WEEK COLORADO
Leland Black earned her Ph.D. in microbiology from the University of Alabama at Birmingham and currently uses her expertise as a patent lawyer for Kilpatrick Townsend & Stockton LLP, but her passion for science started long before then.
"My science projects starting in elementary school were absolutely ridiculous," she said.
The Up & Coming Lawyer's parents both worked in the scientific field and helped her develop an interest in biology from a very young age.
"My mom was an ornithologist, and my dad was a veterinarian who went back to medical school," Black said. "So I grew up in a family of scientists, and they highly encouraged all sorts of mucking around in the woods. 
While a law career wasn't originally part of her plans, halfway through graduate school Black discovered she didn't want to follow a traditional path that would find her writing grants daily. When she learned there was a way to use her scientific background and skills in the legal field, she decided to pursue a law degree from the University of North Carolina School of Law.
"I realized that I didn't want to run a lab, become an industry scientist or teach, but I loved the field and wanted to find a way to stay involved," said Black. "And [I] learned that there was such a thing called a patent agent, and then there were patent attorneys. Since I was planning on taking a postdoc anyways, I figured I would just extend my time and go to law school to give myself the most opportunities career-wise." 
Soon after, Black went to work at Kilpatrick Townsend as a summer associate in 2016, before going on to join the firm's Winston-Salem, North Carolina office in 2017. At Kilpatrick Townsend, she worked to "help people protect their wonderful new ideas."
She said that she was initially drawn to the firm because of its "fantastic" company culture.
"It was just great clients [and] great people to work with," Black said. "Everyone is incredibly friendly and encouraging, and willing to help out. It's very easy to work collaboratively with such nice and smart people."
Black's background in microbiology, immunology and virology has been a major asset to her work as a patent attorney.
"It's been exceedingly helpful," she said. "Having a very solid background in the technology allows me to effectively communicate with inventors to put together patent applications to [properly] cover their ideas." 
One of the recent projects Black worked on at Kilpatrick Townsend that she's particularly proud of is her involvement in drafting patent applications directed at COVID-19 testing technology diagnostics.
"To be at the forefront of that, it made me feel like [I was doing] something worthwhile and timely," she said.
In addition to her patent work, Black has participated in her firm's efforts to help provide asylum seekers with legal representation. She previously helped to secure a motion to rescind a removal order and reopen a woman's asylum case after she missed a hearing due to circumstances beyond her control.
Black said she appreciated the opportunity to assist someone that "truly needed the assistance," and is now working on another asylum case. She is currently helping an Afghani woman seeking asylum to live and pursue her studies in the U.S. following the fall of the Afghan government to the Taliban in 2021.
"It really feels like [I'm] making a difference in someone's life," she said. "I like learning a different area of law, and especially with what's going on around the world right now, [I value] being able to help."
Black said that her job as a patent attorney is filled with variety and challenges and she learns something new every day, which can be a "double-edged sword." 
"My favorite and least favorite part is you always have to be on," she said. "There's very little mundane, everyday work. It all kind of requires creativity."
Black is relatively new to Colorado, having relocated to Kilpatrick Townsend's Denver office in 2021. She'd long wanted to make the move after visiting the state years prior, and jumped at the chance after remote work became more normalized during the pandemic.
"It seemed like a good opportunity to move and live somewhere I'd always wanted to be," said Black. It's been a positive change so far, and she said she's enjoying hiking, snowshoeing and learning to ski. "I'm loving all the outdoor opportunities and how easy they are to get to." 
In addition to exploring the state's outdoor spaces and activities, Black said she strives to continue growing in her role at Kilpatrick Townsend this year. "Professionally, [my goal is] always just to keep developing as an attorney, learning new skills and taking advantage of opportunities to do so when they arise."