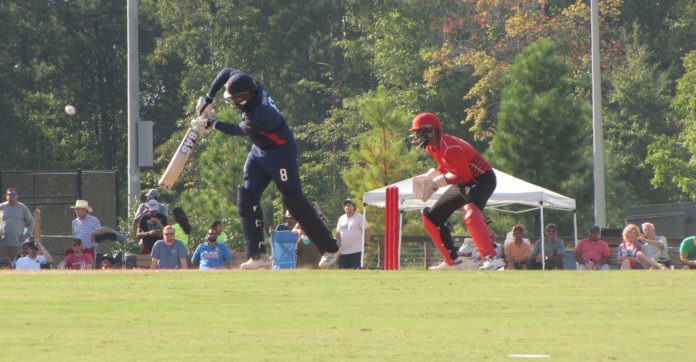 An international cricket feud is playing out in Colorado's federal court.
USA Cricket, the sport's American affiliate organization, plans to launch a professional cricket league in the U.S. with the help of a commercial partner it selected through an RFP process. But one of the bidders it rejected, the American Cricket Premier League, claims the process was rigged and is suing for antitrust law violations. The defendants, ACPL alleges, conspired to exclude it from winning the partnership despite it having a superior proposal.
ACPL filed a complaint against USA Cricket, its parent organization International Cricket Council, and other organizations and individuals on May 28. The defendants have filed their motion to dismiss characterizing ACPL as "a disgruntled losing bidder" that "spins a fanciful tale" in its lawsuit.
Judge William Martinez is presiding over the case in the District of Colorado, which has jurisdiction based on USA Cricket's location in Colorado Springs. Colorado-based attorneys from Bryan Cave Leighton Paisner, Holland & Hart, Lewis Roca Rothgerber Christie and Sherman & Howard are representing several parties in the matter.
The case stems from USA Cricket's burgeoning effort to install a professional T20 cricket league spanning several major U.S. cities. T20 cricket is a faster-paced version of the sport geared toward TV viewers, with three-hour matches as opposed to the traditional formats where matches last around eight hours or even extend over days. The U.S. market is fertile, as it's home to an estimated 20 million cricket fans, according to the complaint.
Issuing a request for proposals in November, USA Cricket sought a commercial partner to "help capitalize on [America's] interest levels in the sport and … to construct, fund, launch and operate" the new league, according to its RFP. The winning bidder would draw up the league's structure as well as its media strategy and financial model.
ACPL responded to the RFP in January offering USA Cricket $16 million in guaranteed compensation in the first two years and $516 million over 25 years — significantly more than the winning bidder, American Cricket Enterprises, had promised, according to the complaint.
The plaintiff claims USA Cricket conspired with two private organizations, Willow TV and the Cricket Acquisition Corporation, "to create an arbitrary and illusory RFP process" where ACE was the predetermined winner to be granted "an illicit monopoly" in the U.S. cricket market. ACE, Willow TV and CAC all share the same owner, according to the complaint, which repeatedly refers to the winning bidder as "Willow-backed ACE." The lawsuit alleges the bidding process was also conflicted by ACE and Willow having given USA Cricket board members free advertising.
The lawsuit also suggested that the defendants were specifically working to snub ACPL's owner, Jay Pandya; it claims the ICC sought to exclude Pandya from a previous partnership because he "is not part of the incumbent and traditional Indian business and social circles that dominate Indian cricket and the ICC worldwide."
USA Cricket formally announced its partnership with ACE on May 23. "USA Cricket had no intention to pick any proposal associated with Mr. Pandya, and the entire process was window-dressing intended to create the impression of fair competition," the complaint said. The plaintiff acknowledged "it was not guaranteed to be selected as a commercial business partner of USA Cricket and the ICC. But it was entitled to a fair bidding process."
USA Cricket is represented by attorneys from Morgan Lewis & Bockius and Sherman & Howard. Sherman & Howard member Stephen Hess declined to comment, citing the pending litigation. Alston & Bird and Holland & Hart are representing ACPL, and Holland & Hart didn't respond to a request for comment.
In their amended motion to dismiss, USA Cricket and the other defendants argued ACPL was a sore loser of a legitimate bidding process.
"Rather than accept defeat — or even the possibility that its bid was inferior … ACPL's Amended Complaint spins a fanciful tale claiming that USA Cricket's RFP process for choosing a partner was a 'sham' and that ACPL was the victim of a conspiracy designed to exclude it from an opportunity to create a league with USA Cricket," according to the motion.
 The defendants contend that ACPL hasn't alleged Article III standing because it can't allege USA Cricket was required to select it, and therefore ACPL can't show a redressable, concrete injury. USA Cricket argues it didn't have to use an RFP process and could have chosen a commercial partner outright. It said ACPL's allegation that USA Cricket had a predetermined winner, but instituted an optional bidding process anyway, is "implausible." 
ACPL claims that it should have won the exclusive rights over ACE. But the defendants argue that ACPL didn't allege that USA Cricket harmed competition — only a competitor — and that ACPL is only arguing that it would have been "the better monopolist" for the American cricket market.
The defendants acknowledged that ACPL's proposal offered USA Cricket the most money but contended that was only one consideration, and USA Cricket "did not find ACPL's proposal to be realistic." They were skeptical as to where ACPL's purported funds would come from and scrutinized them. 
"ACPL made a proposal, and lost," the defendants argue. "The game is over." 
 — Doug Chartier