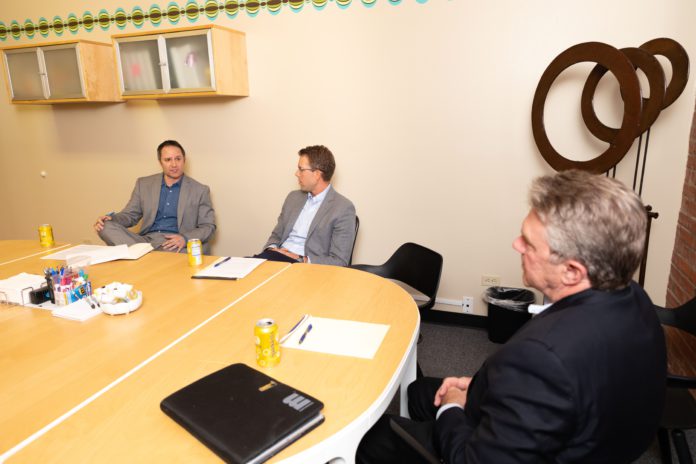 Boutique law firm managing partners met with Law Week on Sept. 5 to discuss the business argument for niche law firms. Abe Kean of Erise IP, Pat Linden of Linden Segal and Michael Mihm of Ogborn Mihm discussed the benefits and struggles that are unique to the boutique space. Tony Flesor, managing editor of Law Week moderated the discussion, and Hunter + Geist reported it. 
LAW WEEK: To start things off, would each of you discuss what your firm is focused on and how you got to where you are?
LINDEN: Our firm is Linden Segal, and my partner and I have about 25 and 15 years' experience with big firms, and then we came together in the last year, and we have four full-time attorneys. We are a transactional and business firm, kind of broad —but our specialties are mergers and acquisitions, corporate finance, which means raising all kinds of venture capital, private equity, securities, those issues. And then corporation law, again, and everything that goes with that.
KEAN: I'm Abe Kean with Erise IP. We were also with a big firm for quite a while — with Shook Hardy & Bacon in Kansas City — and we saw an opportunity in the marketplace for some IP work. 
We do IP litigation, mostly defense. Occasionally we'll represent the patent owners. But we saw an opportunity in the market for what we thought was a boutique niche that would be a good fit, and we started off in 2012. There were seven lawyers originally, mostly in Kansas City, and it was just me out here [in Denver]. We have seven people here in Denver now and then probably 35 to 40 total head count in our two offices combined with attorneys, analysts and some modest staff. 
MIHM: My name is Michael Mihm; I am one of the co-founders of Ogborn Mihm. We are a boutique trial law firm. We have 12 lawyers, and we do almost entirely plaintiff's side work. We do a lot of personal injury and products, but we have a significant commercial litigation practice. 
I think one thing that is unique that we do is we have a substantial plaintiff legal malpractice trial practice — that's probably a third of our total caseload and probably more than a third of our revenue, so we take those cases all over the country. So that presents some unique opportunities, some unique challenges for us. 
LAW WEEK: And did you have a prior Big Law background as well?
MIHM: I worked as a staff person at Gibson Dunn & Crutcher in Los Angeles when I was in law school. But other than that, my partner Murray Ogborn was with a major law firm in the '80s and early '90s, and that broke up; they had like eight or 10 offices nationwide. And he then focused on plaintiff personal injury. He had a small boutique firm. 
I was with a larger defense firm here in town for 18 years, and in 2003 split off and became a plaintiff lawyer with several partners. Eventually my partners went on the bench, and after that, Murray and I merged our two firms in late 2012. So we've been at this about six years in our current configuration. 
LAW WEEK: So with all of you having prior experience at larger national firms, what inspired the move to do your own thing and have the niche focus? 
LINDEN: In my instance, I was always a businessperson. I thought I'd end up in finance or something and got a law degree. I had some cool opportunities to work with John Moye for a number of years, worked with Lee Reichert — two very great lawyers, great guys — worked with Sherman & Howard, Faegre Baker Daniels.
I've always challenged the status quo, the bottom line. I've always been very relationship-oriented, and I was noticing that — particularly in Colorado, sort of a middle market, and lower middle market sort of business environment — that I believed that I could offer what I was doing as efficiently and as effectively and at a better price on my own. 
That's sort of what our mantra is: we're entrepreneurs for entrepreneurs. And my partner believed that, too. We doubled down, and we took what we think is our tactical experience, and we're building a niche business. So it hasn't changed a whole lot other than we don't have the same political dynamics. We think that is a real benefit to Colorado clients, in particular, because we think that we provide the same expertise at a better price and move more quickly.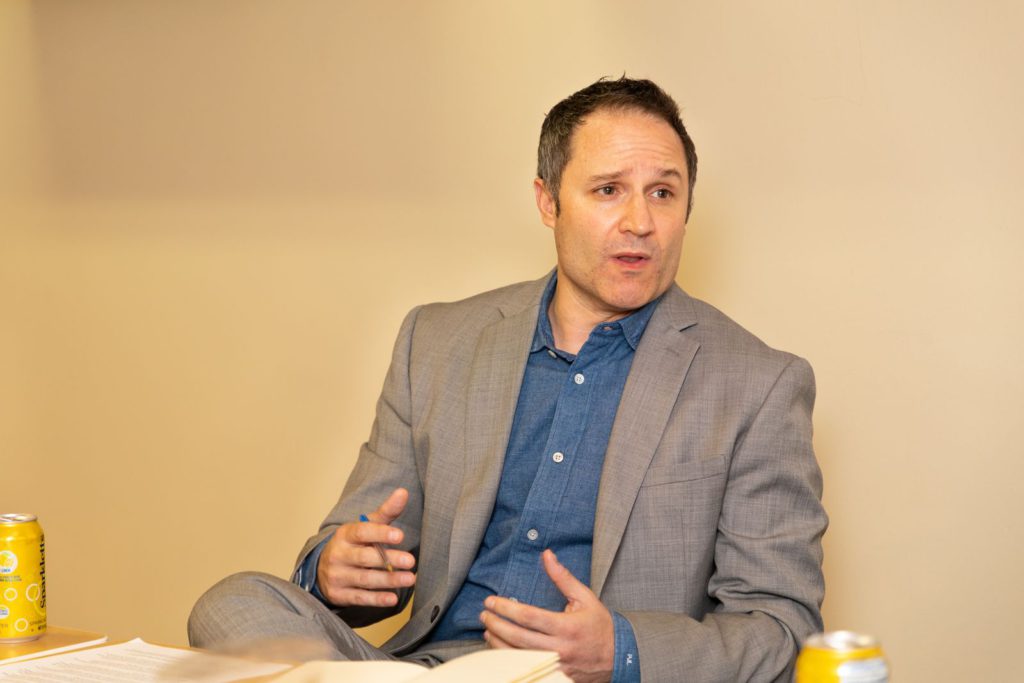 KEAN: Yeah, we were also excited about the opportunity to do something entrepreneurial. That was an exciting thing for us and something we looked forward to. In the patent space, in particular, the pejorative term is "patent trolls" or non-practicing entities — these folks that own patents and assert them against companies. For a while there, the pitch was about the cost of defense. They'd say, "Look, it's going to cost you $3 million, or something like that, to defend this case, so give us $1 or 2 [million] right now, and we'll go away." And that was putting a lot of companies in a real pickle. So we saw an opportunity to defend against those cases a little more efficiently. Especially where we're handling several [cases] for one client; we can average out some of the peaks and valleys in the litigation. 
That was our concept with some of our initial clients. We handle several cases for them, we'd be able to do it in a pretty efficient manner, and that's generally worked. 
Since then, there have been some new laws. There are some new ways to defend against patents in the patent office, where you can challenge the validity of patents there. And just kind of by luck, we filed the very first one of those, and then we've filed a whole bunch since, so that's a useful tool for us that makes sense for our business model. It can be profitable for us, and we enjoy the work. It's substantive, it's interesting, and it's something that I think a big firm model has a harder time doing that and making it make economic sense for them. 
MIHM: Well, I was with a larger defense firm, and I say larger for Denver; it was about 40–45 lawyers. I think it's now dissolved. I moved here from Los Angeles, and I started defending lawyers early in my career. As I gained more experience, I saw an opportunity where many of the plaintiff counsel in those cases were PI lawyers or medical malpractice lawyers, and they didn't really understand the business side of it. And I saw a market opportunity there. 
So in about 2000, I started doing some plaintiff work in that area, and it's built up. It's generally that businesses are unhappy with someone, or someone screwed up, and so that's the market we're after, and it's been a pretty good model for us. We view the huge law firms as both referral sources and targets. They're both for us. 
LAW WEEK: I think that's a great segue into some questions that I have. I'm curious what the interplay is like between all of you and larger firms. Pat, I know you mentioned to me that you sort of pick your battles with larger firms. 
LINDEN: I think that you've got to be realistic about who you are. I think we've done a lot of analysis around that. We really believe in our ability and our experience, but you're bringing a knife to a gun fight if you think you were suddenly going to go out and represent every huge public company — which there is not very many of in this part of the country — because in a lot of instances, you need a lot of bodies, and that's an instance where a national firm or a big firm is going to make sense. We know, if we get something like that, it's going to be very based on a deep relationship we've had with maybe a general counsel that trusts us. 
So that's an area that we're not going to try and go out and compete there, and every good corporate lawyer in Colorado is out trying to knock down those clients. I was doing that for 15 years, and what I thought was a better approach was to really focus on the middle market and the lower middle market, and that can mean a vast difference. 
For us, if there is a transaction, let's call it $5–$250 million, we're going to go after those clients and we're going to go after that deal, because we believe that you can service that deal very effectively with skilled attorneys. We'll compete there routinely, and we will be in the running for those types of clients. 
Where there is some crossover is maybe somebody on the lower end of that. It may not make sense to pay a big firm, because it's cost prohibitive, but it's still important, and for us, that's a great deal. I can get really dumb, fat and happy working on $10- or $20- or $30 million deals all day long. 
If you talked to a number of people in large firms for them, that might not fit the profile, so from that vantage point, we're, I think, good referral sources, as well, because they have a lot of trust in us that we can do that kind of stuff cost effectively, and there is also stuff we get into where we don't have a tax lawyer down the hall, we don't have an intellectual property lawyer right down the hall. And because of our relationships with a lot of those groups, we'll bring them in, but we can manage that relationship and still run point on the deal. 
I think we're entrepreneurs for entrepreneurs; that is our thing. I don't mean entrepreneurs that are operating out of a basement — I mean people with real businesses that have built it over time, but at the end of the day, you might not have the budget for all the legal resources. That's really what our niche is. 
LAW WEEK: Do you have other thoughts on the kind of dynamic? 
KEAN: From the business development standpoint, at least for us, it's more focused on subject-matter expertise, so we end up doing a lot of consumer electronics work. That tends to be our area of expertise, and in that space, for the most part, we're happy to compete with anyone there and are comfortable doing that. 
One thing that's helped us, frankly, is analytics. You see analytics a lot in baseball; that's worked for us a lot. You know, when you're litigating things, things are public, and so with these patent office procedures, in particular, you can look at our success rates, and we can compare those to the national rates. Or you can compare them to any firm that you're in a head-to-head contest with. 
And it's tough to be a consumer of legal services. It's tough for the clients to decide who they want to hire, who is competent at this, who is competent in this technology area, so we've had some success with using those types of analytics and just saying you can see our track record here and you can look at what we wrote or what we said or how we did, and compare that to whoever else you're considering.
MIHM: We don't really worry about what the big law firms are doing or not doing, we kind of stay in our lane. In business litigation, we've actually competed effectively with some of the larger firms where a client would come to us because of our economics, because our hourly rates are lower, and because we have real trial experience. 
What we found, though, is that we also have to compete on subject matter expertise, because if we're just saying we do general commercial litigation, when you are an assistant general counsel at a company or a senior-level manager, you can hire Ogborn Mihm, you can hire Hogan Lovells. If things go bad you can say, Well, I hired Hogan Lovells, they're great. If you hire Ogborn Mihm and things go bad, then your job is on the line. And so you see what I will politely call "CYA hiring" of major law firms, when, in fact, they would be better off hiring folks like you, but they're not doing it because they want to protect themselves and protect their jobs. 
I also know, in litigation, there are these huge cases that, unless we bring in lots of lawyers, we simply can't compete with Shook Hardy & Bacon. We're not going to be able to staff 40 lawyers on a particular case; we're not even going to try with that. But if we can get it to the point where it's one trial team versus another trial team, well, there are only so many lawyers who sit at the table on each side, and we can compete pretty effectively there. 
So when it comes to courtroom stuff, we feel really comfortable competing with the great big law firms; however, we also recognize our limitations and our lack of bandwidth. 
LAW WEEK: Yeah. And a lot of that kind of speaks to case scope or just the size of the other firm that might be the alternative. Is there anything that you feel is a geographic component? I know you had mentioned earlier, Abe, that many of your clients are national and not confined here. So, is that anything that plays into it at all for you?
MIHM: We have a number of clients here, but they tend to be national. We just opened an office — it's like having a condo really — in Los Angeles because we needed a footprint there. We get so many referrals out of there. 
But I think presence is important. I think being able to sit down and look people in the eye, to go get a beer or a cup of coffee, is actually a pretty important thing to develop those relationships, particularly if you have repeat business. But I do think that that personal relationship is really, really important, and I think small boutique firms probably can compete as effectively or better than a lot of the large law firms. 
LAW WEEK: So in that way, size might be your advantage. 
MIHM: I think the three firms here are probably pretty nimble, I would suspect. 
KEAN: I think that's right. One of the things you said, Abe, raised a topic that I meant to mention — just the rate structure flexibility. It's not always competing just on price, sometimes it's just the structure. We're a small enough firm where you run it by the partners in a half an hour, and you can make something work for a client where it's a flat fee or it's some type of an incentive structure or some type of creative thing that they want to try it out. That's really easy to do in the context of a small firm, and that can be really, really difficult in a big firm context, and so we've enjoyed that. It's kind of creative, it's fun, and there is a lot of ways to make it work for us economically. 
MIHM: I'll bet you had trouble getting conflicts cleared for clients at Shook Hardy & Bacon.
KEAN: Yeah, I mean that's another issue. We talk to big firm lawyers quite a bit, some of whom are looking to try something else out, and that's an issue that you hear folks talk about a lot. They've got a lead on a client contact, but somebody more powerful or some more long-standing client is kind of conflicting them out, and they are in a little bit of a bind. That's not something that we run into very much, and so that's nice. 
The other thing is our clients do tend to be repeat — especially on the defense side. Usually by the time you're a target for one, you're a target for a whole bunch, and so we've tried to structure our business where none of the partners are incentivized to maximize the profit on any particular case, or on any particular year. We're not jockeying at the end of the year for stakes or things like that. We try to have more long-term vision, where we have a relatively flat structure, and we're in it for the long haul. So we're happy getting a good result and a cheap result for a client; if that means they're going to be satisfied and coming back to us for years to come, that's a good outcome for us. 
LINDEN: I agree. If I thought that a big firm was the end-all, be-all, I'd still be there. There are a lot of different ways to be successful, and I think the practice of law is changing, and I think there is a ton of opportunity. So I like the boutique. I like being able to blaze my own trail and I think we put our money where our mouth is in our instance. 
We go in to make a client for life, and that means you've got to exercise judgment and you can't bill absolutely everything. You've got to make concessions and all that, but it matters, because 10 years later, it might net you a significant amount of money. So relationally, being nimble and having that flexibility and being able to clear conflicts is huge. 
MIHM: I think to do what we do at smaller firms, you have to be comfortable with uncertainty. You have to be uncomfortable without all of the infrastructure and the status that goes with a major law firm. In the nature of my practice, I talk a lot with lawyers. They call me, and I spend quite a bit of time on the phone just talking with folks as a resource. So I hear a lot of stories from unhappy lawyers, and I hear a lot of lawyers that are conflicted about quality of life issues, family issues. So I think the big law firms offer the status and the infrastructure and support and maybe the income security that we're not going to have lean, mean and hungry, but the trade-off is that we can actually go coach the kids' hockey team and do those sorts of other things. 
LAW WEEK: So a lot of what you have been talking about is differentiated between your practice and how your firm can approach clients and how that might be different from your prior experience or from what big firms can offer. Do you feel like there is pressure from large law firms that seem to just be getting bigger and taking up more of the market? Does that affect the way that you approach things? Does it seem like they might be going for some of the smaller, midmarket kind of work? 
LINDEN: Yeah, they are, and I think it's a big opportunity — I'd like to see them all consolidate. I'd like to see them get bigger and bigger and bigger, because they're just going to price themselves out and they're going to distance themselves more and more and more and more from the everyday business. I really believe that, and that's why I'm in business for myself. 
Companies want to grow, that's what most companies want, to grow, and acquisition is sort of a way to do it. And it might make a ton of sense in the coasts and all that, but there is a rate pressure here. There are a lot of national firm offices here. I have been a part of them and they're not set up to be able to profit to the same extent as maybe you are in the Midwest or on the coasts, where every single client has been there for 50 years and $10 million a year in legal fees is nothing. 
I think it's a real challenge in Colorado to sustain that.
The consolidation thing is happening, but for me, I'm way more concerned about the proliferation of other people and attorneys like myself that have been on both sides and they're starting to figure out you can actually be more successful, and you can be more happy in a small environment. That, to me, is a bigger concern. If you're like in an AmLaw environment, they want to get bigger, everybody is trying to merge, but it just doesn't affect what we're trying to do. 
MIHM: So you're worried about competition from one of the boutique firms? 
LINDEN: Totally. Way more concerned about it, because I think people are waking up to the idea of what maybe the three guys here decided. 
MIHM: I've had lots of conversations with general counsel over the years, and I think that's the trend. I think that some of the great big Fortune 100, Fortune 250 type of companies, they're going to have these massive cases where they need Hogan Lovells or law firms like that. But essentially they're looking for expertise, and the fact that you've been around 125 years and you have expensive mahogany paneling on the walls means not a thing to them. And what I've heard more than once is all that fancy tenant finish, those are my fees that are financing that, so they're I think increasingly going to look at the smaller boutique firms. But they're going to go for excellence. 
KEAN: Yeah, I agree with all that. You see from time to time, in the IP space, where larger firms are acquiring IP boutiques. I don't know what that tells you. I think that may tell you that the big firms really want to expand into the IP space, and it's hard to do from scratch. But I agree wholeheartedly. I think we don't focus really at all on that — the fact that big firms are getting bigger — we just really try to be excellent at what we do. And if we're excellent at what we do, everything seems to work out. 
We've noticed in the last several years that CEOs and GC's are willing to go with boutique firms. It's just our anecdotal experience, but it seems like that's less of an issue than it was maybe five or 10 years ago, where they recognize that there is expertise out there and that they maybe are not getting the best service or the best results that they could, and so we've seen a lot of CEOs and GCs and house legal teams that are willing to give us a shot. And then it's up to us to do a good job with it, but that's what we've been experiencing or noticing. 
MIHM: You know, we're in a little different situation because we're not dealing usually with repeat clients. So one marketing advantage that we've tried to exploit a bit is that we're not going to steal your client, we're actually brought in for our specialty, for our expertise. What we try to do is communicate that we're going to be very protective of your client relationship. We're not going to try to steal your client. One, we don't have the capability of doing it, and we don't have the expertise for all the services that they are providing to that client anyway. But what we try to do is honor that relationship, be respectful of it in subtle ways and overt ways. And I think that pays off, because the next time a matter comes up that falls within our lane, we get a call again. 
LAW WEEK: I was also curious about your hiring practices, or what you see in your space for laterals. Does it seem like you're seeing more and more people who are interested in those lifestyle options that you might have from a smaller firm and are moving from BigLaw to firms like yours, or are you concerned about your attorneys saying, I want a national footprint, I want to be able to work with those big companies and have work referred me from down the hall and be able to reach around the globe? Does it seem like, you know, there is a specific direction those kinds of things are traveling in? 
MIHM: I think there is a particular mindset that one has to have to be successful in the boutique firm. We have all mentioned being entrepreneurs or thinking entrepreneurial. I think that's really important, and not everyone is wired that way. I think a law firm is a business, and it has the same basic problems that any other business has. When it's a startup, it has a burn rate. It has all of the problems of a business, plus it has all the ethical obligations that are imposed by the Rules of Professional Conduct and things we have to do for our clients. So not everyone is wired to do that, and some people are just more comfortable with the infrastructure and the security of a law firm, because sometimes you can't take money out because you've got to make the overhead, you've got to pay salaries, and that's got to come first, and not everyone can do that. 
KEAN: I completely agree that it's a mindset thing, and so we're looking for people with that kind of entrepreneurial mindset. And also we're expanding with lateral hires but also with new lawyers, and we're looking for folks who want to contribute right away. They want to contribute on teams. We have small teams handling cases, and we had a new lawyer start with us this past week, and she's contributing on two or three cases and doing things that matter on those cases. For some folks, that's really exciting; they can handle the responsibility, they're encouraged by it, they enjoy it. Other folks might be more intimidated by that, might want to ease into it a little bit more. So we're looking for folks who are not intimidated, are willing to kind of take the bull by the horns and pitch in on our cases, and those types of folks end up doing pretty well, has been our experience. 
MIHM: I think to succeed in our types of practices, people have to have a rainmaker-type of mentality. They have to be willing and going out and doing that hard work that it takes to develop business, and not everyone is wired that way. In a boutique firm, there is no place to hide, and you either are contributing or you're not. So if they want to become an equity partner, they're going to have to learn how to make rain. 
LINDEN: I think Abe and Mike are both spot on. I'm actually experiencing this first hand. I have hired some people that were not the right fit. My theme is, to work with us, being a great lawyer is baseline. That just kind of goes without saying. You are at a big firm, you've got this training, you've worked on these deals, great. That's part of what got you here. But we look for calculated risk-takers, people who are playmakers, is the term that I always like to use. I don't know how you're going to make it work, but you're going to make it work.
Client development being really active, and also being able to take a calculated risk. I don't mean stupid risk. Venture capitalists do not take dumb risks, they take calculated risks. But not everybody is cut out to be an entrepreneur. 
One of the things I noticed — and I had to get comfortable with — is that the cash expenditure and the outflow is real. And sometimes it's shocking, and the inflow of cash can be significant and exciting. But every single month, those salaries and everything, they become due. I used to worry a lot more about billable hours when I was in a big firm. Now, I worry a lot more about paying my mortgage sometimes where I'm at, but I wouldn't trade it, because I've totally embraced it. But it's a tough combination that can be challenging, because you've got to find somebody who, I think, has the technical acumen but they're willing to embrace something different and they're really buying into the brand, and there are not tons of people like that out there. When you find them — and we think we found a couple and we're looking for more — you really, really appreciate it, because you know that it's different. It can be a challenge finding the right person to sort of embrace that. I don't know if you guys agree with that. 
KEAN: Yeah, I think so. And on the economics, you hear Warren Buffett talk about the concept of an economic motor. I think for a small law firm, at least in my perspective, the economic motor that we have is basically our expertise, and we need to really strive to be excellent at what we do. But on top of that, we've been pretty conservative with retained earnings and pretty conservative with debt over the years, so we've tried to kind of stockpile some retained earnings over the years, and I think that's worked out for us. 
MIHM: I get into law firm fights, and I get hired for law firm dissolutions or fee disputes among lawyers or things like that, and my observation is, with the exception of the really big firms, most law firms are poorly managed and thinly capitalized, and so there is an expectation that they just take out everything at the end of the year, and there is no cash; I think that's a huge mistake, and I think long-term it can kill a firm, particularly if they're a midsize firm. Particularly boutique. 
When I first started my current firm, I didn't even pay attention to the balance sheet or the income statement — I looked at cash flow, because the overhead is like a wave, like a tide that comes in twice a month, whether you like it or not. So we managed off cash flow until we were in a position where we could actually have some retained earnings. But I think it's really important to be well capitalized and have people bring real capital to the table. It gives you so much power and flexibility, freedom to do things and take advantage of opportunities that a thinly capitalized law firm doesn't have 
LAW WEEK: I think you sort of alluded to this earlier, Mike, regarding reputation. It seems like when you have the boutique, you have the niche, a lot of what you do most depends on your reputation within a very specific focus. Are there any specific considerations you have for curating that or building that reputation? Or in how you go about marketing? 
MIHM: Well, as to our young lawyers, we tell them to go teach it or do CLE programs and volunteer to write and do that type of thing, because you never learn a topic as well as when you have to teach it. And to take a young lawyer out there, have them teach a class or put on a program or things like that, they come back from that experience really knowing that particular topic very, very well. If you're going to have developed a stable of really smart lawyers who have a really deep understanding and knowledge of your particular practice area, having them do things like that is vital. 
LINDEN: Yeah, I agree with that. But in a — in sort of a different way, and this is something that I am smack in the middle of. In a boutique setting, you need to have a marketing engine today. And I think it's a lot different than even when I started the practice of law in 2001. So in a boutique setting, I think you really need to figure out what your message is and what your brand is, and that's a lot harder exercise than people realize. You can't bring this sort of shotgun approach. So your message and your brand and how you're going to get it out there is critically important. I don't mind business development, which is meeting people, but I don't love marketing, but we take it really, really seriously, because I think brand is huge in a boutique environment. Again, it's that selling point. I think messaging is going to just get more and more and more important, is what I'm finding. 
KEAN: We don't do as much traditional marketing. It's more relational, where we have long-term relationships with folks we've been working with for a while, and it's amazing how those networks expand. Someone leaves one company and goes to another. There have been several times where we've had codefendants in a case, so we've gotten to know the in-house contacts through that process and they've thought we've done a good job, and so, then, the next time they're involved in something, either they'll reach out or there is kind of a natural fit there. 
MIHM: It's very flattering when they do that. 
KEAN: It really is. And it tends to be effective marketing for us. So we have not done as much kind of traditional marketing expenditures. In our experience, companies and people, they hire lawyers or teams of lawyers — they don't really hire law firms. Not to say that branding is not worth anything, because it's worth something, but at the end of the day, I think the people making these decisions are trying to find teams that they're comfortable with and teams that they know are going to be actually working on their cases, so they're not going to get a bait-and-switch thing. And you can get that with a smaller operation; you know that the team that you're interviewing is the team that's going to be handling your matter, there is not that many other people there. And that's not always the case elsewhere. 
LAW WEEK: To wrap things up, I'm just kind of curious if you have any other considerations from the management aspect and if there's anything else that might be on your minds that kind of keeps you up at night. 
MIHM: Well, you know, certainly we have competition. And as I said, a large portion of our practice is personal injury and medical negligence or products liability, and you can turn on the TV and, the television advertising firms, some of whom work pretty good. I mean, they're sucking up a lot of that business. What we try to do is keep it friendly, and we co-counsel with a lot of our competition. We try to refer a lot, because we get all sorts of calls on matters that we're clearly not qualified to handle, or even if we are, that we just don't have time and bandwidth to handle. 
So I can send that over to Abe, and then Abe will think of me the next time he has something that's in my wheelhouse. So I think building that lawyer network of relationships, being active in the bar associations, you know, going out, showing up to do things that are not always all pleasant in bar organizations and doing what you say you're going to do and developing those networks of relationships among your brother and sister lawyers in the community is extremely important for the success of the firm.