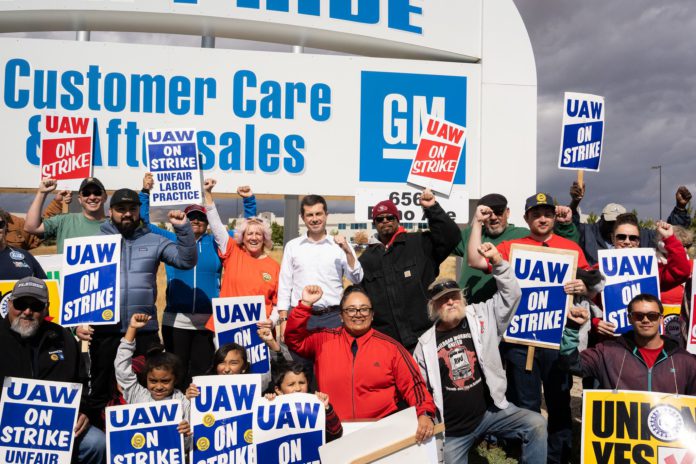 If a worker unleashes a torrent of threats and epithets at a manager, makes racist comments toward a coworker or posts profanity directed toward the company on social media, most employers would feel justified in disciplining or even firing the employee.
But when such employee outbursts happen on the picket line, during a meeting about pay or work conditions or in the context of other protected, concerted activity under the National Labor Relations Act, employers have to tread carefully to make sure their actions aren't considered retaliation. 
The National Labor Relations Board on July 21 released a decision that will make it easier for employers to defend actions taken against employees for abusive or profane behavior, even if it's linked to protected activity. 
In General Motors and Charles Robinson, the board adopted the Wright Line standard to determine whether an employer's adverse action in response to a worker's outburst is unlawful. The standard requires the NLRB general counsel to first prove that the worker was engaged in protected activity and the employer knew about and had animus toward the protected activity. If awareness and animus toward protected activity is established, then the burden shifts to the employer, who must show they would have disciplined or terminated the employee even if there was no protected activity.
"Under the old standards, there was almost a presumption that if the employee was talking about terms and conditions of employment, any outburst was going to be protected unless management could demonstrate that it wasn't," said Steven Suflas, senior counsel at Ballard Spahr. 
"And the new standard takes a more common-sense approach, saying it's really the NLRB's burden to show that this really was something that would restrain or coerce employees in exercising their statutory rights under the NLRA."
Previously, there were different standards for determining the lawfulness of an employer's disciplinary actions depending on the location, forum or target of the employee's abusive or profane behavior. For outbursts directed at management in the workplace, the NLRB applied the Atlantic Steel test, which considers the place and subject matter of the discussion, the nature of the employee's outburst and whether the outburst was in any way provoked by an employer's unfair labor practice.  
In cases involving picket line conduct, the Clear Pine Mouldings Standard applied, which asks whether non-strikers would have been coerced or intimidated by the abusive behavior. And for social media posts and most cases involving conversations between workers, the board considered the totality of the circumstances. The recent decision creates a single standard for all situations involving discipline in response to employee outbursts.
"I think what it does is it provides more predictability for all parties," Polsinelli shareholder Mark Nelson said of the decision, adding that under the old standards, "not only did they have different tests, but they were applied in some ways that I think are very inconsistent and tortured."
Employee outbursts involving abusive language or behavior based on race, gender or other protected categories often brought an employer's obligations under the NLRA and anti-discrimination laws into tension with one another. The General Motors decision helps clear up the conflict between labor and anti-discrimination laws.
Sherman & Howard member Patrick Scully said that clients complained the previous standards required them to choose between "two terrible outcomes:" Either violate labor laws or tolerate racist conduct against employees in situations involving protected activity. 
"That's just not a choice employers should be forced to make," Scully said. "We're supposed to harmonize these laws. We're not supposed to make you choose between them."
Under the new test, if the NLRB meets its burden of showing an employer might have had illegal motivations, the employer would then need to show they would have fired or disciplined a worker for their conduct in absence of any protected activity. According to Nelson, the easiest way to make that case to show past examples of other employees who were disciplined for similar conduct. 
"If you don't have a past practice to show, then you better be able to show that the conduct was a violation of the policies and standards the organization has," he said, adding it's best if employers can prove such policies were in writing and were disseminated to all employees.
"So one guidance for employers is to now go back and look carefully at their [HR policies] and look at the language in them, because the board does rely on the phrase 'abusive behavior,'" Nelson said. One of the unanswered questions about this decision, he said, is "where do you draw the line between abusive and something that's not quite abusive?" He added the board might look to the standards embedded in anti-discrimination law to define harassment, bullying and other types of abusive behavior.
The board's decision comes at a time when anti-discrimination laws are in the spotlight, said Scully, and the decision removes a barrier to enforcing those laws. But while the change may be timely, the board's decision is far from permanent.
"This is going to be a very controversial decision in the labor movement," Scully said. "And it if there's a change in administration, it will be very close to the top of the hit list."
Suflas agreed that the decision is likely to be undone if Republicans lose the White House, but he said a change in administrations didn't always mean big changes in the law. "When I began practicing, the substantive law under the National Labor Relations Act was fairly stable, and there were about a dozen issues where the law would get tweaked if there was a change in administrations," Suflas said. "Well, over the past two decades, that's gone out the window."
"For anything dealing with the NLRA, this is now the substantive law. But the footnote is: This is now the substantive law for today."
—Jessica Folker