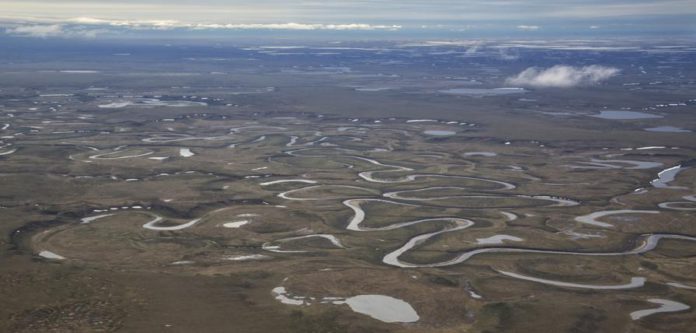 The Biden administration sent in late May a mixed signal about its commitment to reversing course on oil exploration and extraction in Alaska, defending in court a Trump-era decision to authorize a massive project on the north slope. The move leaves a muddled picture of just how willing the White House is to advance a stated commitment to reduce the nation's fossil fuel use, say environmental advocates. It also portends a contentious litigation battle over the fate of a huge swath of Alaska's vast and fragile polar public lands. 
"You're defending this project that would not only be a huge carbon bomb but was clearly approved unlawfully," said Kristen Monsell, the Oakland-based Oceans Program litigation director and senior attorney with the Center for Biological Diversity. Monsell said that ConocoPhillips, the fossil fuel giant that plans to construct the oil complex, has gone so far as to propose the installation of machines to re-freeze permafrost that is melting as a result of ongoing climate change. 
The Center filed one of several lawsuits against the project. 
Willow Project Could Produce Dramatic Environmental and Human Impacts
Planned for a tract in the National Petroleum Reserve – Alaska, a 25 million-acre expanse established in 1923 and thought by the U.S. Geological Survey to contain about 8.7 billion barrels of oil and 25 trillion cubic feet of natural gas, the Willow Master Development Plan Project would add at least 100,000 barrels of crude per day for 30 years to the world's greenhouse gas-producing energy use. If fully developed, it would add about 260 million metric tons of carbon dioxide, an amount that is approximately equal to the emissions of 66 coal-fired power plants, to the planet's atmosphere. "It's shockingly large," said Bridget Psarianos, a staff attorney at Trustees for Alaska, an environmental advocacy group that has challenged the Willow Project in one of several complaints filed in federal court.  
Proposed by ConocoPhillips in January 2017 and approved by the Trump administration on Dec. 31, 2020, the development of the site near the Beaufort Sea would cost $2-3 billion. Former Interior secretary David Bernhardt's still-efficacious decision on the Willow Project within NPR-A authorized ConocoPhillips to build five drill pads, as many as 250 wells, a shop and residential camp for employees and contractors, 37 miles of gravel roads, 386 miles of pipelines connecting to the Trans-Alaska Pipeline System, one or two airstrips, a seawater treatment plant, and an artificial island off Atigaru Point on Harrison Bay.  
Among the communities that would be transformed by the Willow Project is Nuiqsut, a tiny hamlet that the Washington Post called "the fastest-warming spot of land on Earth." Nuiqsut "is already nearly surrounded by oil and gas and related activity on three sides," said Lisa Baraff, program director and climate change and energy program manager for Northern Alaska Environmental Center in Fairbanks, in an email. "This includes activity on state lands to the north and east and federal lands to the northwest and west. ConocoPhillips owns all of the active leases in the NPR-A, which are in varying stages of production and development."
"It's already completely surrounded by oil and gas [infrastructure] and this project would not just be expanding that," said Siqiniq Maupin, director of Sovereign Iñupiat For A Living Arctic, who grew up in Nuiqsut and Utqiagvik. The project would, Maupin said, continue "to put toxins and pollutants in the air" and contribute to "climate disaster, especially in the areas where the oil is being extracted." Maupin explained that residents of Nuiqsut and other indigenous Alaskans' North Slope villages are already experiencing adverse impacts to both their physical and mental health from fossil fuel production in the area. The approximately 10,000 people in the region have experienced "loss of taste and smell," "cognitive issues, especially in small children," "blood disorders" and "rare cancers," she said. "Right now, 70 percent of the population of Nuiqsut is on medication to help them breathe." 
As for mental health, Maupin said that indigenous cultures on the North Slope are plagued by an array of ills. "Our poverty levels, our suicide levels, our addiction levels, our mental health illnesses [are] exacerbated," she said. "Yes, we have prospered, very much, monetarily. At the same time, something very hard has hit our communities since oil." A 2017 report by the Alaska Native Tribal Health Consortium may bear out Maupin's assertion that those trends are worsening. Native Alaskans statewide have a suicide rate that is nearly three times that of whites, though the difference may be lower when North Slope indigenous peoples are compared to whites. Meanwhile, data provided by the U.S. Census Bureau indicates that the number of North Slope residents living below the poverty line rose during the past several years.
Among the air pollutants associated with oil and gas production are methane, ozone, particulates, and volatile organic compounds. Those substances can trigger a long list of symptoms and negative health consequences, including asthma and other respiratory difficulties, including lung damage, carcinomas, heart disease, vision difficulties, skin irritation, nausea, headaches, and dizziness. "The current evidence suggests potential health impacts due to exposure to upstream oil extraction, such as cancer, liver damage, immunodeficiency, and neurological symptoms," concluded one 2019 paper.
Wildlife concerns also motivate opponents. "We're concerned about all the species that call the area home," Monsell said. Maupin fears that traditional reliance on fishing and hunting for food will be severely compromised by the Willow Project. "The biodiversity of the western Arctic is comparable to the Arctic Refuge," she said, referring to the Arctic National Wildlife Refuge to the east. "The Teshekpuk Lake Special Area has been protected for a very long time. This has been protected by the Iñupiat people because the Teshekpuk caribou herd is so important." 
Monsell pointed to the unique character of that herd. "The Teshekpuk Caribou Herd is the only Alaska caribou herd in which the majority of its members regularly overwinter on the coastal plain," she said in an email. "According to [the Bureau of Land Management], no herd has previously been exposed to intensive development in its winter range, making the impacts of the project particularly concerning." During the winter, Monsell continued, disturbance of the animals can be particularly problematic. "Foraging opportunities are limited during the winter, and caribou rely on body stores of energy for survival and gestation," she said. "Disturbance during this time could lead to decreased body mass, impeding an animal's ability to successfully reproduce."
Teshekpuk Lake is the largest thermokarst lake in the world and Arctic Alaska's most imposing freshwater body. In addition to the native 64,000-individual caribou herd, the lake and its expansive wetland environs provide habitat for whitefish, grayling trout, two species of Pacific salmon, and many species of shorebirds and waterfowl, including tens of thousands of geese and long-tailed ducks, dunlins, all four known species of eiders (including two that are threatened), red-throated loons, yellow-billed loons, and sandpipers. 
The 2.44 million-acre Colville River Special Area, which would also be impacted by the Willow Project, is habitat for "the only substantial overwintering habitat for Arctic cisco, an important subsistence fish species," according to the Alaska Wilderness League. It is also a range for Alaska blackfish, lake trout, long nose sucker, northern pike, round whitefish, a variety of salmon species, and many species of passerines, raptors, and shorebirds. Avians in the area are unable to relocate nests because available sites are limited in the tundra. Dinosaur fossils have been found there.
Marine species, too, would likely face adverse impacts from the Willow Project. The polar bear would be the most notable animal to face potential harm. According to a 2017 Audubon Alaska fact sheet, Ursus maritimus uses the Teshekpuk Lake area for denning and foraging. Few, if any, of the individual bears can be lost if the area's population of the charismatic mammal are to survive, argued Monsell. "A whole host of new information has come out demonstrating just how poorly the southern Beaufort Sea polar bear population is doing," she said. "It's gotten so low and it's doing so poorly that scientists have determined that the death of even one polar bear could impede the survival and recovery of the species." She cited a 2017 U.S. Fish and Wildlife Service study.
Walrus, which is the subject of a June 3 opinion by the 9th U.S. Circuit Court of Appeals that ordered the Fish and Wildlife Service to reconsider a denial of ESA listing, may also suffer indirect adverse impacts from the Willow Project, Monsell said. "They're a species that is incredibly sensitive to the noise pollution that will be generated by oil and gas activity," Monsell said. "They often haul out on the coast or ice flows to rest and if disturbed by humans they will get startled and flee and, because so many of them are now forced to haul out on the coast in these areas, that can lead to trampling and the death of young walrus."
Biden Administration Defense Raises Eyebrows
In a May 27 filing in an Anchorage federal court, the Department of Justice vigorously defended the environmental impact review process for the project. Arguing against a motion for summary judgment lodged with U.S. District Judge Sharon Gleason of Anchorage, the administration asserted that environmental groups and indigenous Alaskans seek to "stop the extraction of resources from the Petroleum Reserve by cherry-picking the records" of three federal agencies in an effort to convince the court that the government has not complied with the Endangered Species Act and National Environmental Policy Act. 
The Biden administration's principal defense is that opponents, who filed separate complaints, missed a 60-day deadline for filing a lawsuit established by a 1976 law called the Naval Petroleum Reserves Production Act. Justice Department lawyers, led by Acting Assistant Attorney General Jean Williams, urged Gleason to find that the statutory limitations period commenced when Interior finished the final environmental impact statement on the Willow Project in June 2020, as opposed to when the Record of Decision was signed or leases are issued to the oil company and pointed to glossaries to buttress the claim. NPRPA "demonstrates that 'leasing' refers to more than the mere issuance of leases," they wrote. "Congress did not use the word 'leasing' or 'exploration' to the strict exclusion of the other phases of a leasing program." Monsell dismissed out-of-hand the claim of a time-barred lawsuit. "We just think that they're completely wrong on the law on that, which is why we filed the lawsuit when we did," she said. "We just don't think that applies." 
A February 13 order in the case by the 9th U.S. Court of Appeals seems to back up Monsell's blunt perspective. In a decree issued by two appellate judges, the court granted an injunction pending the final resolution of the dispute. "The statute's reference to 'site-specific' EISs does not mean" that the 60-day limitations period set by NPRPA "necessarily extends beyond challenges to leasing decisions," the panel wrote, referring to environmental impact statements. By the time the limitations period statute took effect, the two judges concluded, federal agencies knew that they must "perform both a programmatic EIS in connection with an overall development plan, as well as an EIS for any anticipated site-specific environmental impacts associated with individual development projects." Moreover, Judges William Canby and Michelle Friedland wrote, the environmental study applicable to a particular site of development must be completed "at the time the agency made a commitment of resources" and "before commencing a 'multi-stage project' like the Willow Project."
Williams and her colleagues also attacked environmentalists' and indigenous Alaskans' allegations that the EIS itself violates NEPA because it fails to properly model climate change impacts from the fossil fuel output of the project. "BLM's approach forecasted a plausible result and provided the decision-maker an understanding of the GHG emissions expected to be associated with the Willow Project from the No Action Alternative," the government lawyers wrote, referring to the Bureau of Land Management. "Thus, the Willow EIS provided what is required under NEPA, a reasonable analysis of environmental impacts across alternatives." That analysis, said Psarianos, fails to take account of the requirements elucidated by the 9th Circuit last December in a NEPA dispute challenging a Trump-era EIS for another oil and gas lease program in Alaska. 
In the December decision in a case known as Center for Biological Diversity v. Zinke, the appeals court ruled that leasing for the proposed Liberty Project in the Beaufort Sea could not proceed because the Department of Interior had failed to model overseas fossil fuel consumption. "[T]he EIS should have either given a quantitative estimate of the downstream greenhouse gas emissions that will result from consuming oil abroad, or explained more specifically why it could not have done so, and provided a more thorough discussion of how foreign oil consumption might change the carbon dioxide equivalents analysis," said Judge Richard Paez for the unanimous panel. 
The challengers to the Willow Project's authorization question the impacts on climate change, as opposed to overseas crude consumption, but maintain that the modeling guidance provided in the Liberty Project decision applies. "Without adequately studying the greenhouse gas emissions, there's no way for the agency to properly analyze the climate impacts of the project," Monsell said, adding that she thinks the BLM also failed to adequately study other impacts to the climate. "For example, it failed to consider how polar bears will become increasingly stressed by sea ice loss over the life of the project, and make them more vulnerable to disturbance from oil and gas activity."
Economic Impacts Could Be Significant, but May Not be Certain
However much oil from the Willow Project, if completed, is consumed in foreign nations, the project's economic consequence for Alaska would be significant. "Willow is predicted to provide thousands of local jobs and 450-800 million barrels of recoverable oil," according to a statement by the Alaska Oil & Gas Association. "The Bureau of Land Management estimates the project will contribute $2.3 billion in State of Alaska revenue from production, property, and income taxes and $7.6 billion in federal royalty, income tax, and gravel sales." 
Alaska's Republican Gov. Mike Dunleavy said in an April 15 statement that he thinks the value of the project transcends measurable returns. "Without ongoing developments like Willow, North Slope communities would struggle to fund basic governmental services," Dunleavy said. "These developments not only contribute directly to jobs for the region, but they also provide revenues to local communities through impact mitigation grants."
One significant uncertainty associated with those economic returns, both quantified and not, is whether oil prices will remain high enough to justify Conoco-Phillips' investment. "Even if they get all of their approvals, are they really going to want to spend the hundreds of millions, maybe billions, of dollars to develop this project when the returns are pretty risky?," asked Mark Squillace, a professor at the University of Colorado Law School. "I'm pretty skeptical about the long-term price of oil." He explained that, as the transportation sector increasingly converts to electric vehicles and as investor efforts to push oil giants to shift their business models away from fossil fuels, demand for crude is likely to fall and the price may fall below the break-even point. "I just don't see how Alaska fits into that frame," Squillace said. "I mean, for one thing, if you're talking about the NPR-A or if you're talking about ANWR or, God forbid, you're talking offshore and, say, the Beaufort Sea, you're talking about very expensive oil." Squillace was referring to the Arctic National Wildlife Refuge, site of several leases awarded in January under a provision of 2017 tax legislation and a focus of contention between advocates of fossil fuel development, native Alaskans, and environmentalists for decades. 
Maupin pointed out that, even taking into account the monetary benefits to North Slope towns and native Alaskan tribal corporations, there are significant negative outcomes that affect local people in their day-to-day lives. "People are held in an economic hostage situation," she said. "You need basic necessities like infrastructure, running water that is clean, flushing toilets, electricity. This is lacking in most villages." In addition, the infusion of cash is not equitably distributed. "You can see that some households will quite literally have the income of $5 million a year," she said. "Right next door, there's ten people living in a one-bedroom house that can't afford food that week. That's the income disparity." Then there's the ever-present specter of corruption and a reluctance to diversify economies. "I don't believe there's been one North Slope mayor that has not embezzled money and been caught publicly," Maupin said. "There has [also] been that extractive industry mentality [that says], 'if you don't like it, get out.'"
Polar Bear Protection Questions Loom
Briefing in the case is now focused on the summary judgment stage. Among the other issues that Gleason must address, Monsell said, is whether the Department of Interior can do enough to mitigate harm to polar bears, which are on the list of threatened and endangered species. "They are relying on uncertain, unproven mitigation measures to insure against jeopardy in the face of clear case law that says they can't do that," Monsell said, referring to all three species. "The agency also…dismissed the risk of harm that polar bears would be killed either by getting crushed in their dens by heavy machinery or by having moms scared out of the den and having the cubs die of exposure or other reasons." She explained that the Department of Interior is also overlooking the reality that, because sea ice in the Arctic is melting at a much faster pace each year than has been the case in the past, "polar bears are increasingly denning on land and the area that will be affected by this project will become more used by polar bears." 
Is Authorization of the Willow Project Consistent with Environmental Justice Goals
?
While environmental justice is not a legal issue in the litigation surrounding the Willow Project, Baraff said that Alaska conservation advocates are disappointed that the Biden administration appears to have assigned it less priority when it comes to North Slope oil development. "The residents of Nuiqsut have consistently opposed this project," she said in an email. At seven of eight virtual public hearings on the draft EIS conducted by BLM in April 2020, local indigenous Alaskans "were almost unanimously opposed to the project and to this process," Baraff continued, noting that technical difficulties in the rural frontier outback prevented reliable Internet connections for many. "Basically, by ignoring the comments and impassioned pleas of those few from Nuiqsut who could call in, BLM showed complete disregard for the frontline communities and environmental justice." Maupin pointed out that older Iñupiat were particularly affected by what she perceived as BLM's indifference. "They expected the elders – 80-year old, 90-year old indigenous people – would have, during COVID, reliable computers and call into a meeting that wasn't even posted," she said. 
What About Biden's Climate Change Policy Promises
?
Whether or not the Biden team is aware of those problems, which predated the president's inauguration in January, the overarching issue at stake in the battle over the Willow Project may simply be a matter of the clash between Biden's promise to reorient energy policy toward renewable sources and to confront climate change with the imperative of securing Congressional support for other administration goals. The president signed two executive orders early in his term that proclaimed an overarching objective of shifting the nation away from fossil fuel consumption and toward the use of more renewable fuels. 
The Justice Department's defense of the undertaking may be a "down payment for Lisa Murkowski's support on some of the legislation Biden wants," said Pat Parenteau, a professor at Vermont Law School. "It's a familiar story of campaign promises meeting the real world of Washington politics." Parenteau was referring to Alaska's senior senator, a Republican thought to have some willingness to work with the administration in the advancement of legislation on Capitol Hill.
Murkowski acknowledged her effort to persuade Biden and his team to sympathize with her priorities. "I think it's important for them to look at the Alaska delegation, and look at the relationship that I am trying to build with members of this administration, and say: 'This is somebody that we want to work with,'" she told E&E News. "'What are her priorities? And are there ways that we can see fit to be a participant and a partner in this?'" Her fellow Alaska senator, Republican Dan Sullivan, also extended an olive branch to Biden in the aftermath of the Justice Department's move to defend the Willow Project. "I appreciate the President and Secretary Haaland for listening to us and defending this once-in-a-generation energy development that will unlock many more opportunities for our state and our country," Sullivan said in a statement.
Eric Jorgensen, managing attorney at Earthjustice's Alaska office, urged the president to reconsider bargaining the Willow Project in an effort to woo Murkowski and Sullivan. "Thirty years of climate pollution from this oil project will accelerate the global climate crisis and it is at odds with the Biden administration's bold climate leadership," he said in a statement. Kristen Miller, acting director of the Alaska Wilderness League, echoed that view in a written statement provided to Alaska Public Media. "The Willow project is the poster child for the type of massive fossil fuel development that must be avoided today if we're to avoid the worst climate impacts down the road," she said.
Atmospheric temperatures over Alaska increased more than twice as fast as they have in the rest of the United States during the past 60 years, according to the National Oceanic and Atmospheric Administration. The region is currently expected to warm by an additional 10° – 12°F as this century proceeds. A May 18 report by the International Energy Agency warned that nations must immediately cease investment in fossil fuel production facilities in order to achieve a net-zero level of carbon dioxide emissions by 2050.