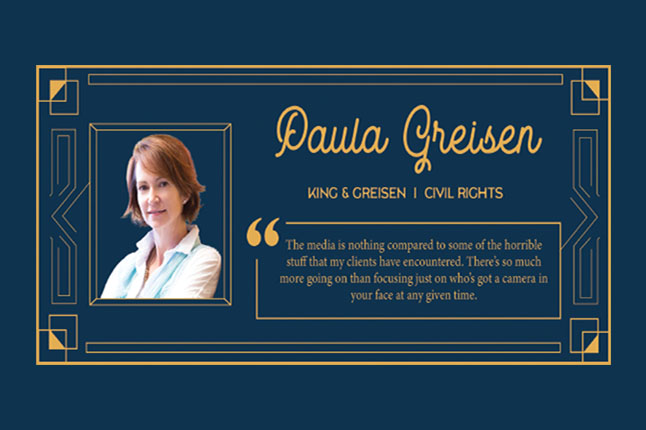 In nearly three decades of practice, Paula Greisen has learned to take in stride the media scrutiny that sometimes comes with her cases, and to her it's small potatoes compared to the trauma her clients experience. She's represented people who have been denied service because of their sexuality, who have been raped in prison, and people who have lost their jobs and livelihood because of discrimination.
"The media is nothing compared to some of the horrible stuff that my clients have encountered," she said. "There's so much more going on than focusing just on who's got a camera in your face at any given time."
There's been no shortage of attention this year for Greisen, with two of her cases gripping media internationally. She has represented David Mullins and Charlie Craig against baker Jack Phillips in Masterpiece Cakeshop v. Colorado Civil Rights Commission, which saw a ruling from the U.S. Supreme Court in June. And last spring she took on the task of representing Lindsay Saunders-Velez against the Colorado Department of Corrections. Saunders-Velez is a transgender inmate who has been housed in men's prisons and repeatedly raped and harassed, and she's suing the Department of Corrections for failing to protect her and for retaliation when she filed her case.
Despite her own ambivalence about media attention, Greisen knows it can have a huge impact on her clients since they're regular people who aren't used to the spotlight.
"[Craig and Mullins] didn't expect it; they didn't ask for it," she said. "They're not activists. They're not people used to being in that position." But Greisen said the civil rights community tends to believe discrimination cases shouldn't proceed in secret, whether that means media attention or a prohibition on defendants keeping documents sealed.
"I think all of it is a part of making sure that what we do is conducted in a manner to make the biggest change possible, and in order to make sure these laws on these on the books are good. People have to know about them, and they have to know that they're going to be enforced."
Greisen doesn't downplay that experiences like what Saunders-Velez have gone through are horrific. But she characterized her work for her clients as "exhaustingly wonderful." Civil rights is an incredibly broad topic, she said, but it all involves helping marginalized people who need an advocate to stand up for themselves.
"I'm really lucky," she said. "I get to serve these people, and hopefully along the way make some systemic changes."
Knowing how to deal with media attention doesn't mean she never worries about her safety. Greisen understands some high-profile cases about controversial issues come with risks, but other cases don't make her feel threatened at all. She acknowledged it's not always intuitive, such as in a prison class-action lawsuit she's been working on for 26 years.
"I would walk into rooms by myself with 50 people convicted of some of the worst felonies, and I'd sit and talk with each of them for three or four hours, and never really felt threatened," she said. "And yet [I] have other cases where I'm trying to fight for LGBTQ rights and do worry about my safety." The latter has to do with the current polarizing political and social climate that Greisen said doesn't encourage a lot of dialogue.
But the cases that make international news are a tiny fraction of Greisen's work, and she said most of them also don't get to litigation. Litigation puts a lot of stress on her clients by forcing them to relive their most vulnerable moments, and often there's a solution that's palatable to both sides without litigation. Greisen recalled a woman she represented who had a baby and was not provided a place to pump her milk by the mining company she worked for, and eventually got fired. Greisen was able to work with the company's counsel and learn the mine manager hadn't known the law requiring him to accommodate the woman's needs. The woman got a job back with the company, and the managers got educated on the law. 
"Sometimes it is people wanting to do the right thing and not knowing how," Greisen said. "In those moments, hopefully having somebody step in to help can make a world of difference."
She said she thinks the current polarizing political environment has erased misconceptions that might exist about equality in civil freedoms largely having been achieved. "I really do think we got a little smug in thinking that we had eradicated or made huge strides," she said. "And we have made some strides, but we've also had a lot that was just pushed into the closet, and people got more sophisticated about how they discriminated."
Greisen's ideal world may be a little ironic for a lawyer, but maybe not considering her job is to fight discrimination where she finds it: She dreams of a time when she won't have any more work because there's no more discrimination.
"We dream of the day we'll be put out of business because there will just be nobody that needs our help, which would be truly delightful."
— Julia Cardi