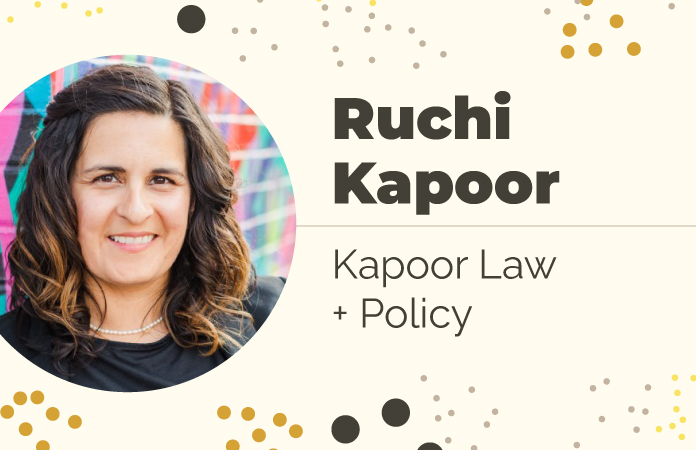 In fifth grade, sitting on the bench as an elected judge at Young AmeriTowne in Denver, Colorado-native Ruchi Kapoor knew exactly what she wanted to be. 
"Then in law school, I was given the unhappy news that you have to practice [law] before anyone will even think about letting you be a judge," Kapoor said. "But as it turns out, I really enjoyed being a lawyer."
Kapoor, the principal attorney at appellate and policy boutique firm Kapoor Law + Policy, spent her time at the University of Colorado Law School thinking she wanted to be a patent attorney, only to be thrown another twist. 
"I guess I didn't pay enough attention, because most of the classes that really, really interested me in law school were constitutionally based, a lot of the constitutional seminars that I had to take to fill up my schedule," Kapoor said. 
In 2010, Kapoor graduated, but what should have been a time of celebration turned into an obstacle to overcome as she entered her career in the midst of the recession. "I think a lot of people forget that, at the time, there was a huge crisis of rescinding offers," Kapoor said. "The folks whose offers had been rescinded the year before were still in clerkships. So I thought I had this plan, I wanted to be a law clerk under a judge for a couple of years at the district court, and my plans kind of fell through and I had to reassess what I was going to do."
As one of Law Week's 2022 Top Women, it comes as no surprise that Kapoor triumphed over her 2010 challenge and continued her perseverance over the following years. 
Although her goal of being a law clerk following graduation was initially derailed, Kapoor ended up working for the Office of Alternate Defense Counsel in a research capacity — researching and writing motions for criminal defense attorneys, many of whom were working immigration cases at the time — and drilling down into criminal law. 
"I realized that what I wanted to do was be an appellate attorney," Kapoor said. "It's still my passion and my focus, I love doing the appeals. I like the dive into the law and getting the opportunity to help people not only on the case level, but also kind of making sure that the law works for everybody who ends up in that position."
Kapoor cited her interest in appellate work as being rooted in a love of the law. "That sounds truly, deeply nerdy, but I really do just love practicing law," she said.  "I love the way that it can be so unclear sometimes — I love that gray area. And I think that's what makes appellate practice so special, is that I'm actually extraordinarily comfortable with those gray areas. That's what makes representing clients just so deeply satisfying — it was never the same for every single person, because every single case is different."
The true career pivot came when she ended up clerking for the Denver Juvenile Court. 
"It has such a large impact on people who have had interactions with the child welfare system," Kapoor said. "I think the power of the state to remove children and separate families is one that we don't give enough deference to sometimes. We think a lot about the ability of the government to take away our liberty, like putting people in jail, but I don't think that we realize how big of an impact it can make that the government has the ability to come into people's lives and separate them from their children."
In 2016, Kapoor helped found the Office of Respondent Parents Counsel to help ensure Colorado parents were able to exercise their right to appeal. 
"In that role, she had oversight of statewide appeals on behalf of indigent parents in child welfare cases and was able to help usher in several changes in the law protecting the constitutional right to parent," Meranda Vieyra, the owner of Denver Legal Marketing, said in her nomination of Kapoor. "Ruchi knows how to work with clients to create social justice change that is impactful and meaningful for the community."
Before the foundation of the ORPC, Kapoor was one of a handful of attorneys in the state that handled appellate matters for parents whose rights have been terminated.
"Part of it is just my deep-seated belief that everybody is entitled to the full exercise of their constitutional right to appeal, and I think especially parents who were incredibly underrepresented before the creation of that agency," Kapoor said. "I was just really proud of the work that we were able to do to expand access to the courts, for those parents."
In addition to her involvement with parental representation, which she refers to as "more like a calling than an area of practice," Kapoor has involved herself in a variety of state bar organizations including the South Asian Bar Association of Colorado, Colorado Women's Bar Association, Colorado Bar Association, Denver Bar Association, Colorado Trial Lawyers Association and Colorado Criminal Defense Bar. 
This year, Kapoor was elected president of the DBA, which also awarded her Young Lawyer of the Year in 2021, and she continues to hold positions on several committees throughout the other organizations. She also sits on the Denver Bar Association's Board of Trustees. 
"I really joined a lot of the bar associations because I find it to be an incredibly wonderful place to meet people who aren't in my area of practice," Kapoor said. "I think as lawyers, we tend to become kind of siloed and I actually don't think it serves our profession for us to specialize the way that other professions do. It gives us a certain skill set, but it also limits the way we view the world."
Kapoor decided to use these organizations to meet people doing other types of work and keep her thinking fresh. She observes what's happening in other areas of practice and attempts to translate it to her own. 
"I also just think it's really important to, like with the South Asian Bar, build community among lawyers who come from similar backgrounds and are experiencing the profession in similar ways," Kapoor said. "I think that community and finding that support has been so crucial in kind of developing my own professional development."
Thinking back to the pre-pandemic era, Kapoor recalled a CLE that she worked on with fellow members of SABA-CO where they identified issues members of their community were experiencing, such as selective searches, and created a guide of applicable civil rights that people should know when navigating those situations. 
Just as she keeps her community in the forefront of her mind, Kapoor actively tries to center clients in her work, meeting people where they are and with compassion. 
"Sometimes, as lawyers, we get to these points in our practice where we feel like we've seen it all," she said. "I feel like I'm starting to hit that and my colleagues are starting to hit that, right around like the 10- to 15-year mark. For me, a way out of that is making sure that even knowing all that I know and having done all the cases that I've done, the primary focus here is essentially representing the human being."
Kapoor calls it "hearing with a capital H." "I think that it's really important when people are interacting with the justice system that they feel heard and they feel represented," she said. "A lot of the time, putting my focus on that piece of it, it will always feel like a win for the client, whether or not we actually have a 'successful outcome' on appeal."
Similarly, Kapoor cited her key to success as "being okay with the pause." Mistakes are made when lawyers act quickly and reflexively, she said. 
"Ruchi is an innovative and trailblazing attorney," Vieyra's nomination said. "In the last year, Ruchi took the leap into private solo practice, where she has been focusing her efforts on helping businesses transform their social justice ambitions from marketing taglines to real-life action plans… She also helps trial attorneys set up records for appeal that will ensure that any appeal can also help further the law for positive social justice change."
Looking back on her career, Kapoor is most proud of her published decisions, even those that weren't necessarily wins for her client, because they still changed the law or settled an issue in a way that may allow someone in the future to benefit.
"There are days that this job is really hard, but, you know, I'm still out here and the work that I do can still make a difference," Kapoor said. "Social justice can happen in any area of the law. To think about social justice issues in every context, because that's part of our job as lawyers, is to make sure that we're hearing our clients and that we're helping them kind of interact with the system."